BROADEN THEIR WORLD
Arts experiences have a proven, tangible benefit to student learning. And they're entertaining! Attending a live theatrical performance where stories and characters are brought to life on stage not only develops students' reading comprehension and critical thinking skills, it also deepens their ability to empathize and tolerate differences. Furthermore, seeing live theatre helps to expand imagination and creativity – all necessary for today's young scholars!
20/21 School Matinee registration will begin in the fall of 2020! Check back at the end of August for more information. 
Tickets: $8 students // $10 adults
1 Free Adult Chaperone Ticket for every 15 students
Easy, safe bus loading and unloading
Bussing, Loading & Dismissal procedures
Please carefully read the information below and pass this onto your bus drivers. Make sure you are looking at the correct venue. Bus policies have been put into place at each location to ensure the safety of you and your students. Please review the policies before your field trip.
ARRIVAL
We ask that you arrive no earlier than 25 minutes prior to showtime. Upon your arrival, a GREAT Theatre volunteer or staff member will enter your bus and provide parking, unloading and loading instructions.
SEATING
We will begin seating approximately 20 minutes before the show starts. The performance will start on time! A GREAT volunteer will help usher your students into their seats. If you need to rearrange students, please do so after everyone has been seated or have them exit the bus in the order you would like them to be seated.
RESTROOMS
Please find your seats prior to using the restrooms. The restrooms are limited and easily congested, so plan accordingly. The performance will start on time! If you need to use the restrooms prior to leaving, please notify a GREAT volunteer when you arrive so we can plan dismissal accordingly.
DISMISSAL
In order to return students to their schools in a timely manner we will dismiss you by school during the cast Q&A. For the safety of all, we ask that you wait inside until a GREAT volunteer lets you know that your bus has pulled up. Please count your students as they wait in line to load. We cannot allow buses to remain parked in the loading area for head counts. Your cooperation will make everyone's departure a smooth and quick process.
EMERGENCY
If an emergency arises on the day of your show, please call GREAT at 320.258.2787
WHAT TO TELL BUS DRIVERS FOR SHOWS AT THE PARAMOUNT THEATRE
Tell your bus driver to park to unload students directly in front of the Paramount Theatre. If we have more than two busses parked in front, the bus driver will be asked to pull around the block to wait on 9th Ave N until our bus patrol volunteer motions for them to pull around front.
WHAT TO TELL BUS DRIVERS FOR SHOWS AT THE HELGESON LEARNING LAB THEATRE
Park to unload students directly in front of the South East doors. Look for the green GREAT Theatre flags. Drivers may park in the parking lot directly behind and adjacent to the building.
ARRIVAL
A GREAT Theatre volunteer or staff member will enter your bus and give some instructions. After students have unloaded, busses may continue down St. Germain Street and park at the St. Cloud Regional Library.
About 20 minutes to when the show is over, the GREAT bus patrol volunteer will let them know when to report back to the Paramount Theatre. It is important to follow instructions on order of dismissal as well as which door to park in front of. The students are simultaneously being dismissed from the theatre with the same instructions.
SPECIAL NOTES FOR HOMESCHOOL GROUPS
You may either park on the street or in the parking ramp directly behind the Paramount Theatre. For the safety of your students and ease in theatre access, we highly recommend you use the parking ramp.
You should enter the Paramount with your group through the north doors on the same side of the building as the ramp. Once inside, please assemble your group in the granite lobby by the restrooms and box office windows. This area is through theatre lobby and to your left. This is our designated small group waiting area. Once your entire party has arrived one person should inform a GREAT volunteer usher so that you may be seated.
After the show, large groups will be dismissed by school. Small groups and homeschools are free to dismiss themselves. Please gather your group by the entryway of the North doors so the dismissal of large groups doesn't get congested in the lobby area.
BEFORE YOU ARRIVE 
Please include all students, teachers, and chaperones in your ticket order.
When ordering seats please include any accessibility needs (wheelchair seating, difficulty with stairs, low vision, hard of hearing, etc.) and any special requests (first dismissal, last dismissal, need to use bathrooms before boarding bus, etc.). GREAT will try to accommodate all requests within reason.
You will receive a bus arrival time in your email 6 weeks before your performance.
Remember to turn off all cell phones and electronic devices before the performance begins.
Please make sure that everyone in your group knows that there is NO recording or flash photography is permitted during any GREAT performance. (Photos of your students under the marquee, etc. are permitted.)
Inform students that there is no food, drink, or gum allowed in the theater.
On the performance day if you are delayed and you will be arriving after the performance begins please call 320-258-2787.
If you are delayed and will be arriving after the performance start time please call 320-258-2787.
SEATING
Groups will be seated by ushers upon arrival.
Seating is determined by many factors. Accessibility needs, group size, and grade level are all taken into account when seating charts are created.
Please allow ushers to seat your entire group before rearranging student seating and taking groups to the bathroom, etc.
If you have an absent student please see an usher about a student voucher.
IN THE THEATER
Notify the nearest usher if there is a medical emergency.
After the performance please remain in your seats. Schools will be dismissed through the PA system. When your school is dismissed an usher will guide you to the correct door.
While dismissal is happening, actors will be on stage to answer questions from the audience.
When leaving remind students to look for all hats, coats, mittens etc.
When at the Paramount please count students as they board the bus so that the bus can leave the front of the building as soon as possible.
AFTER LEAVING THE THEATER 
After the performance an email will be sent to the person who reserved the seats.
Let us know what you think of the show! Feedback from students and staff is always appreciated. Letters can be mailed to: GREAT Theatre, 710 Sundial Drive, Waite Park, MN 56387 or email kendra@GreatTheatre.org
If you have any additional questions, please call GREAT at 320-258-2787 or email kendra@GreatTheatre.org
Paramount Theatre Map
913 Saint Germain St. West
Saint Cloud, MN 56301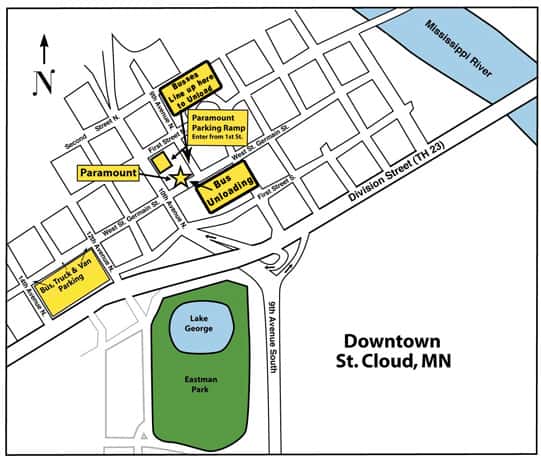 HELGESON LEARNING LAB Theatre Map
710 Sundial Drive
Waite Park, MN 56387