I first encountered Matilda when I was in grade school, and I remember turning pages with delight, enthralled by this little girl whose world was full of cruel adults, awkward children, wondrous moments of magic, and wildly creative stories. There's a lot of darkness in this tale, and the musical adaptation of Roald Dahl's classic leans into that dark. But at the center is a little girl who discovers her power in the midst of (or because of) injustice and stands up to the tyranny of the Big Bad Guys. 
Because of the stories she reads, Matilda is able to envision a world different from the one in which she lives. As her awareness of right and wrong grows, so do her actions, and what begins as questioning patterns turns into breaking rules and standing up for what's right. Matilda's little actions of rebellion embolden others, ultimately sparking the change that shifts the world. 
So it is my pleasure to welcome you into this world of Matilda, where stories have power, the bad guys are clearly the bad guys, and the good guys–regardless of size–come into their power and triumph. It's a story we all can celebrate right now.
Kendra Norton Dando
Director of Matilda
Jacob Beckius will be playing the role of Rudolpho
Adelaide Miron will be playing a Big Kid February 4, 5, 6. 
Character List
Gage Allord – Nigel
Micah Alm – Sergei, Parent
Jacob Beckius – Henchman 1, Doctor, Parent
Rachel Brewster – Mrs. Phelps
Derek Bryant – Eric
Kristi Bryant – Cook, Parent
Cameron De Villers – Ms. Trunchbull
Annika Dauer – Big Kid
Dayton Drews – Henchman 2, Parent
Abbey Gamble – Little Kid
Chari Hoffman – Amanda
Mitchell Hurrle – The Escapologist, Parent
Cerys John – Hortensia
Taylor Kilanowski – Lavender
Mackenzie Krueger – The Acrobat, Parent
Adie Larsen – Big Kid
Grace Lindell – Big Kid
Joel Miron – Mr. Wormwood
Izzy Neisen – Matilda Wormwood*
Iris O'Donnell – Alice
Anya Overlien – Parent
Luke Reber – Rudolpho
Griffin Rhodes – Bruce
Noelle Ritzema – Matilda Wormwood**
Lee Rone – Tommy
Martha Sanguma – Miss Honey
Abby Schnobrich – Mrs. Wormwood
Ethan Stoeckel – Big Kid
Gunnar Swenson – Michael Wormwood
Elizabeth St. Hilaire – Little Kid
Matthew M Toumi –  Children's Entertainer
Madelyn Weekley – Little Kid
Max Vetter – Big Kid
Summer Welch – Parent, Big Kid
Orchestra
Tony Hutar – Trumpet
Amanda Jansen – Reeds
Mary Beth Kulander – Reeds
Rachel Miller – Trombone
Sean Jacobson – Piano
Christina Tourino – Piano
Matt Nelson – Percussion
Nina Nelson – Percussion
John Tetrault – Bass
Noelle Macmillan – Cello
Crew
James Onofrey – Rail Crew
Ashleigh Cola – Deck Crew
Melissa Dvorak – Deck Crew
Keenan Roberts – Props Crew
Alvina Lieser – Wardrobe Crew
Tiffany Shepard – Wardrobe Crew
Anthony Schrock – Follow Spot Operator
William Chesemore – Follow Spot Operator
Ben Cragle – Light Board Operator
Facio Long – QLab Operator
Grecia Lopez – Child Guardian
Adelaide Miron – Child Guardian
James Reichow – Child Guardian
*Izzy Neisen will perform 1/28, 1/30, and 2/5
**Noelle Ritzema will perform 1/29, 2/4, and 2/6
Cast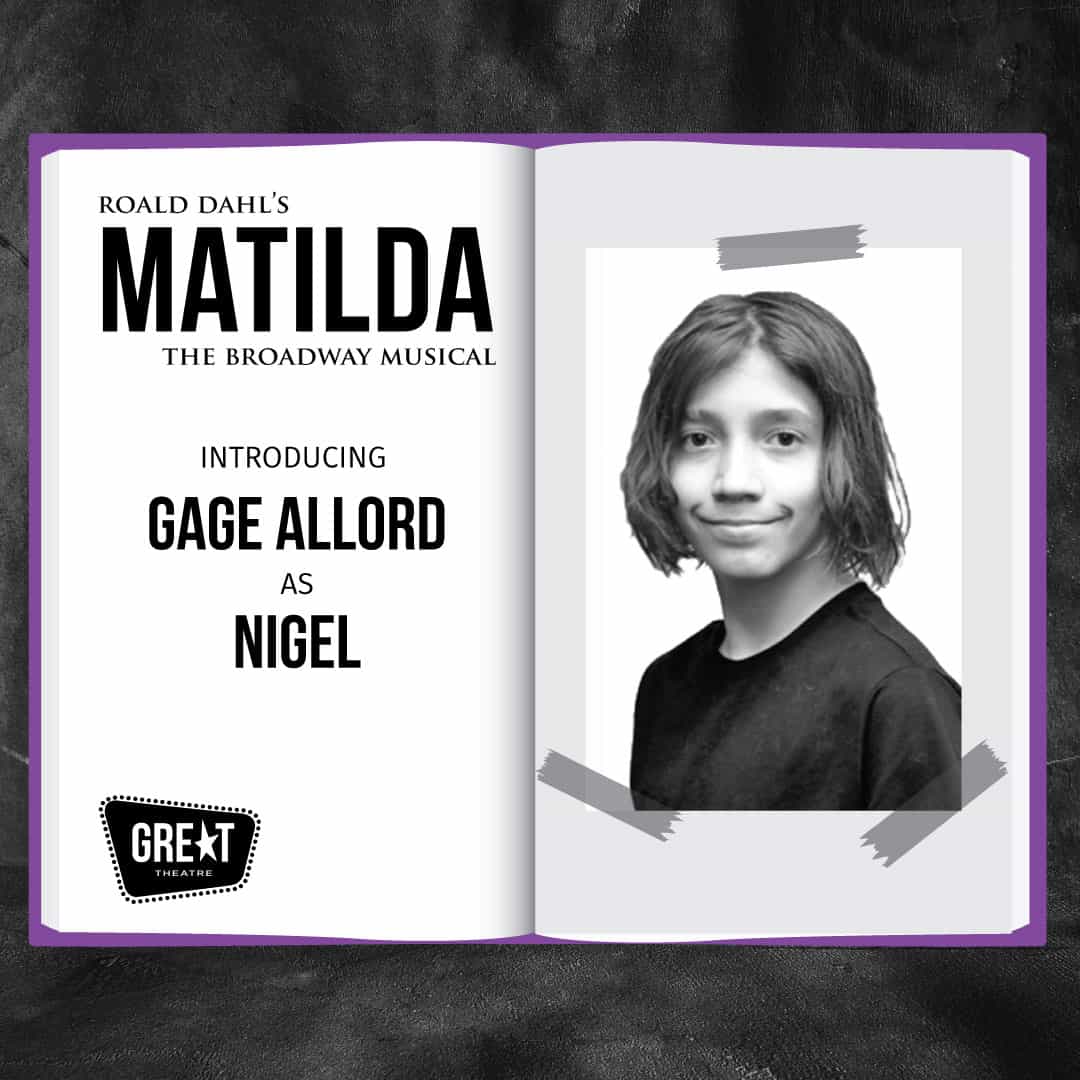 Gage Allord
Volunteer Actor
Gage Allord is a student at Albany Middle School. He likes skating, gaming, and working on engines! Gage has wanted to be involved in theatre since he encountered the music of Hamilton and In the Heights, and then GREAT's production of Rodgers & Hammerstein's Cinderella. This is Gage's stage debut!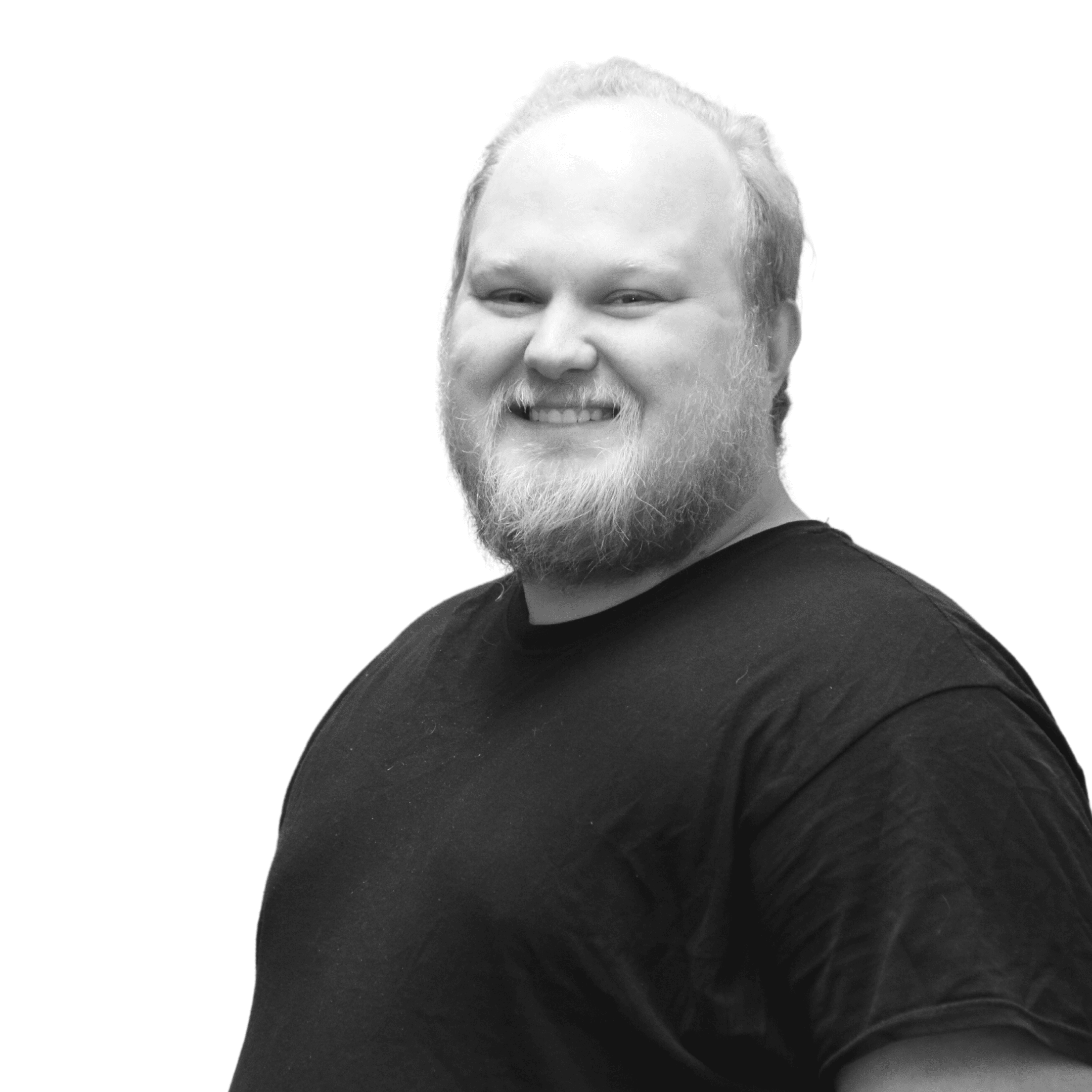 Micah Alm
Volunteer Actor
Micah Alm (Goon 1, Ensemble, J.D U/S), is a Natural Resources Technician at Lake Maria State Park. Jimmy Buffett's Escape to Margaritaville marks Micah's third performance at the Ledge Amphitheater with GREAT, which represent only a fraction of his involvement with GREAT in past years. Micah has also been in shows including Matilda and Murder on the Orient Express, and has been backstage for shows like Descendants and Play that Goes Wrong. When Micah has free time, he likes baking and being with friends.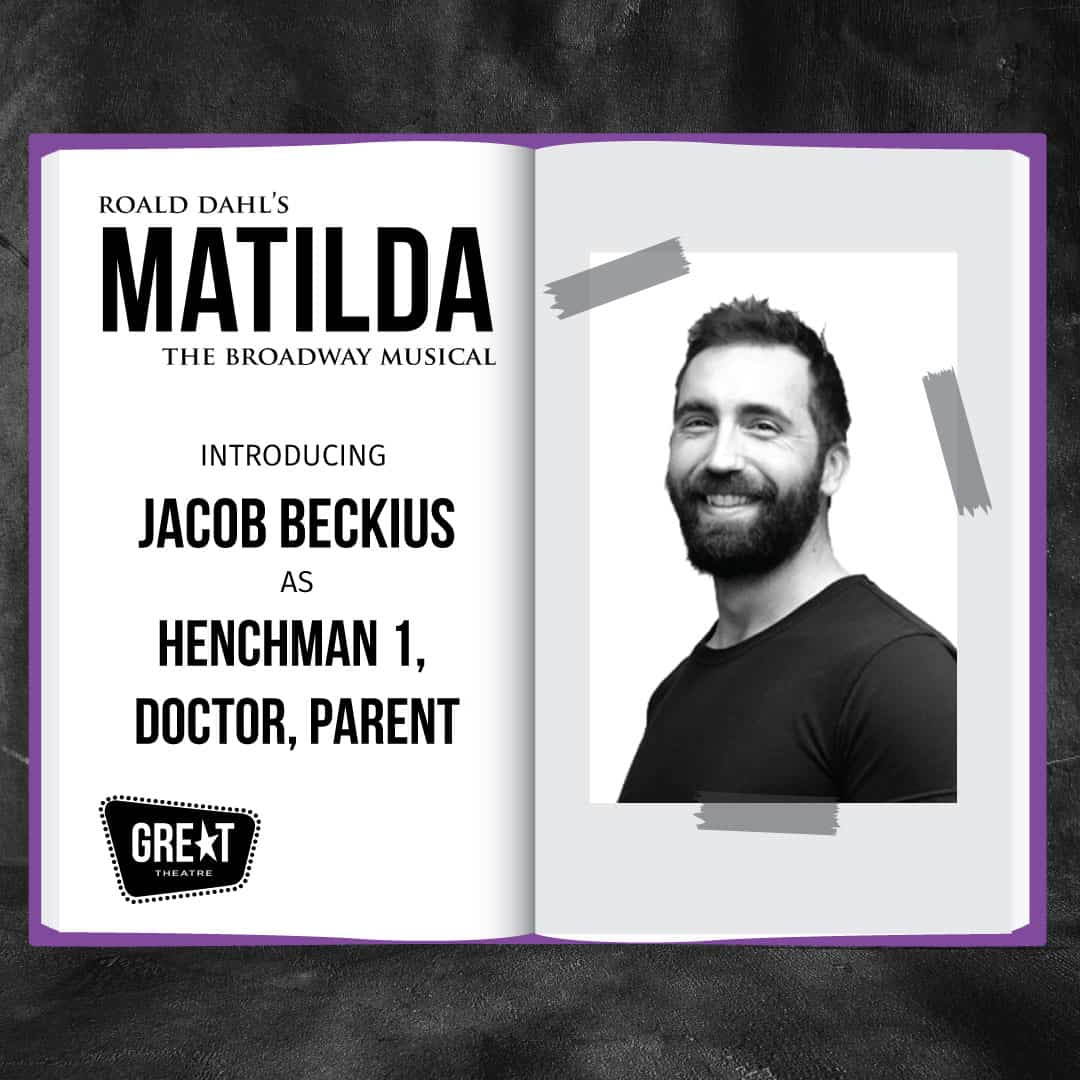 Jacob Beckius
Volunteer Actor
Jacob Beckius is employed at Viking Coca-Cola, and has been in many shows, such as Rocky Horror Picture Show and with GREAT Theatre, Chicago and Little Shop of Horrors. For fun, Jacob likes cooking, video games, biking, and constructing Legos.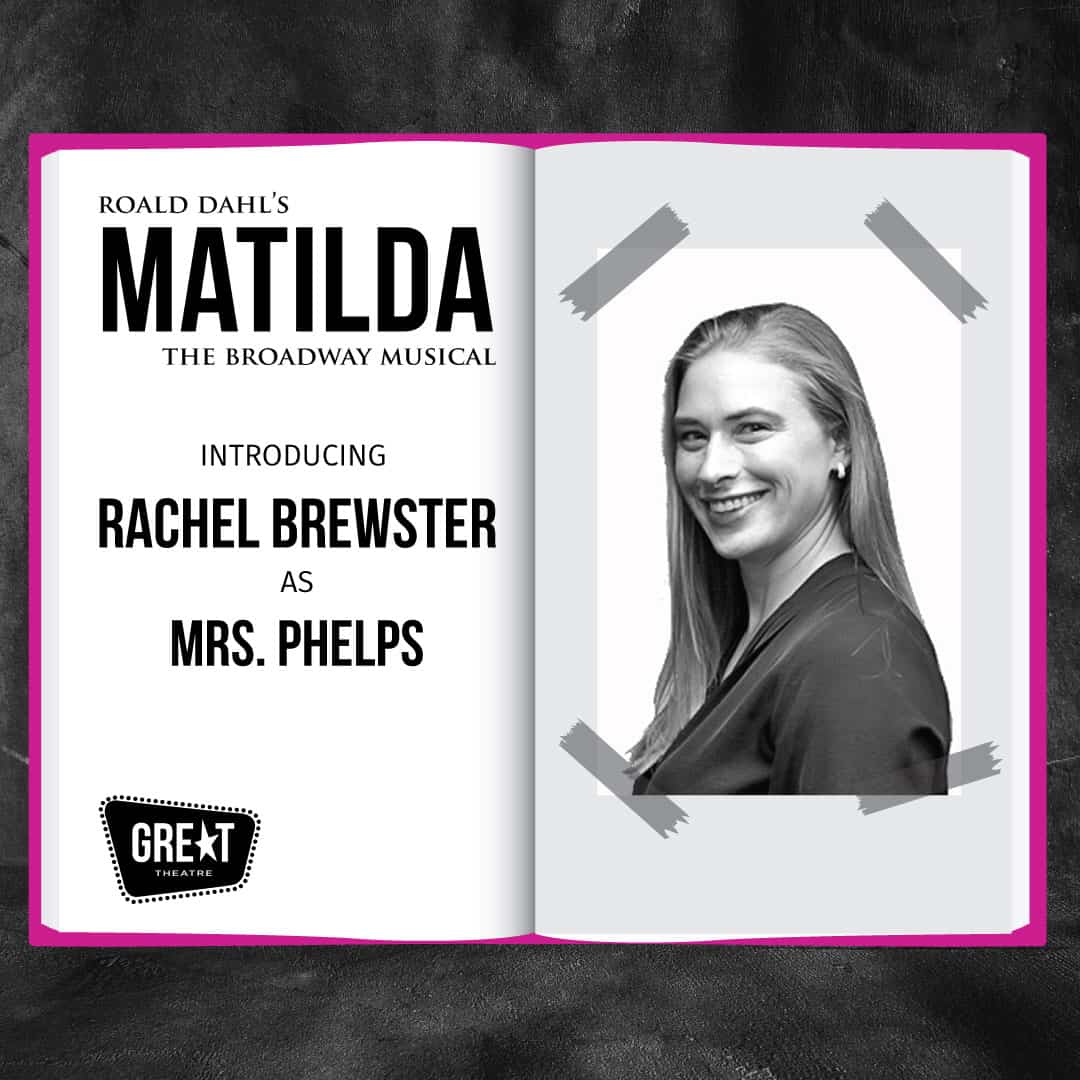 Rachel Brewster
Volunteer Actor
Rachel Brewster is a digital strategy consultant. Rachel was heavily involved with the arts as a child, but lost touch with it as she focused on her education and career. With Matilda, Rachel is reconnecting with an old passion! Outside of work and acting, Rachel likes dancing, competitive storytelling, and golf.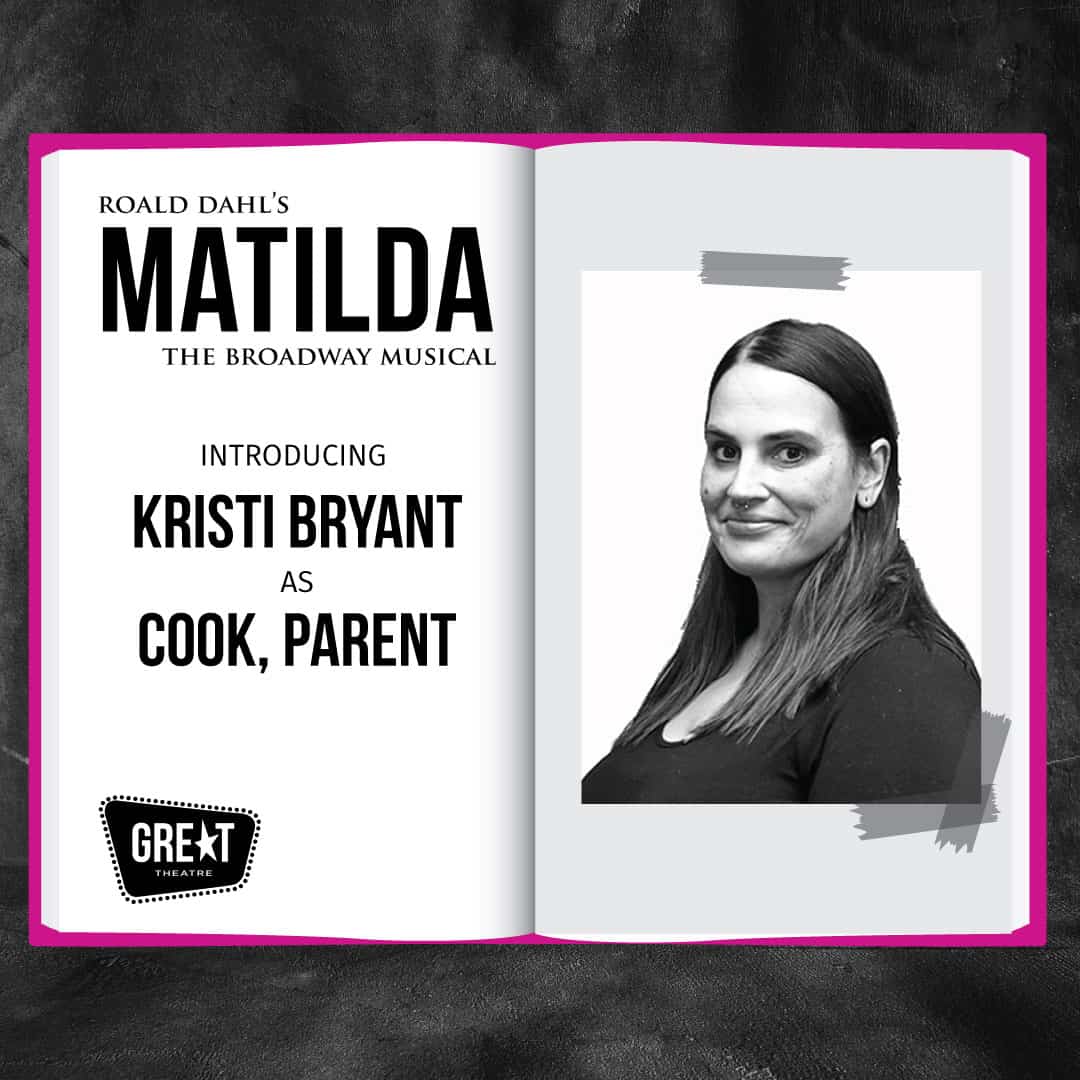 Kristi Bryant
Volunteer Actor
Kristi Bryant is a Registered Nurse with Centracare. She has performed in GREAT shows like A Christmas Carol, Shrek, and most recently, Rodgers & Hammerstein's Cinderella. Kristi enjoys crocheting, crime documentaries, and naps. Being in Matilda has offered her a unique opportunity to share her love of theatre with her son Derek, who she will share the stage with!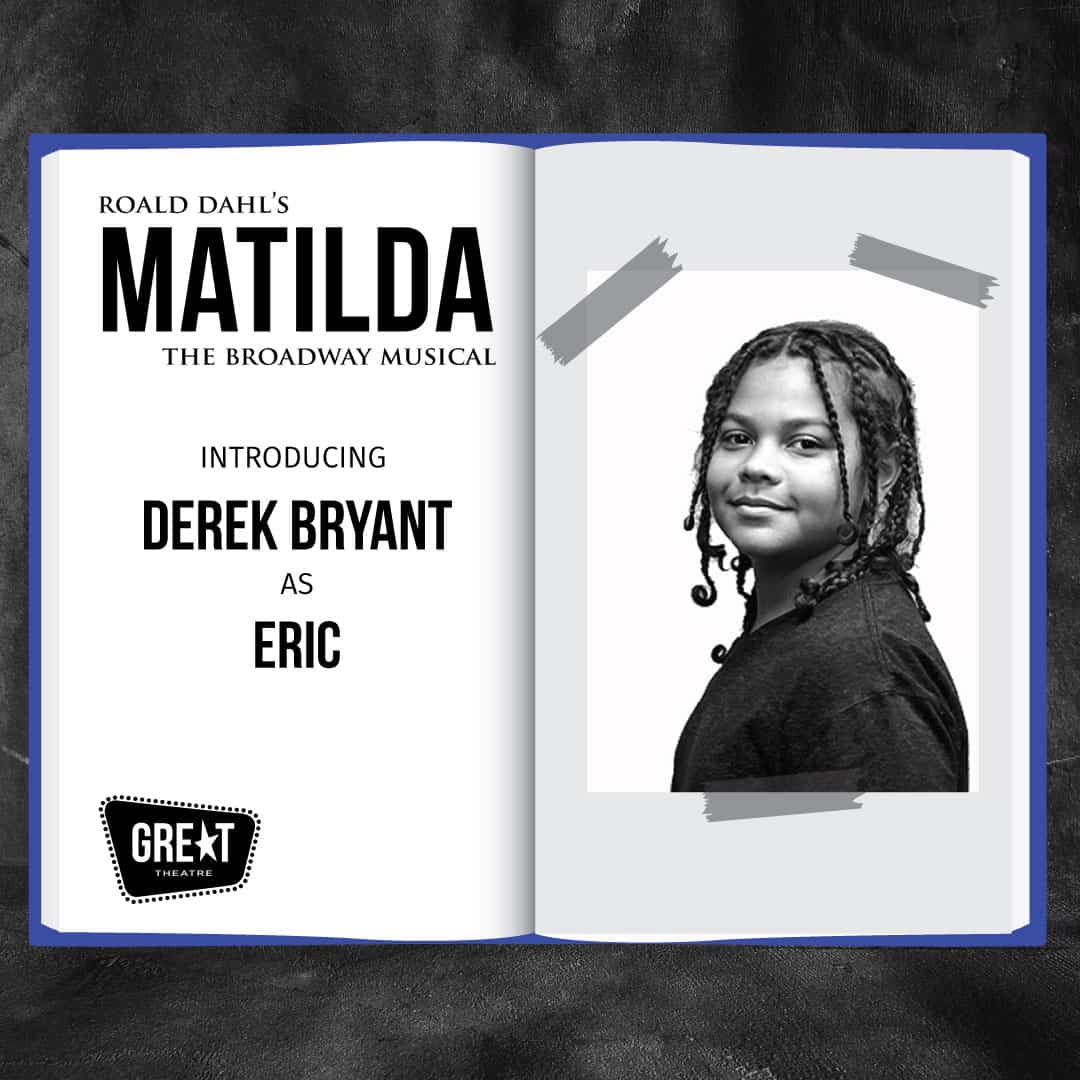 Derek Bryant
Volunteer Actor
Derek Bryant is in the sixth grade at Sauk Rapids-Rice Middle School. He likes basketball, gaming, and Black history. Derek has been in GREAT's production of Rodgers & Hammerstein's Cinderella, and he's excited to return to the stage for Matilda. Being on stage is Derek's happy place, and he is sharing that experience with his mother Kristi!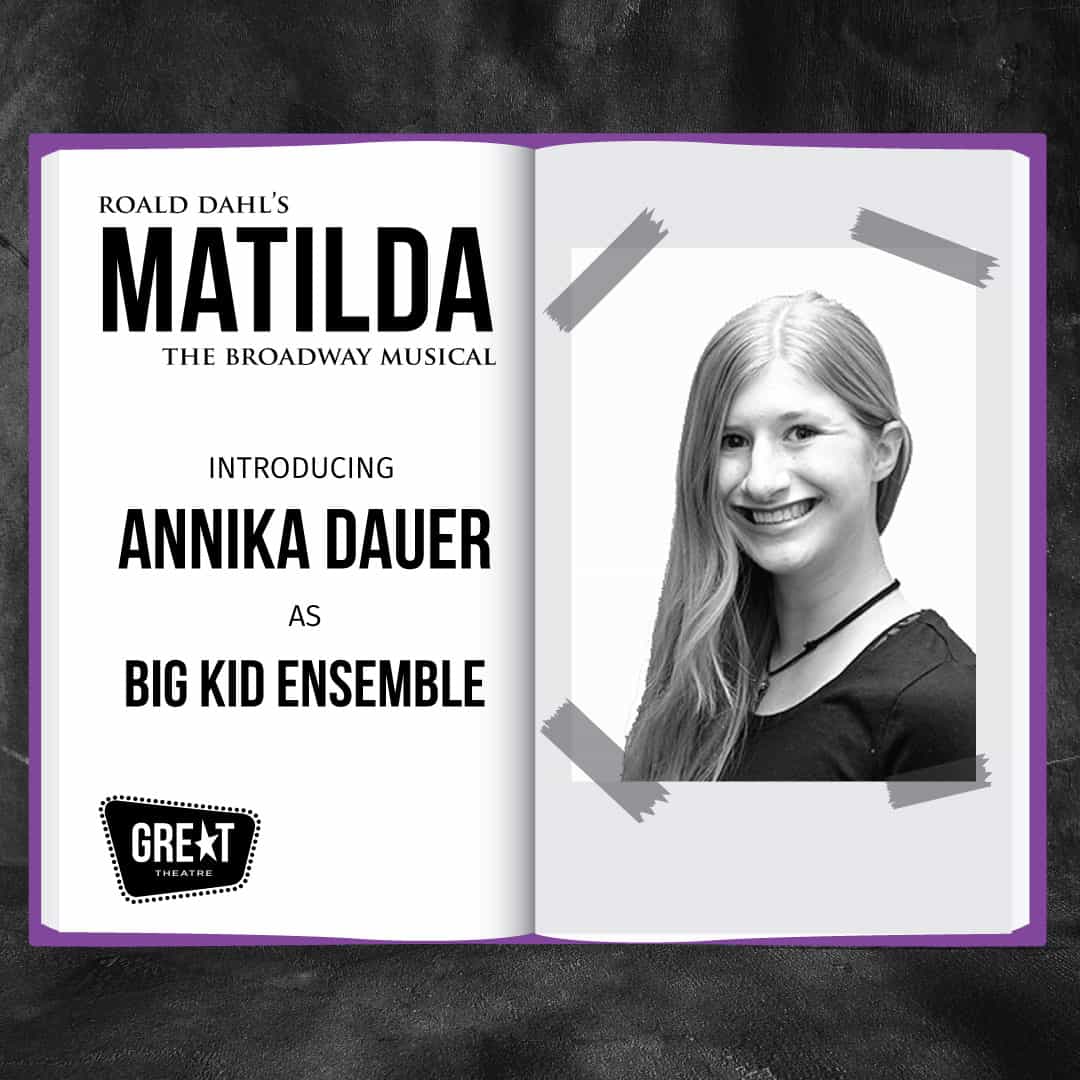 Annika Dauer
Volunteer Actor
Annika Dauer is a student at Saint John's Preparatory School. Annika has a passion for theatre, but they also like writing, playing violin and ukulele, and Dungeons & Dragons. Matilda is Annika's GREAT Theatre debut!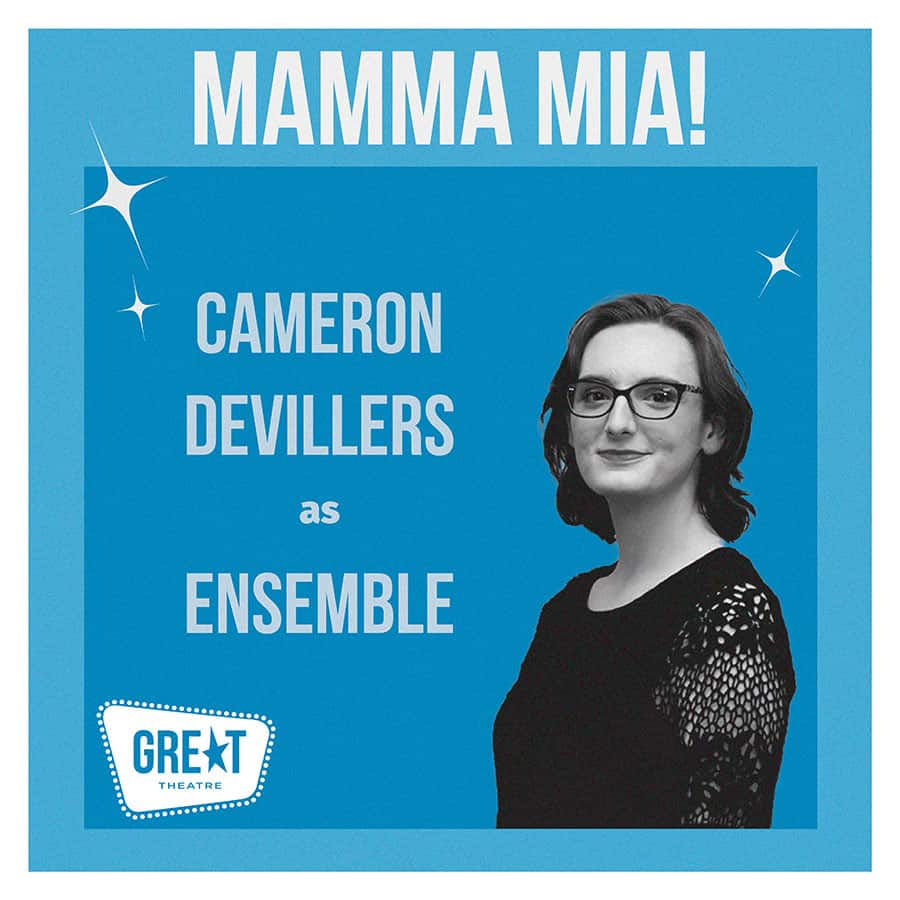 Cameron DeVillers
Volunteer Actor
Cameron DeVillers is a hairstylist at Great Clips. She likes performing, painting, and playing ukulele for fun. ABBA has been one of Cameron's favorite bands since she was young, and she has wanted to be in a production of Mamma Mia! since she saw the show on tour! After being in many other shows, like Annie, Into the Woods, and most recently, GREAT's production of Matilda, Cameron is now realizing her goal of being in Mamma Mia!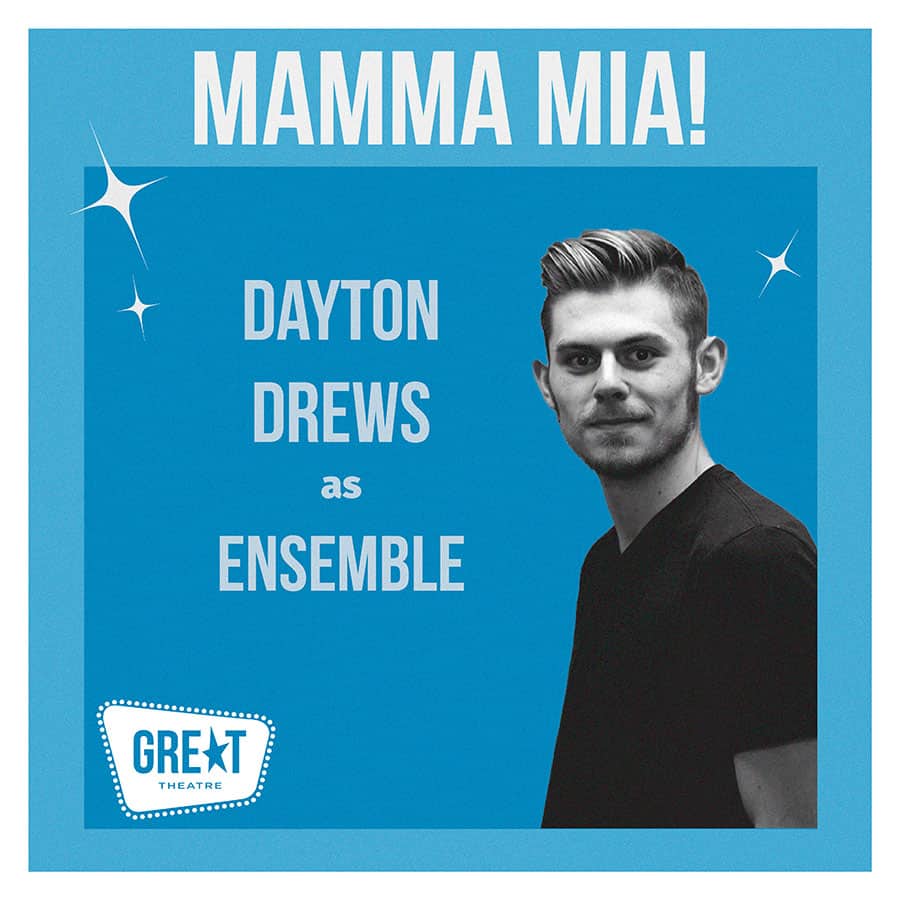 Dayton Drews
Volunteer Actor
Dayton Drews works in shipping at a warehouse, and spends much of his free time with music. Dayton likes to listen to music, collect records, play piano and drums, and dance. Dayton was in a number of productions through middle and high school, including Groovy and Pom Pom Zombies, and was recently in GREAT's production of Matilda.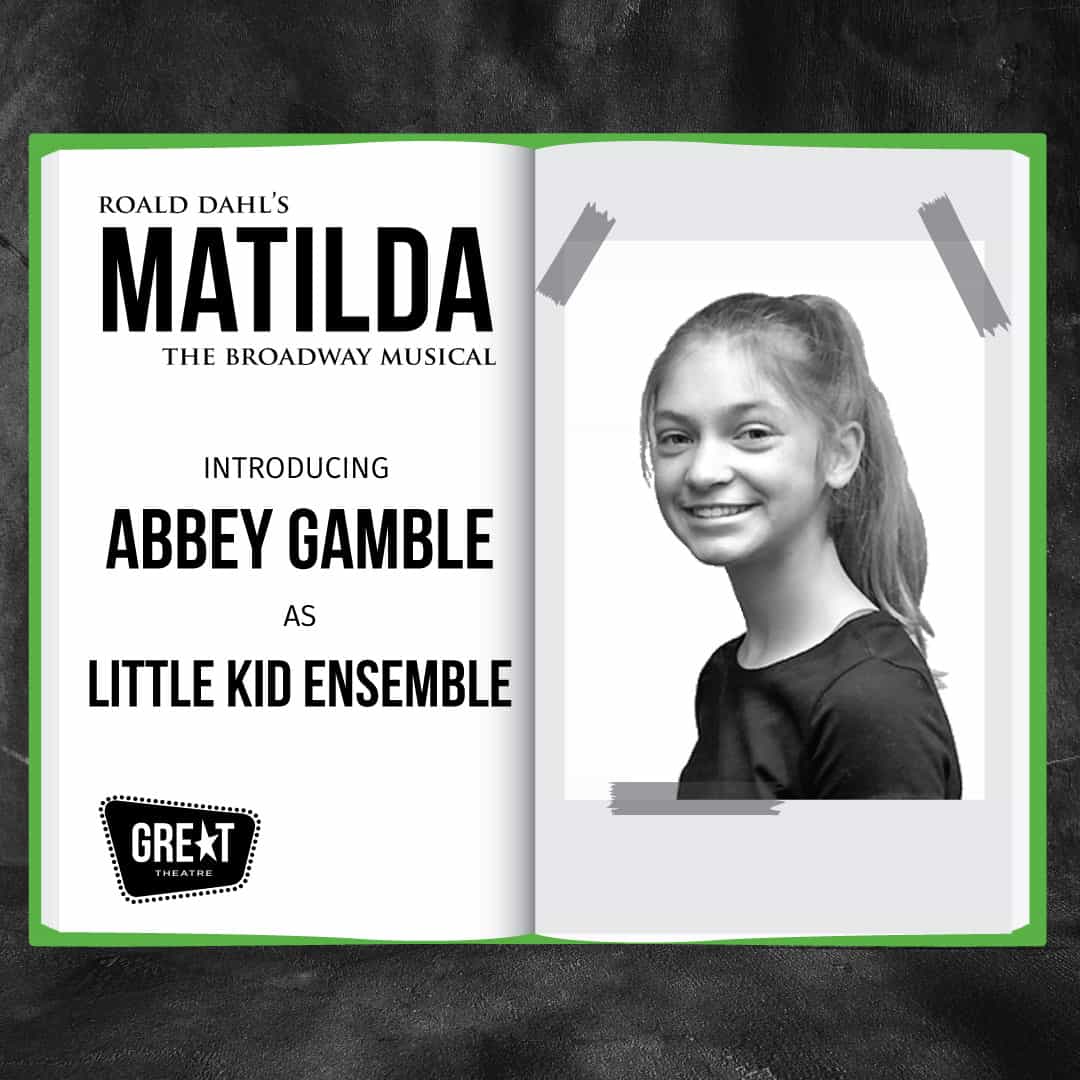 Abbey Gamble
Volunteer Actor
Abbey Gamble attends Becker Middle School and has starred in Pirates of Penzance. Abbey is a fan of the movie version of Matilda, which is partially what drew her to audition for the show. When she's not acting, Abbey likes to play soccer. This is Abbey's GREAT Theatre debut.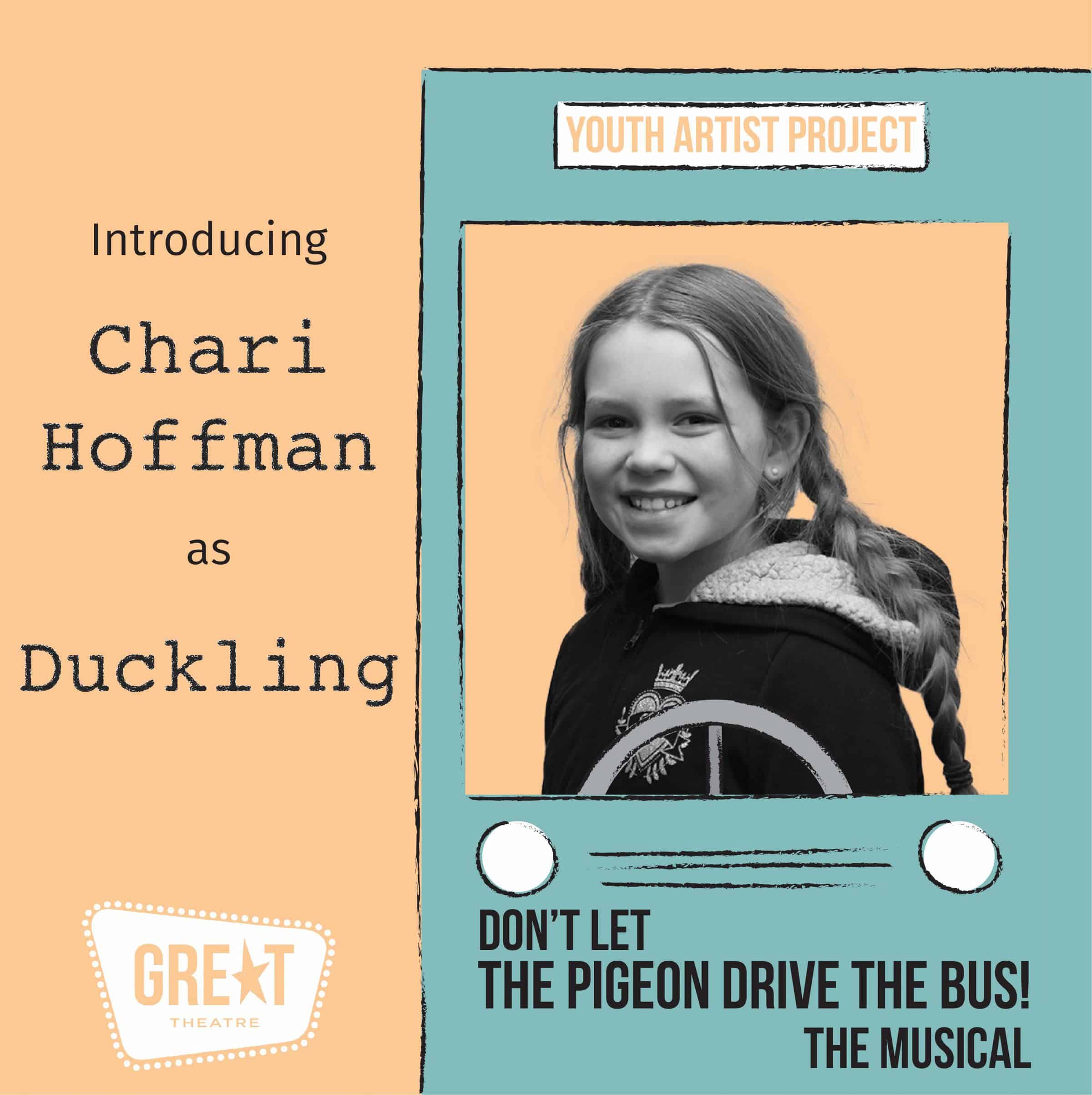 Chari Hoffman
Volunteer Actor
Chari Hoffman is a student at Prince of Peace Lutheran School. Chari Hoffman has been in productions of Aristocrats Jr. and Moana Jr., as well as GREAT's production of Matilda! Chari decided to audition for Don't Let the Pigeon Drive the Bus! The Musical! after reading the book and finding it funny. In her spare time, Chari likes to read, sing, dance, draw, and play volleyball.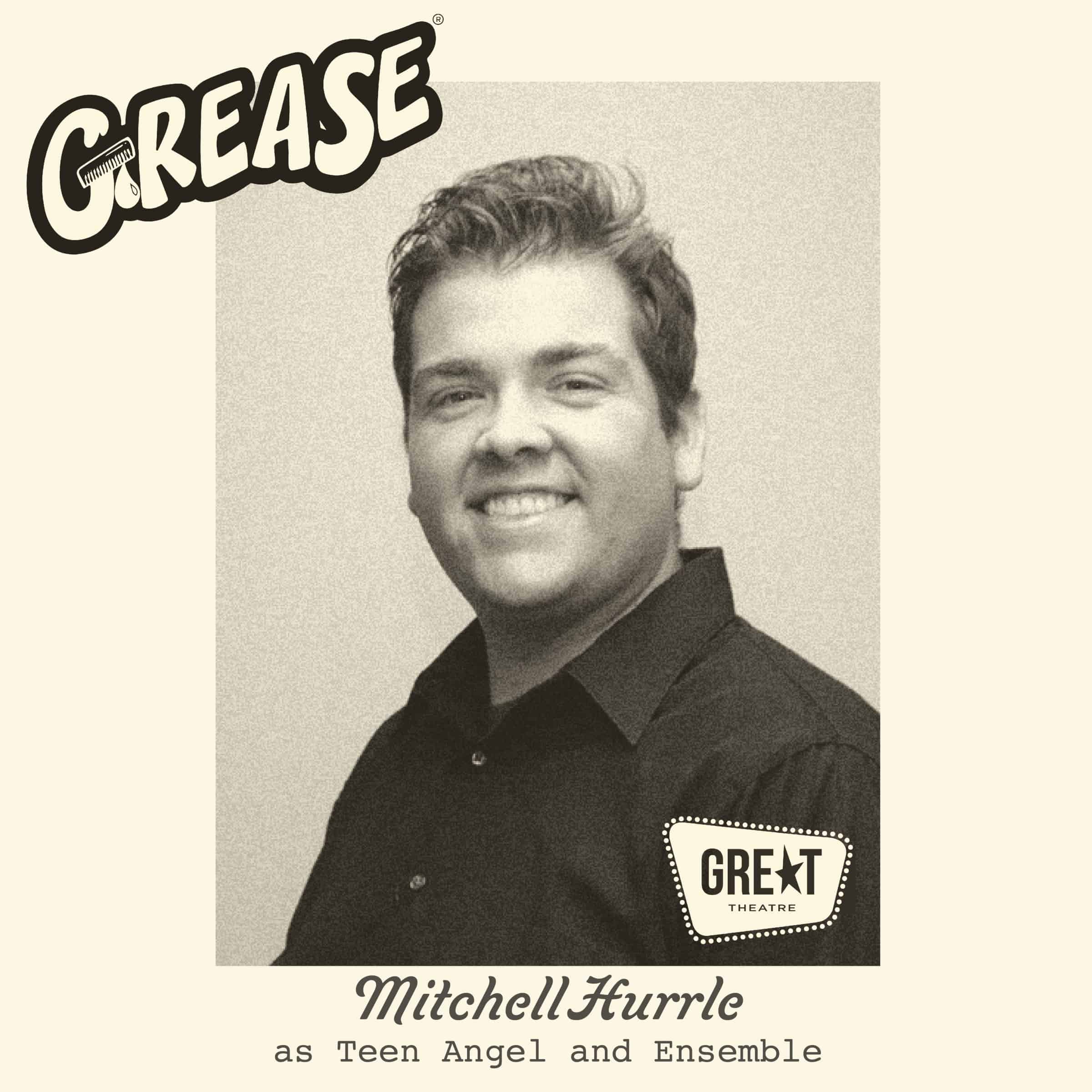 Mitchell Hurrle
Volunteer Actor
Mitchell Hurrle is a registered Nurse in the NICU of St. Cloud Hospital. He likes musical theatre, traveling, and spending time with friends and family. Mitchell has been involved in numerous shows with GREAT and was last seen in Mamma Mia! and Matilda.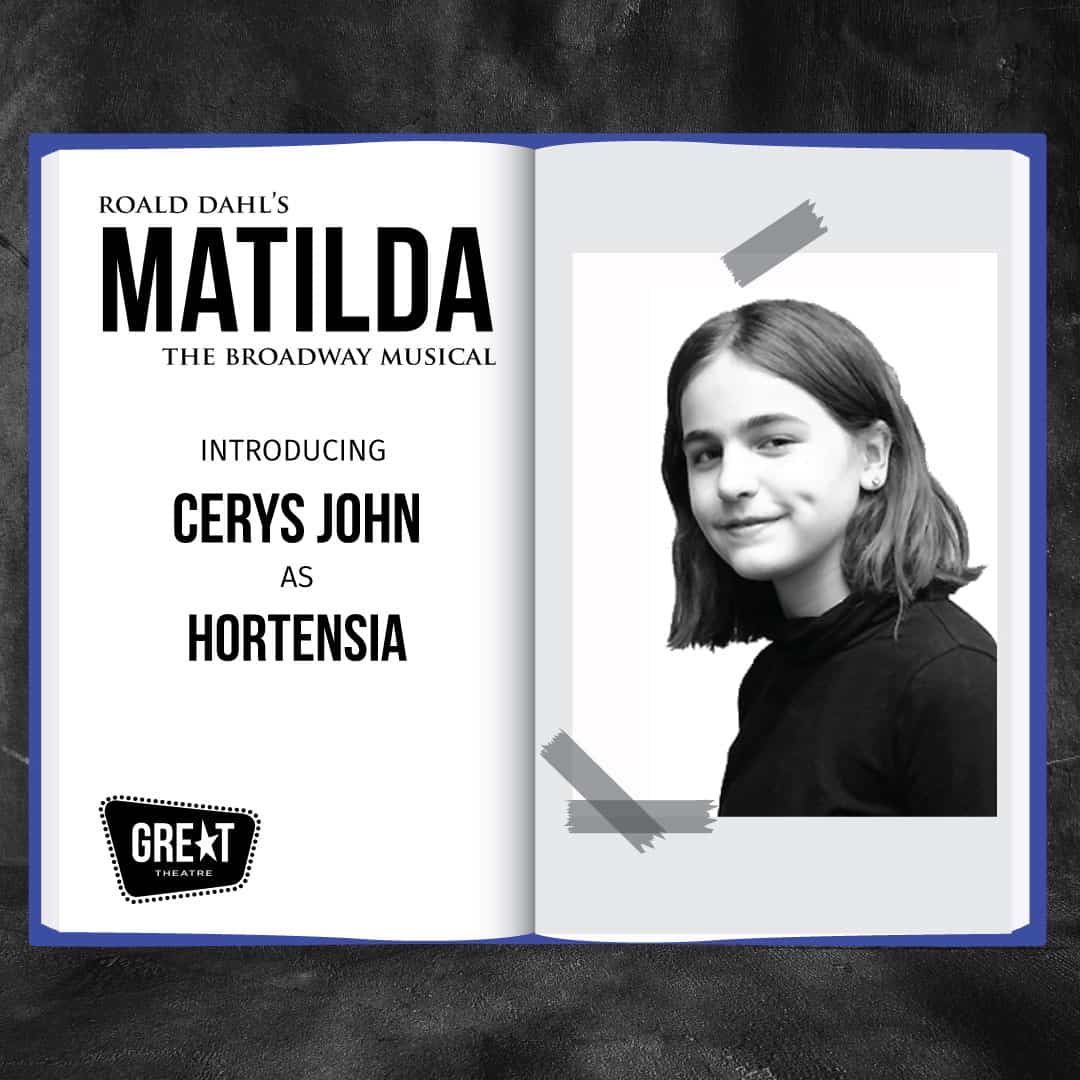 Cerys John
Volunteer Actor
Cerys John is a student at Saint John's Preparatory School. There, they have been in Into the Woods and The Legend of Sleepy Hollow. Cerys enjoys reading and drawing, and is excited to be in Matilda because it is one of the few musicals that focus on children and their amazing abilities. Cerys says Matilda combines several of her great loves: musicals, books, and mischievous children.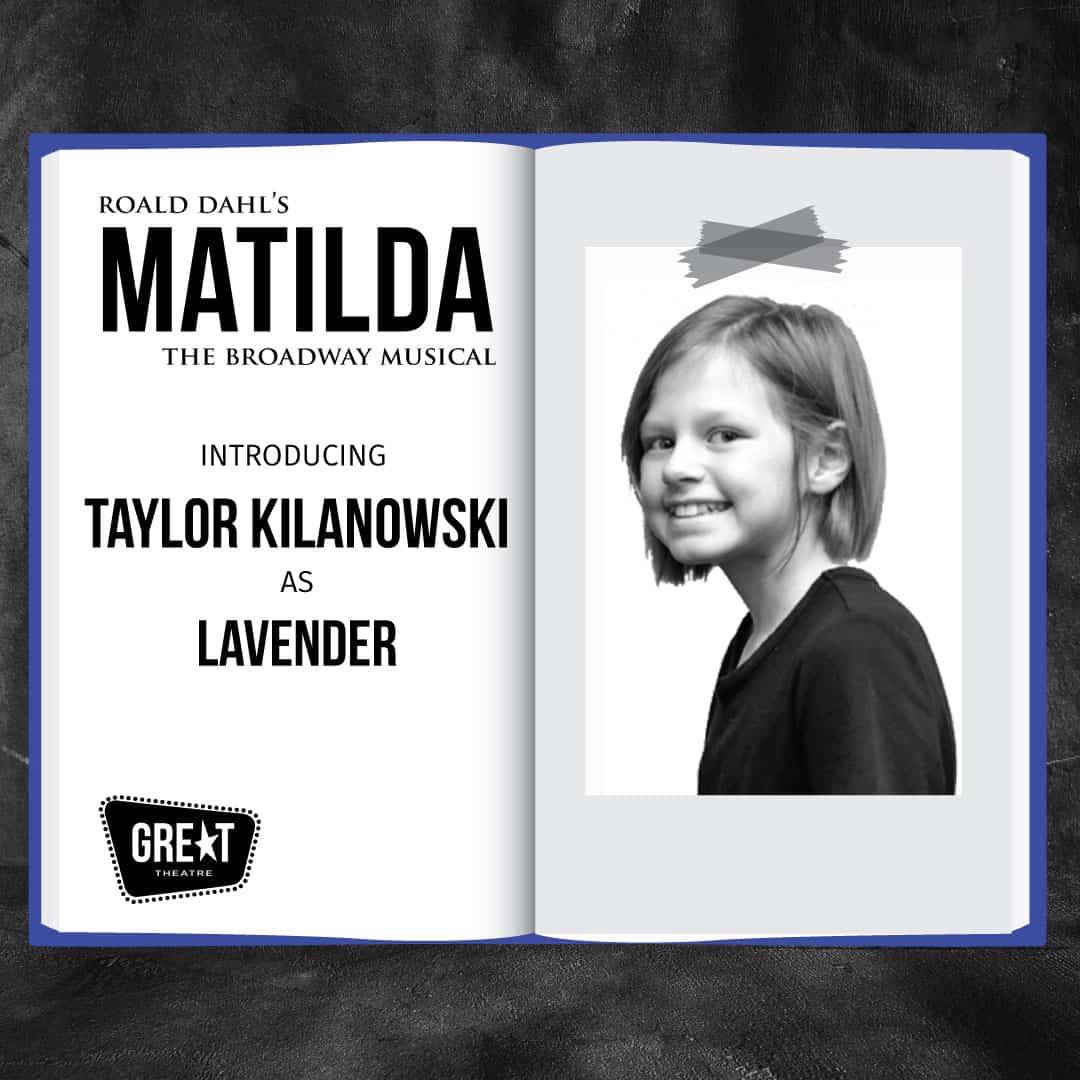 Taylor Kilanowski
Volunteer Actor
Taylor Kilanowski studies at Avon Elementary. Their hobbies include drawing and painting. Taylor is excited to be making their GREAT Theatre debut!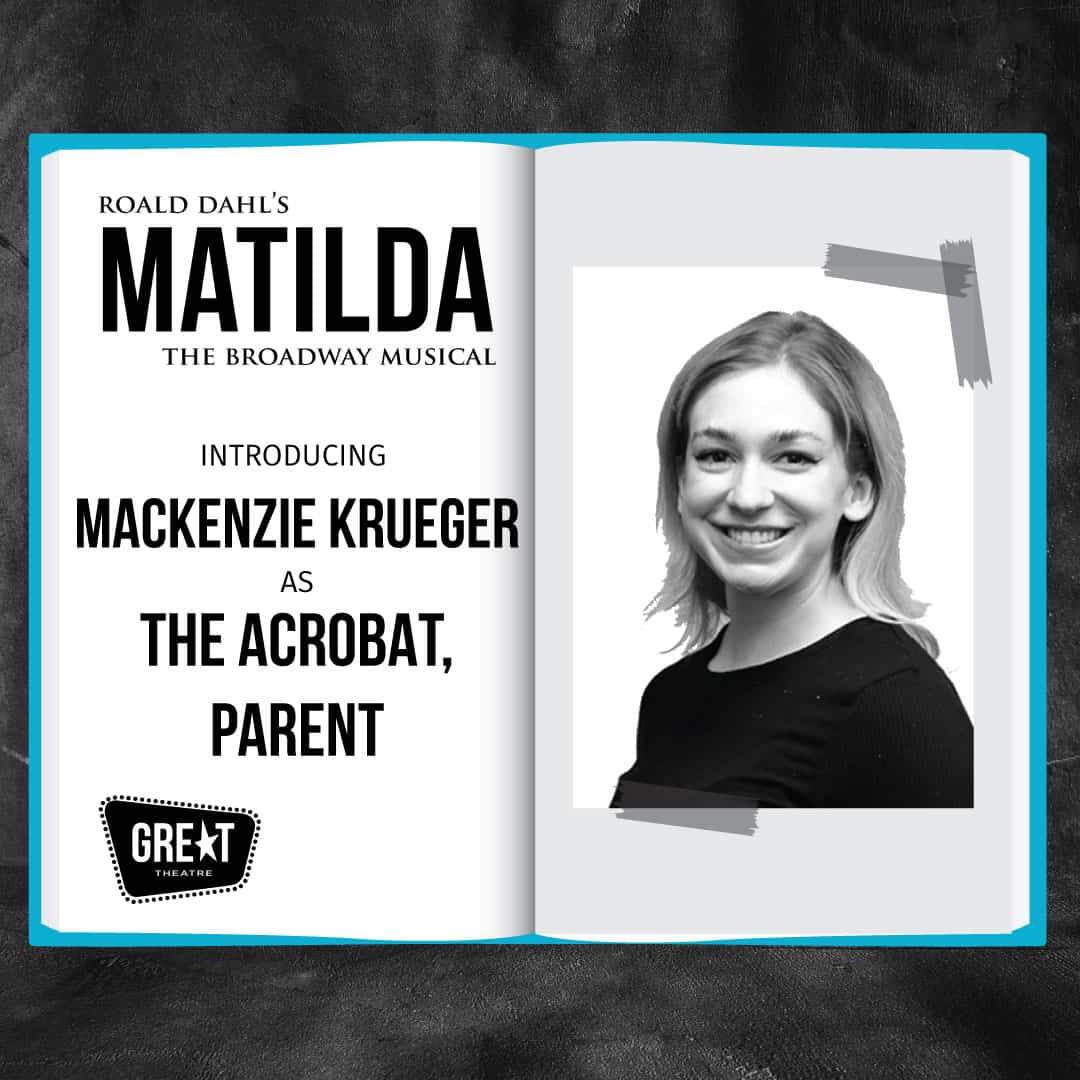 Mackenzie Krueger
Volunteer Actor
Mackenzie Krueger is a server at Granite City and enjoys weight training, animals, Tik Tok, and friends! She has been in a great deal of shows, including GREAT productions of Shrek, Sister Act, and most recently, Little Shop of Horrors. Mackenzie is thrilled to put her Musical Theatre major to work in productions like Matilda now that theatres are returning to in-person performances!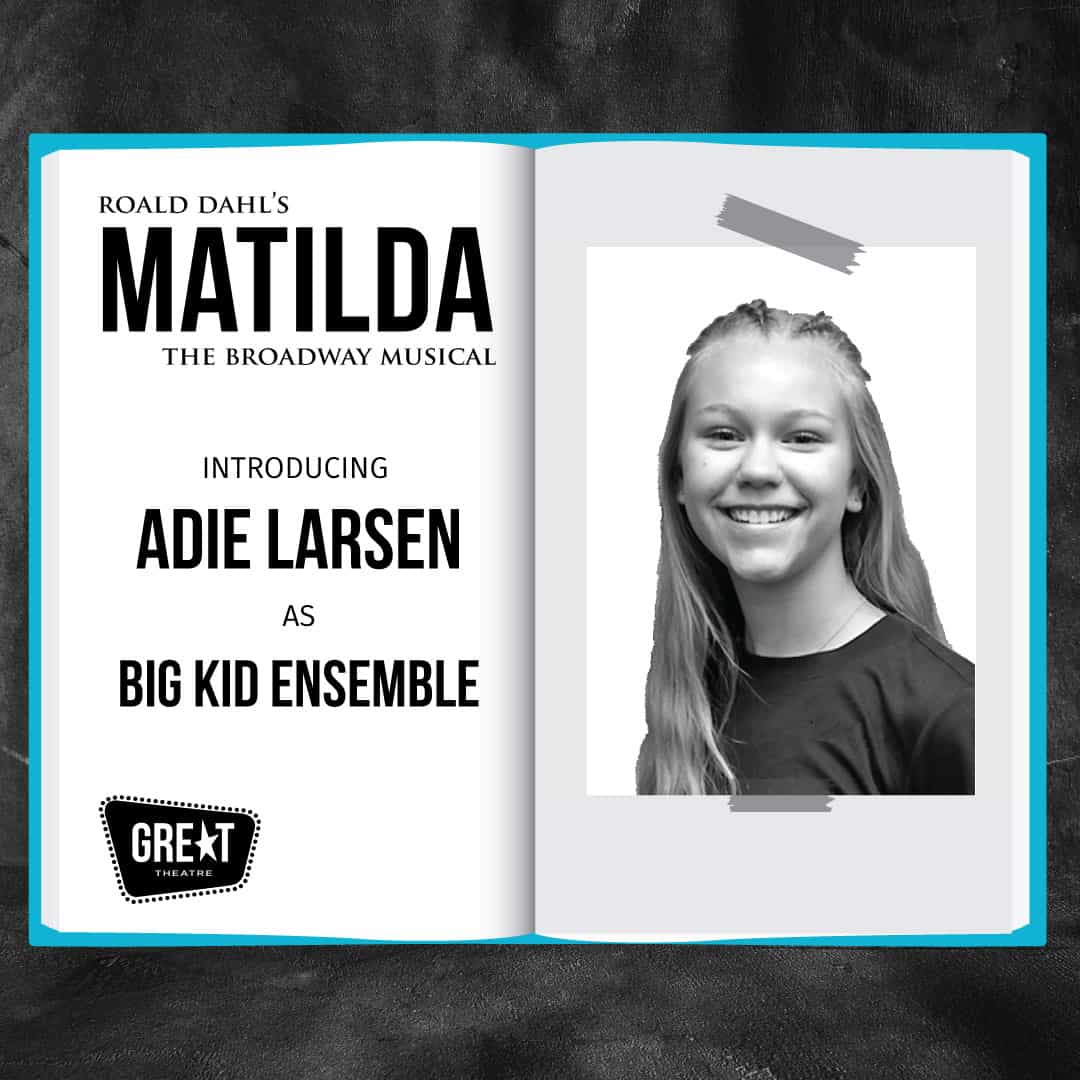 Adie Larsen
Volunteer Actor
Adie Larsen is home schooled, and has been in GREAT Theatre productions of Chitty Chitty Bang Bang, Beauty and the Beast, and Joseph and the Amazing Technicolor Dreamcoat. While Adie enjoys acting, she also enjoys volleyball, skiing, and unicycling. She is excited to work with GREAT Theatre again for Matilda.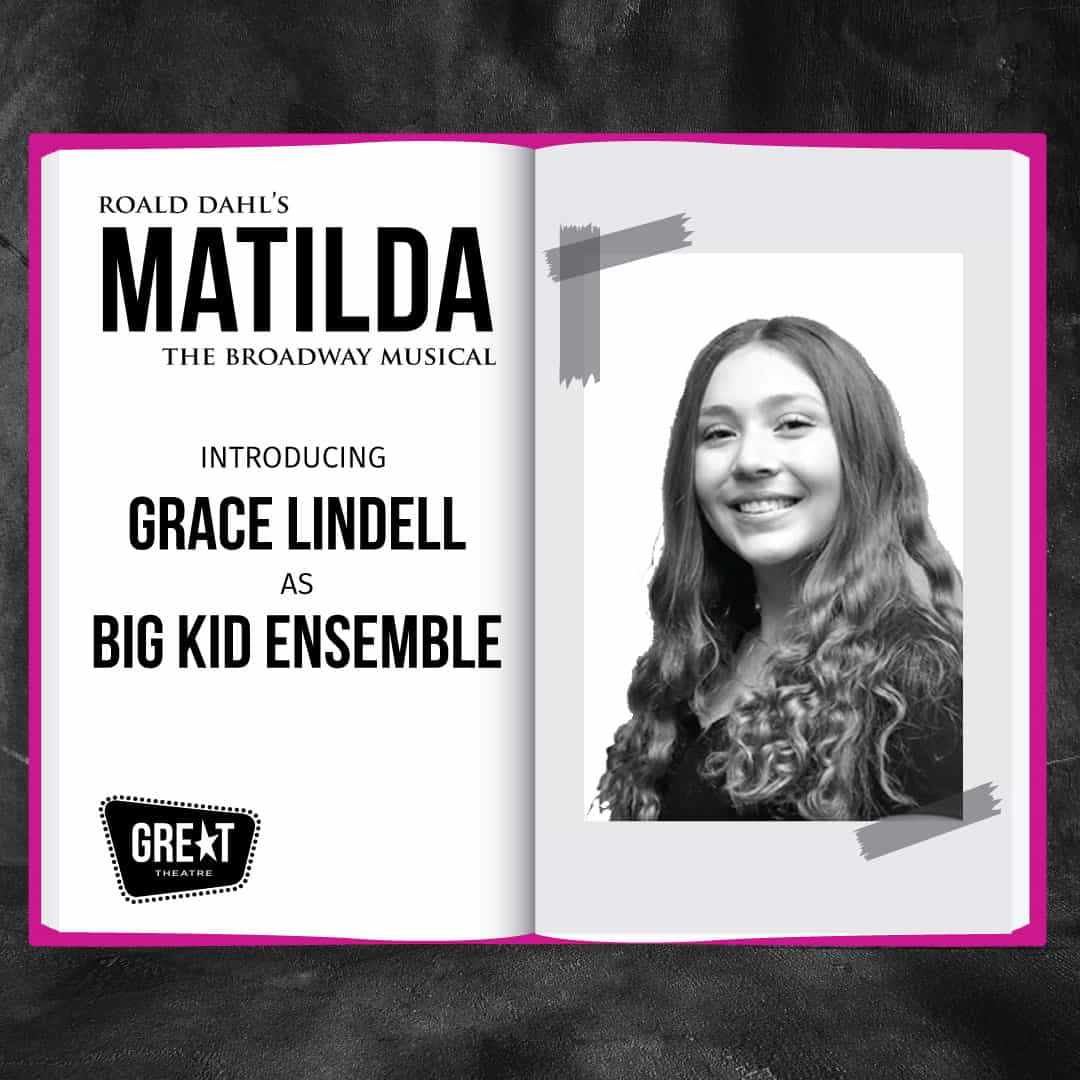 Grace Lindell
Volunteer Actor
Grace Lindell is a student at Rocori High School. She has been in productions of Frozen, Wizard of Oz, Suessical the Musical, and many others. When she's not in school or on the stage, she enjoys playing volleyball.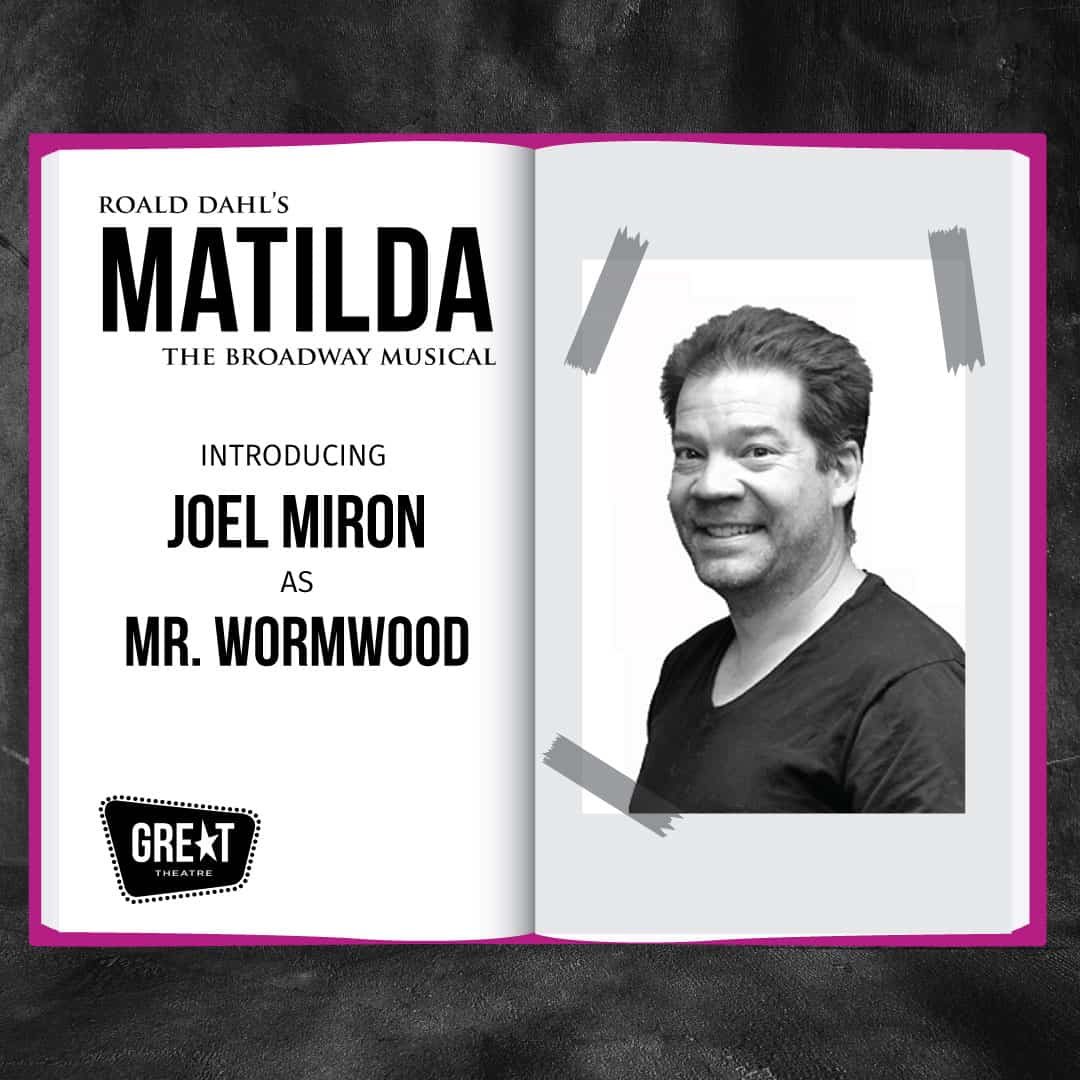 Joel Miron
Volunteer Actor
Joel Miron is a doctor at the St. Cloud Hospital. Joel has been in several GREAT productions, such as Peter Pan, To Kill a Mockingbird, and My Fair Lady. When he's not otherwise occupied, Joel likes reading novels and playing board games with friends. For Joel, Matilda brings back memories of reading Roald Dhal's books as a child. He's thrilled to bring the story from his youth to the stage as an adult!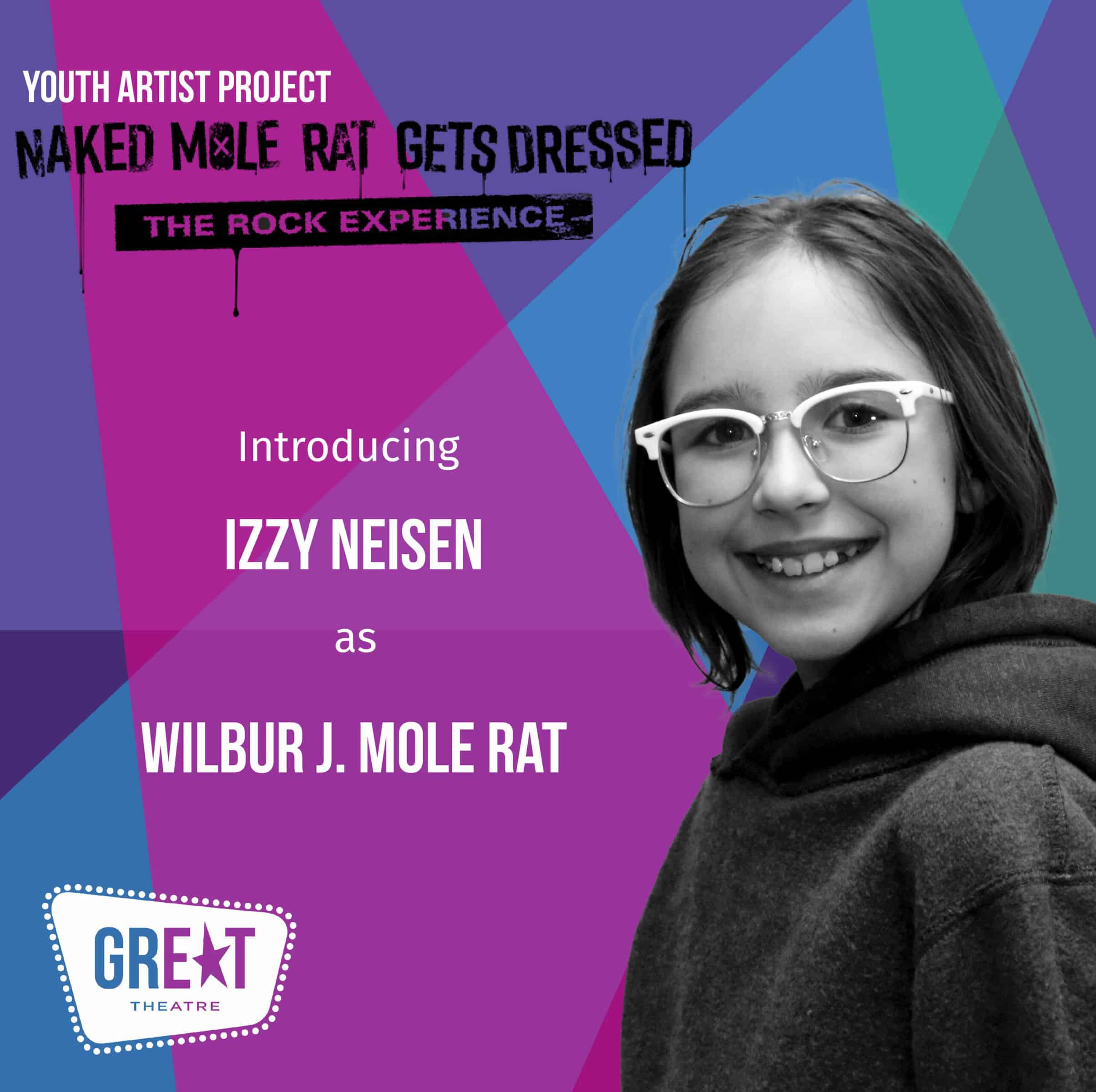 Izzy Neisen
Volunteer Actor
Izzy Neisen is in the 6th grade at Rocori Middle School. They've been in many GREAT summer camps, and have taken the stage in shows like Mary Poppins and GREAT's production of Matilda! Izzy joined this show because they have always loved naked mole rats, and thinks they look funny—plus, Izzy really likes Mo Willem's books!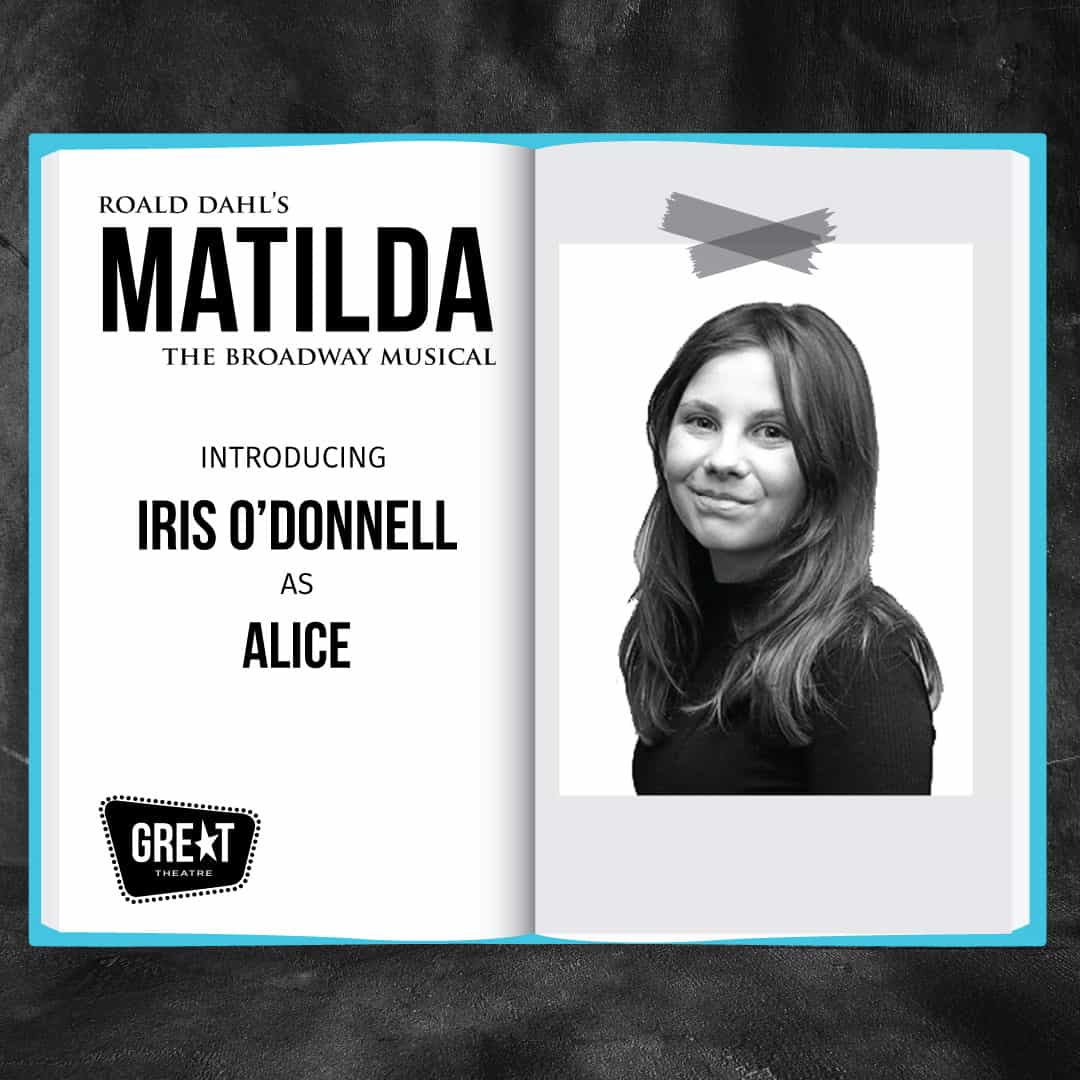 Iris O'Donnell
Volunteer Actor
Iris O'Donnell attends Sauk Rapids-Rice Middle School, where she has been in several plays. She has also been participating in GREAT Theatre Camps since she was six years old. Outside of acting, Iris likes to sing, play volleyball, and create art. The movie version of Matilda was one of Iris's favorites growing up, making this GREAT debut especially important to her.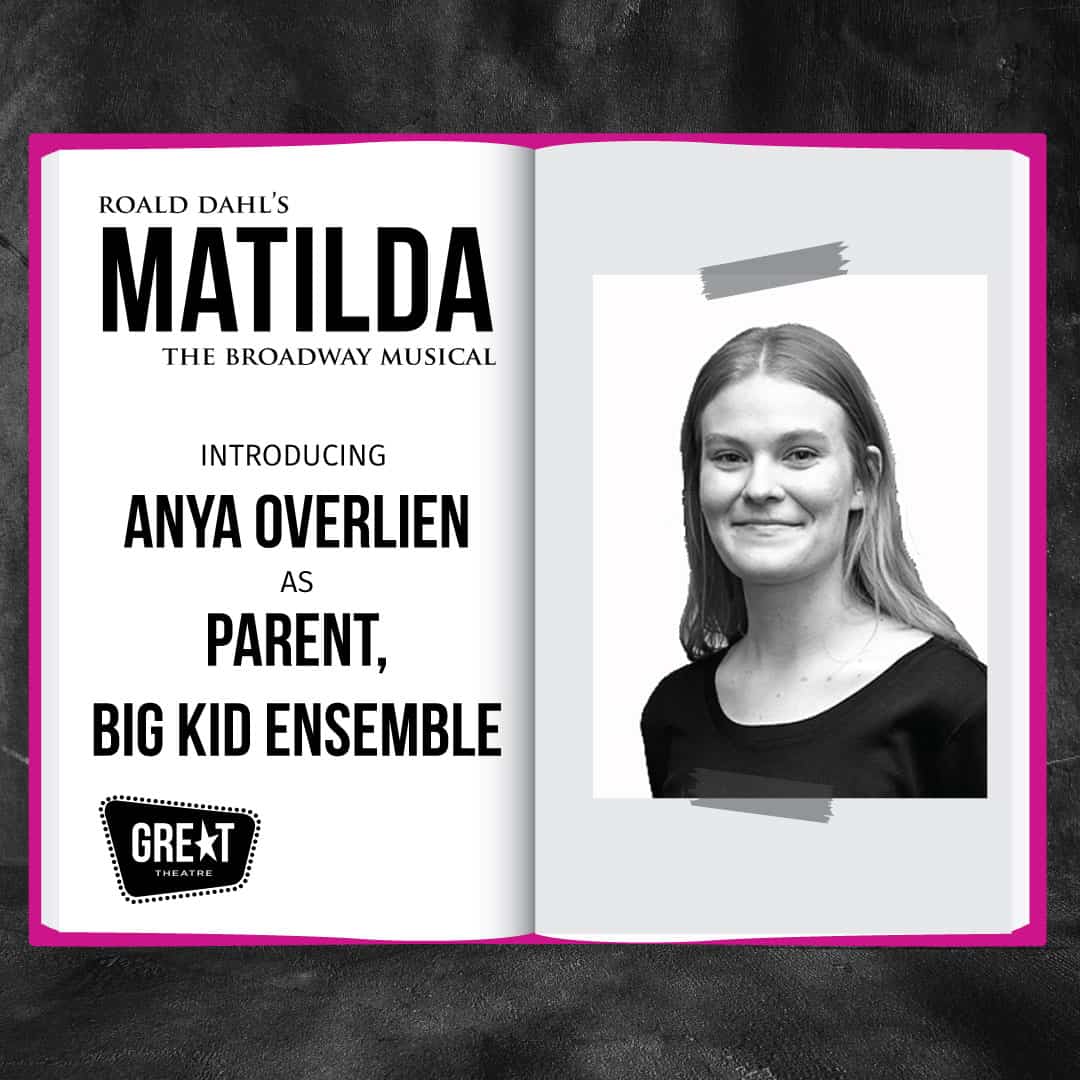 Anya Overlien
Volunteer Actor
Anya Overlein goes to the University of St. Thomas. In her free time, she listens to music, makes friends, runs, and plans road trips. Anya has been in GREAT shows such as The King & I, The Wizard of Oz, and most recently, Rodgers & Hammerstein's Cinderella. Anya is thrilled to be involved with theatre, having fewer opportunities to do so since going away to college!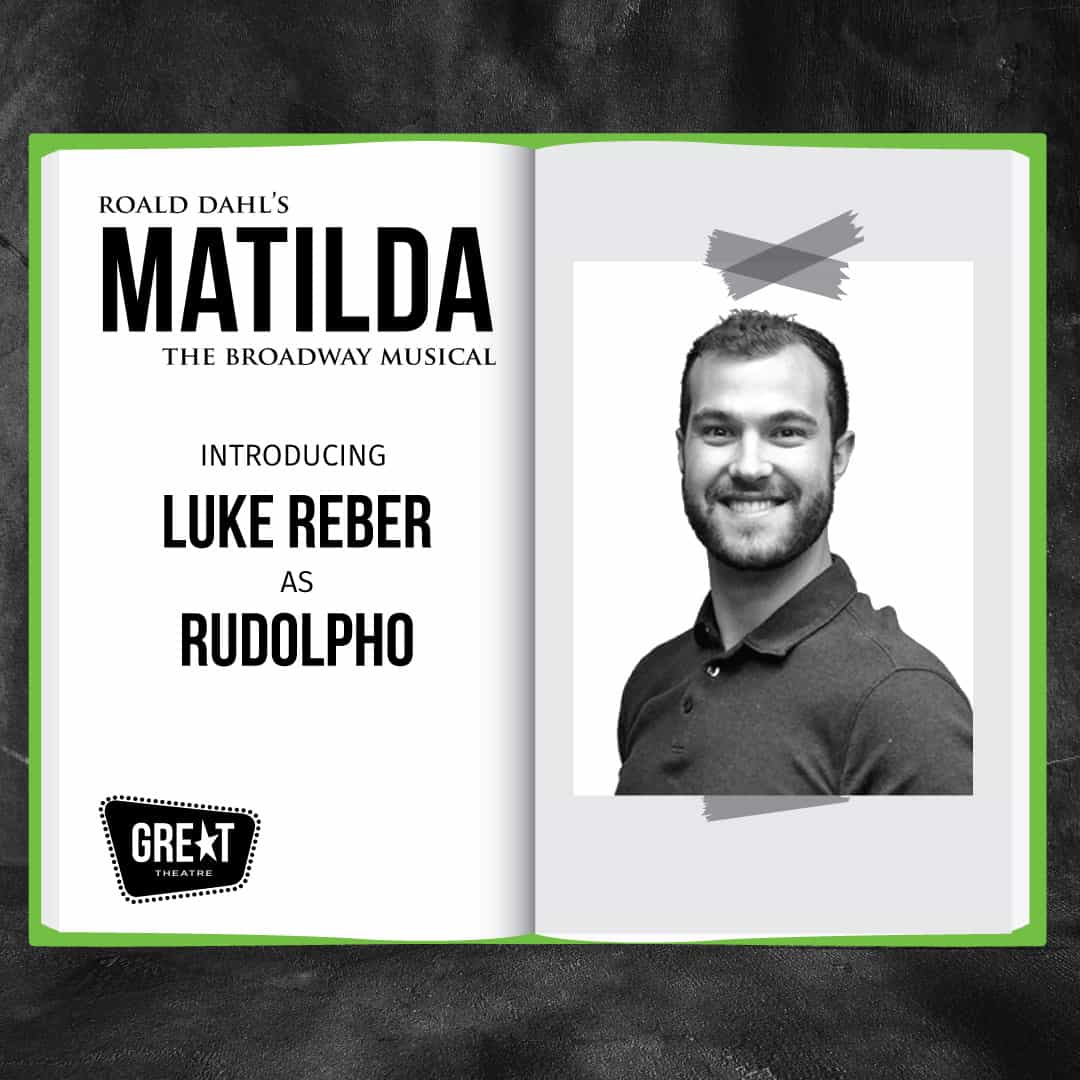 Luke Reber
Volunteer Actor
Luke Reber is a custom carpenter. Some of his preferred pastimes are ultimate frisbee, basketball, and gardening. Luke has been in many shows, including GREAT productions of Joseph and the Technicolor Dreamcoat, Newsies, and The Brothers Grimm.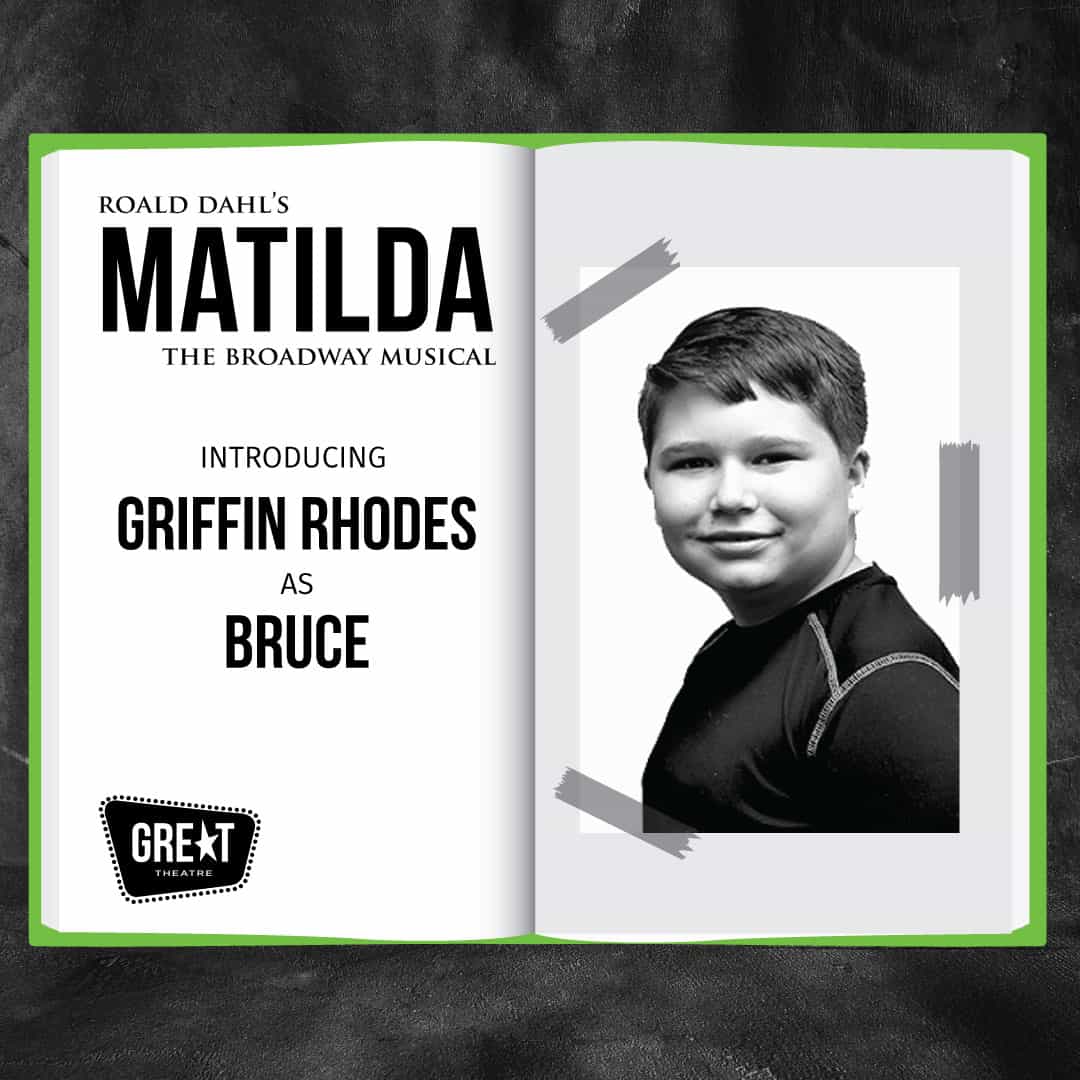 Griffin Rhodes
Volunteer Actor
Griffin Rhodes is a student at Sauk Rapids-Rice Middle School. They are musically inclined, currently learning piano and alto saxophone. Griffin also likes drawing and cosplaying! Inheriting a love for theatre from their parents, Griffin is excited to make their stage debut in Matilda.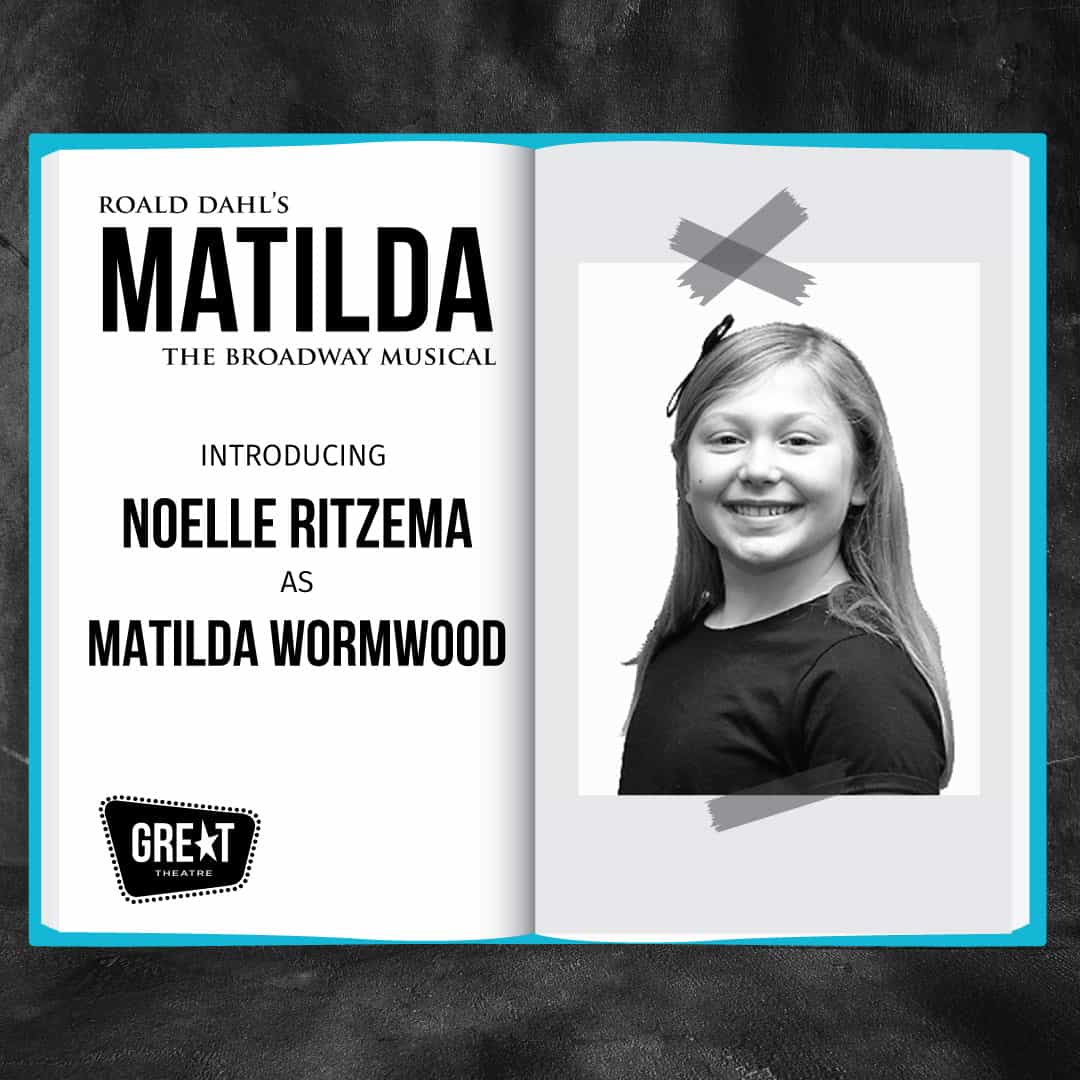 Noelle Ritzema
Volunteer Actor
Noelle Ritzema is a student at St. Cloud Christian School. She was in Rodgers & Hammerstein's Cinderella last year, and has returned to the stage with GREAT Theatre as Matilda because not many shows speak to children the way Matilda does! Some of Noelle's favorite pastimes are reading, roller blading, and playing the flute.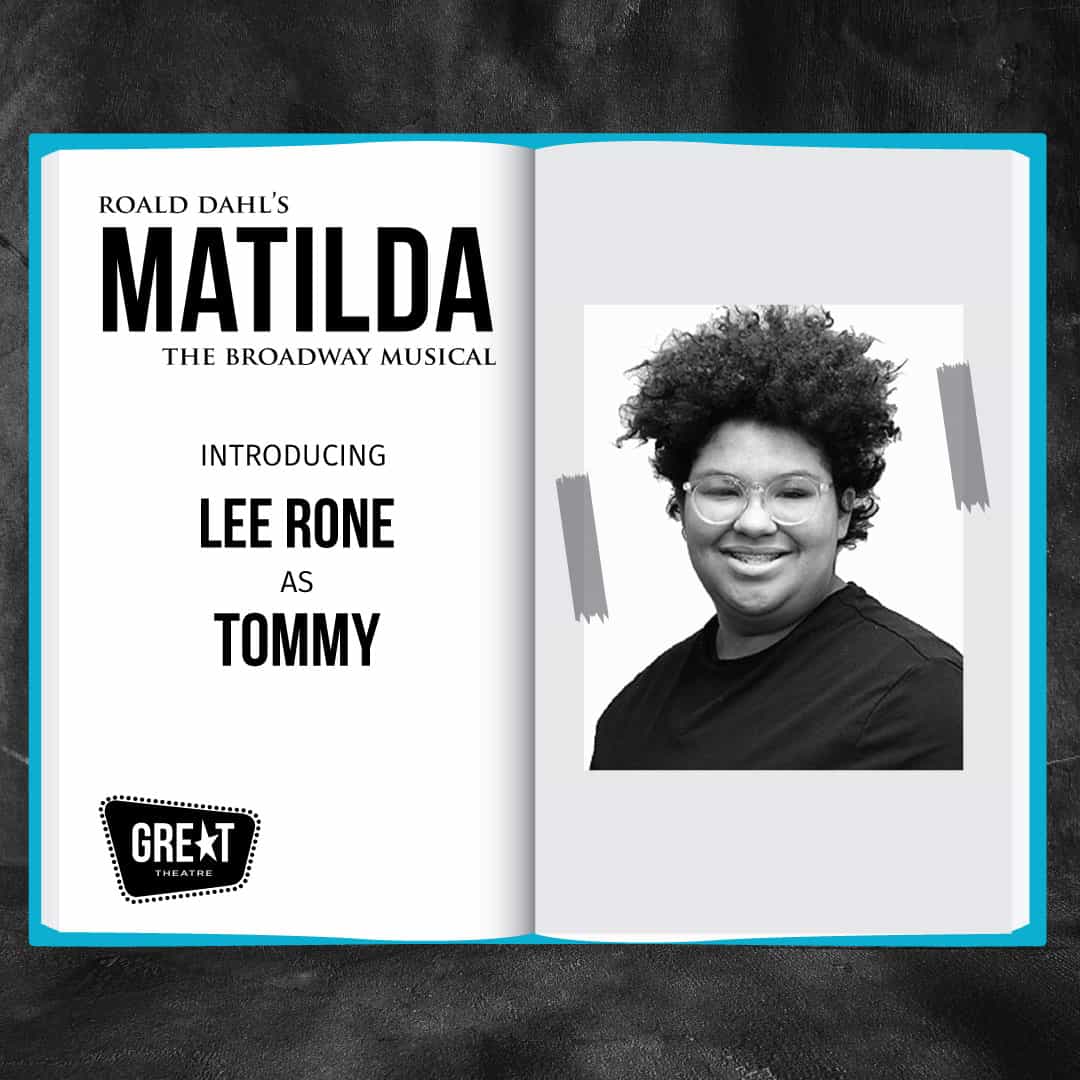 Lee Rone
Volunteer Actor
Lee Rone is in the eighth grade at Little Falls Community Middle School. Despite their young age, they have been in many GREAT shows, such as Beauty and the Beast, Joseph and the Amazing Technicolor Dreamcoat, and Alice in Wonderland, and have participated in many GREAT Theatre Camps.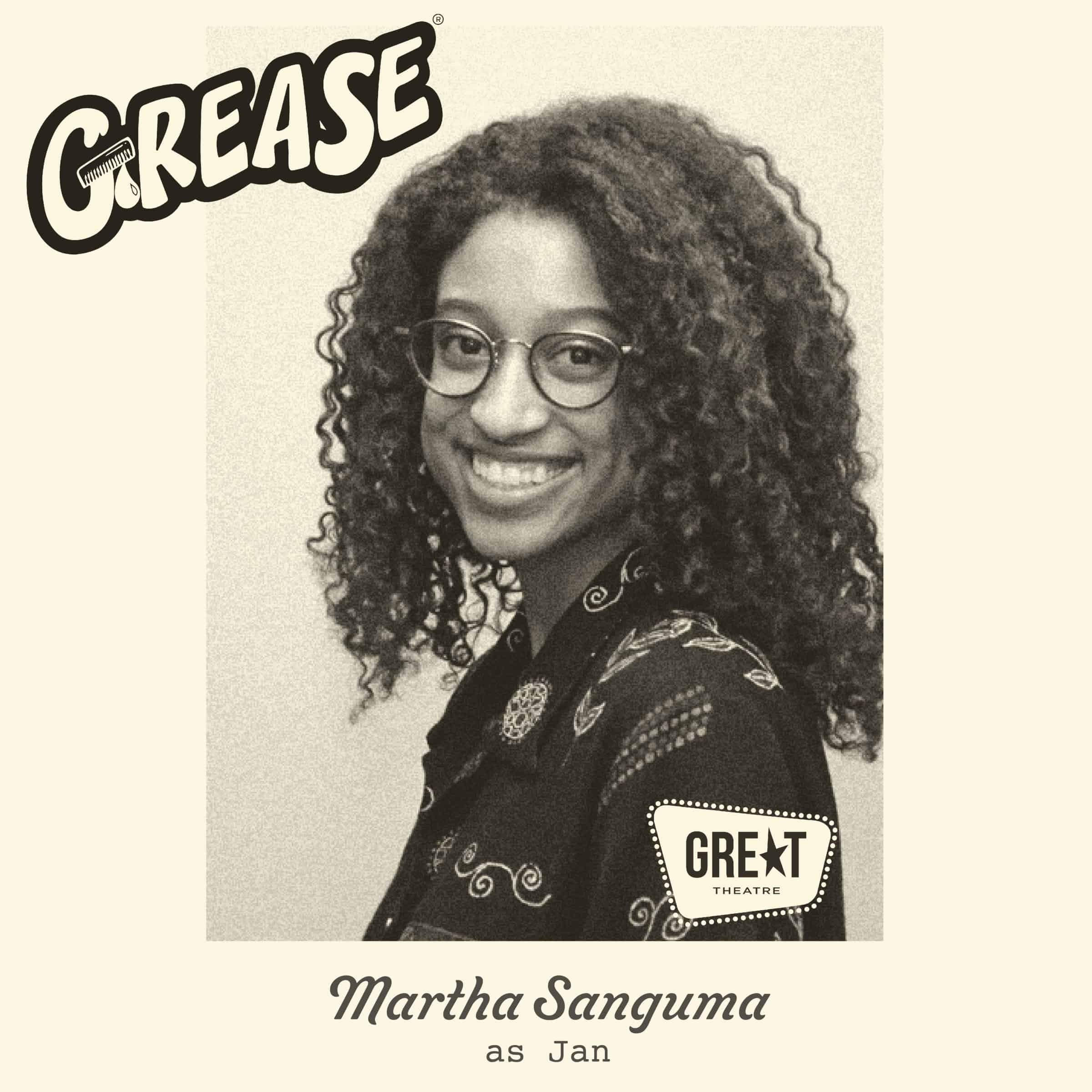 Martha Sanguma
Volunteer Actor
Martha Sanguma graduated from the Model College of Hair Design. She enjoys singing, acting, and arts and crafts! Martha fell in love with the GREAT community, and could not imagine spending her summer any other way. She has appeared in Matilda and Mamma Mia! with GREAT.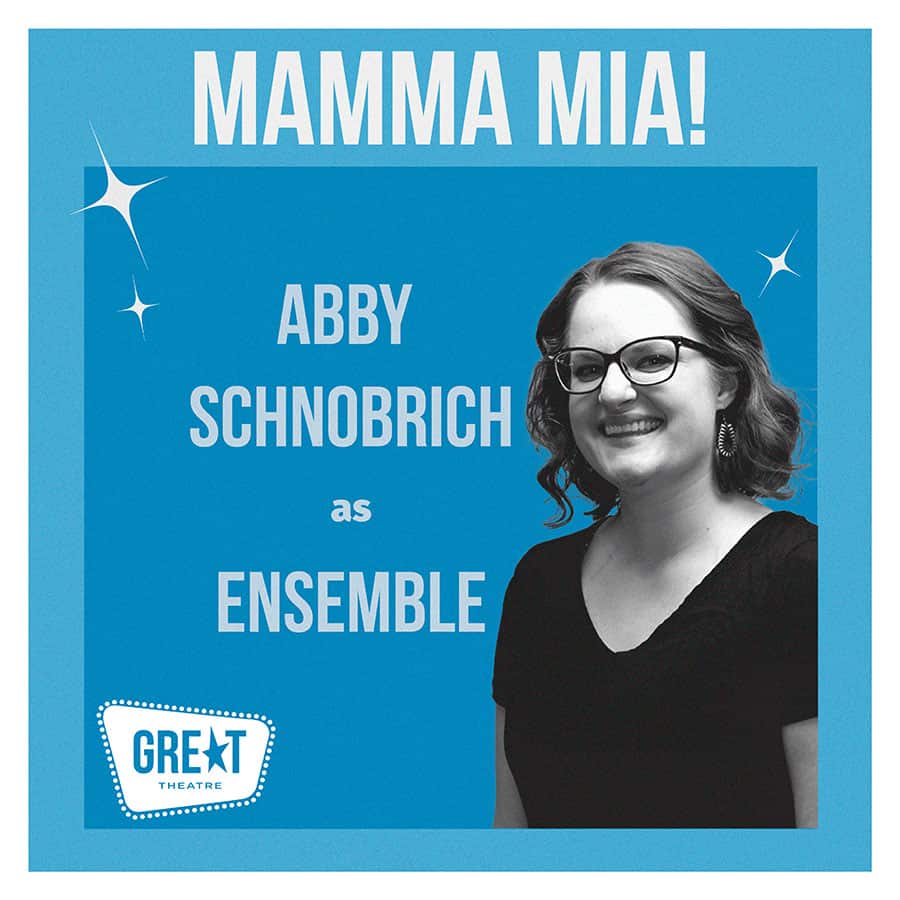 Abby Schnobrich
Volunteer Actor
Abby Schnobrich is an English teacher at Little Falls High School. She has been in many shows, such as GREAT's productions of The Sound of Music, Newsies, and Chicago. Abby is excited to bring Mamma Mia! to the stage after the show was postponed due to COVID. She enjoys knitting, quoting movies, directing high school theatre, and spending time with her nieces.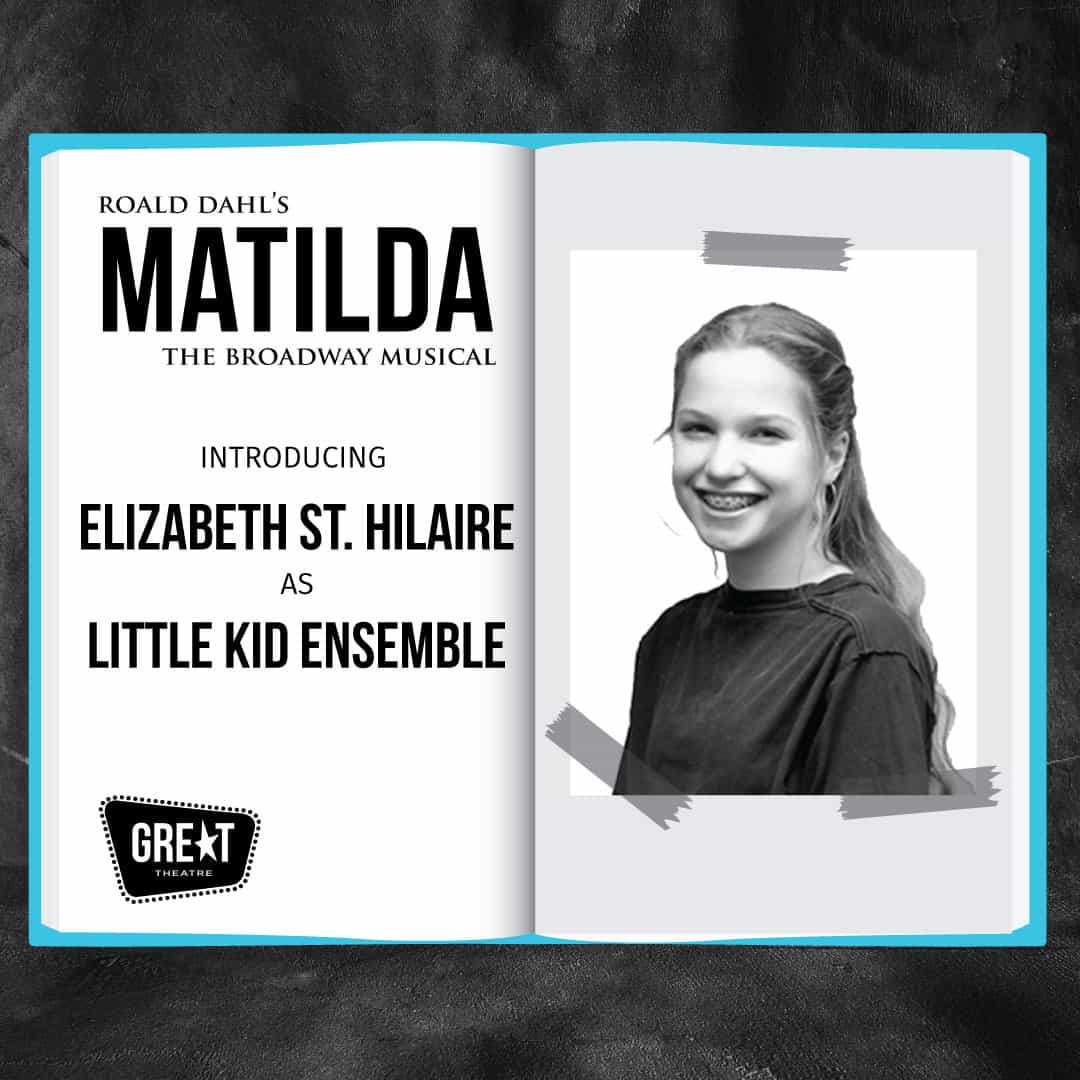 Elizabeth St. Hilaire
Volunteer Actor
Elizabeth St. Hillaire is a student at St. John's Preparatory School. Elizabeth has been in shows such as Amahl and the Night Visitors, Mary Poppins, and The Wizard of Oz, to name only a few. Elizabeth is a freshman at school and is excited to engage in live theatre after the COVID-19 shutdown. For fun, Elizabeth likes playing piano, making art, and of course, theatre!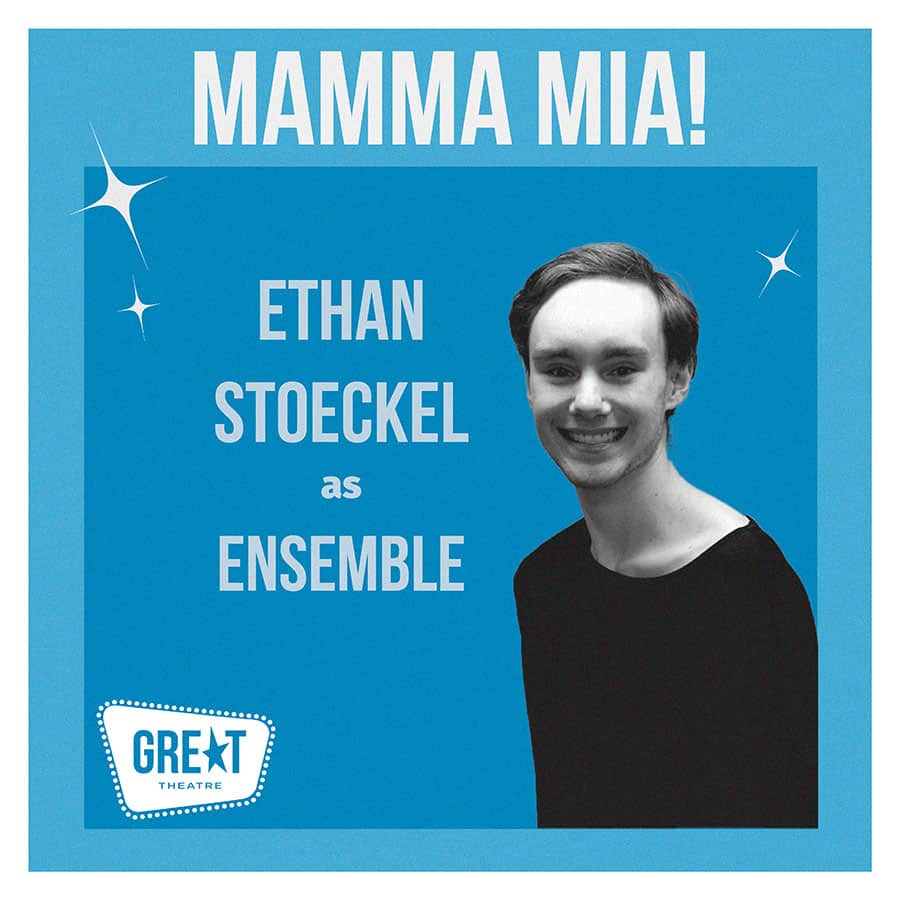 Ethan Stoeckel
Volunteer Actor
Ethan Stoeckel is a senior at Tech High School. Ethan had never seen the musical or movie versions of Mamma Mia! when he decided to audition. In fact, he'd only ever listened to the show's soundtrack! Ethan has been in a number of productions, including recent GREAT productions of Rodgers & Hammerstein's Cinderella and Matilda. Ethan likes writing, Dr. Who, retro computer games, and anime.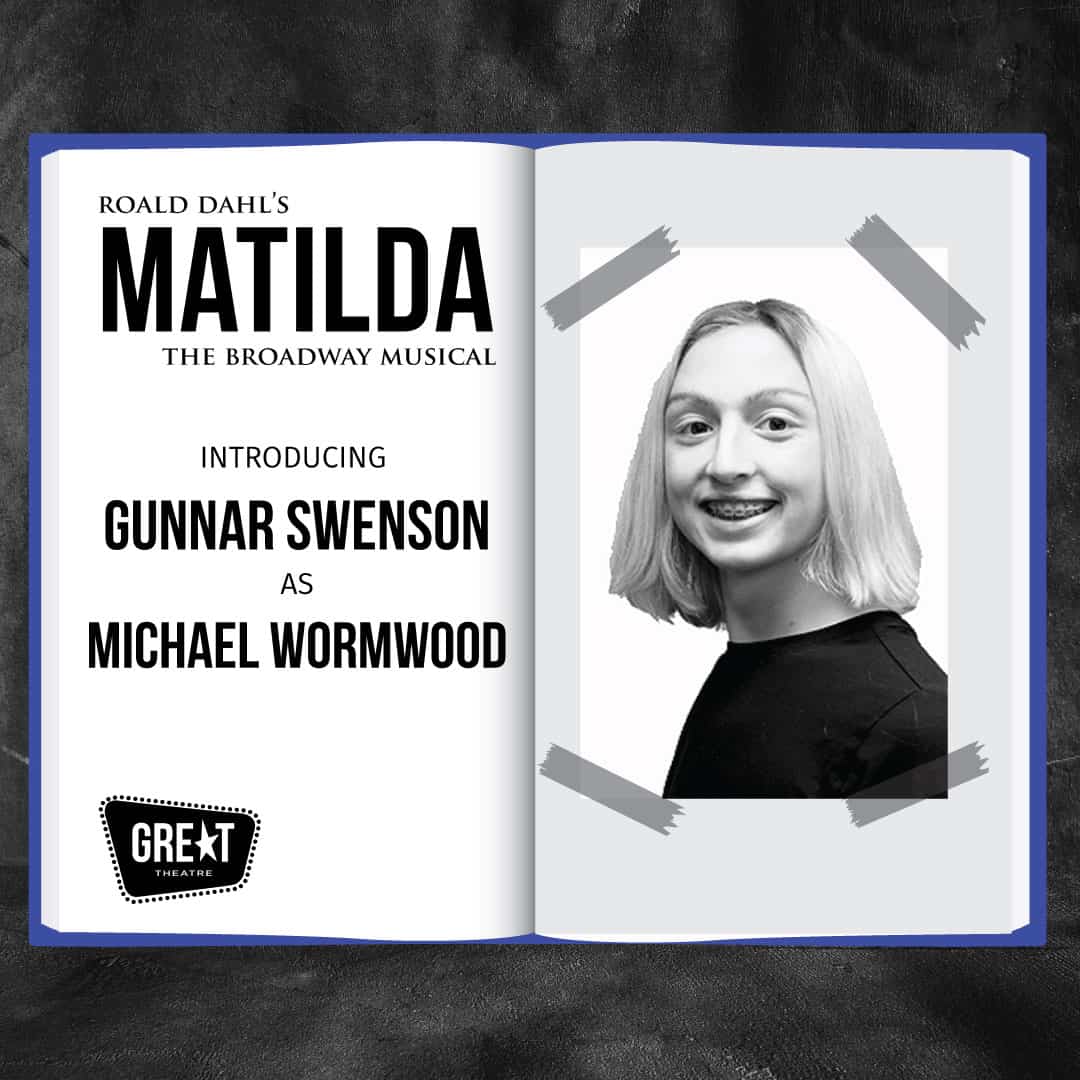 Gunnar Swenson
Volunteer Actor
Gunnar Swensen is enrolled at St. Cloud Tech High School. He has been in a number of GREAT shows, including Chitty Chitty Bang Bang, Beauty and the Beast, and Akeelah and the Bee. Gunnar spends his free time enjoying and making music and movies, biking, and running cross country.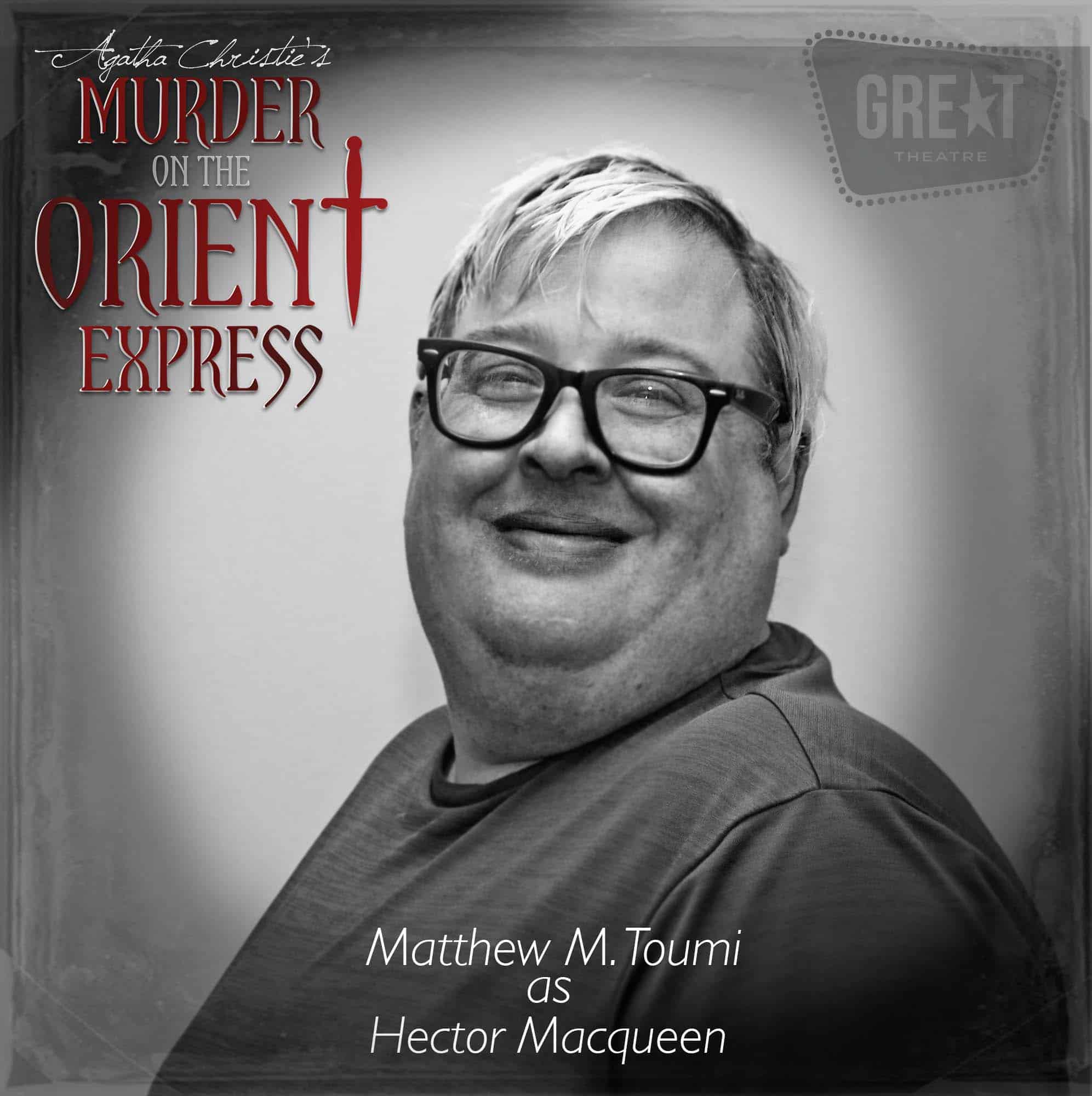 Matthew M. Toumi
Volunteer Actor
Matthew M. Toumi is a cashier/bookkeeper at Holiday Stationstores. He enjoys karaoke, Movies, TV, and spending time with his niece, nephew, and mom. Murder on the Orient Express is not Matthew's first foray into Agatha Christie's work, having appeared in Three Little Indians on three different occasions. Matthew has appeared in numerous GREAT productions such as Elf the Musical, Roald Dahl's Matilda, and Mamma Mia.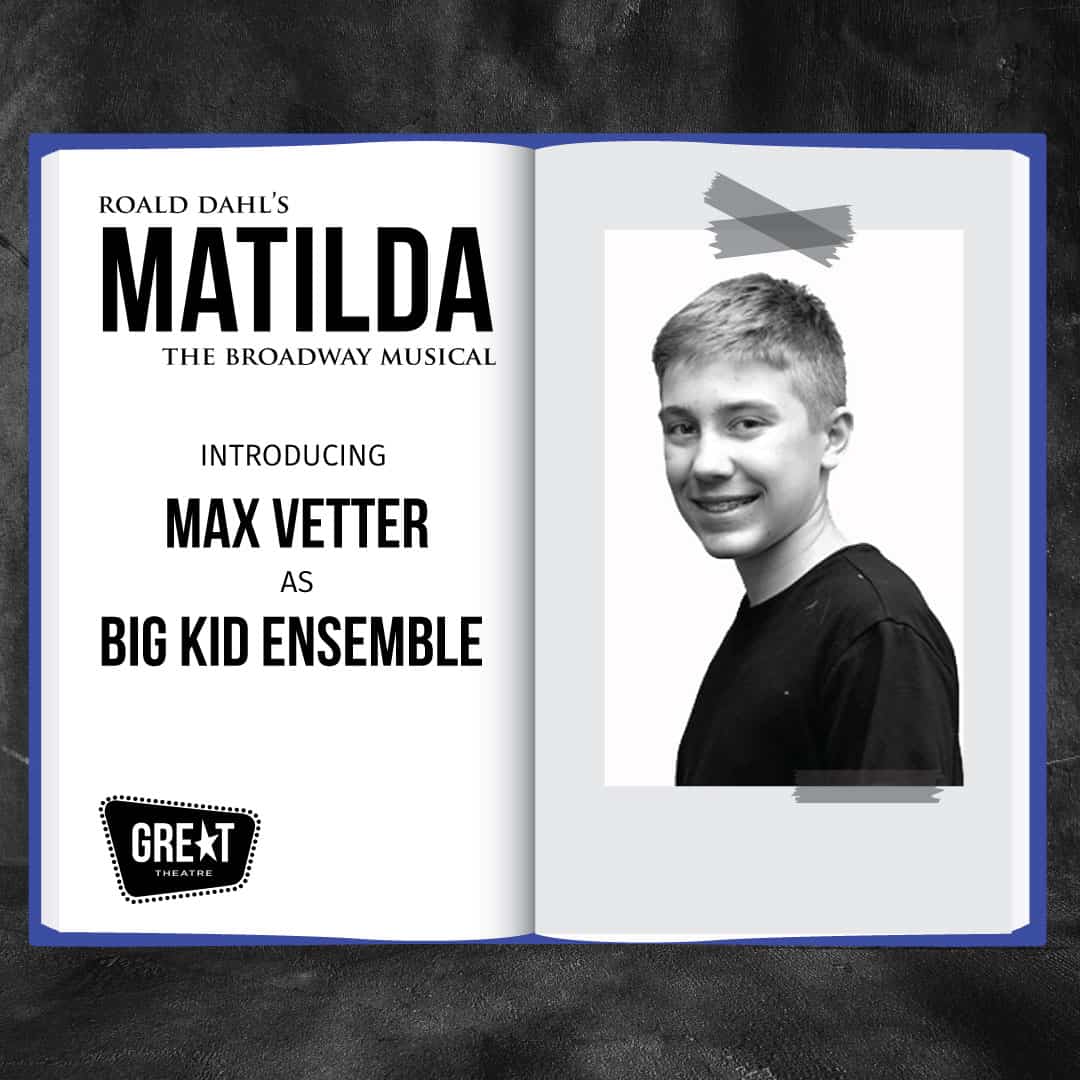 Max Vetter
Volunteer Actor
Max Vetter is enrolled at Foley Intermediate School. He has enjoyed being in shows since he was seven, and has participated in many GREAT Theatre Camps. Max has been in shows including Zombie Prom, but this will be Max's GREAT stage debut! When he's not in the classroom or on the stage, Max likes hanging out with friends, skiing, and making podcasts.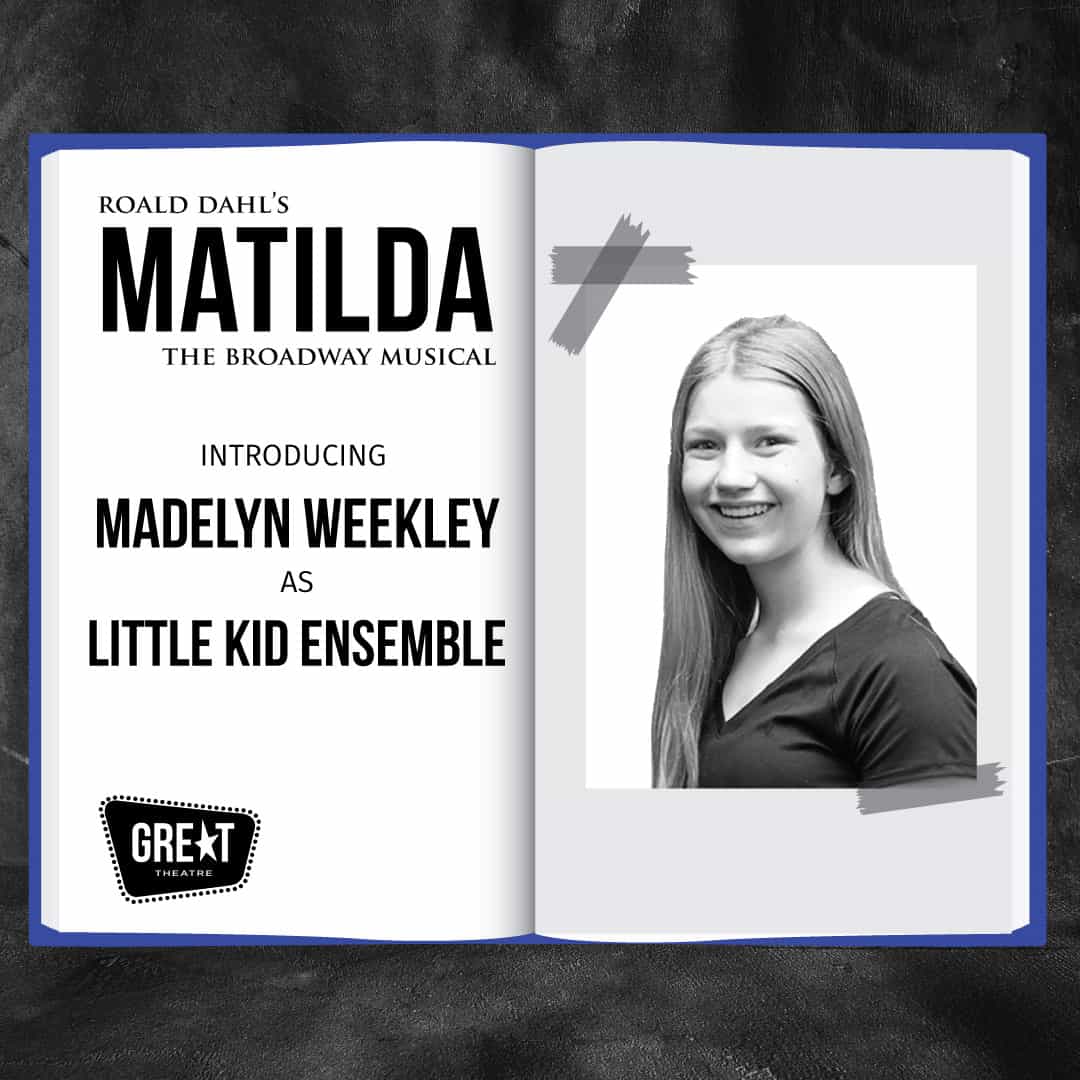 Madelyn Weekley
Volunteer Actor
Madelyn Weekley attends North Junior High School. She is on the swim team, she does 4H, and she creates art. She loves being involved with theatre, and has been in GREAT productions of Chitty Chitty Bang Bang, A Christmas Carol, and Joseph and the Amazing Technicolor Dreamcoat. She is excited to return to the stage with GREAT Theatre for another musical!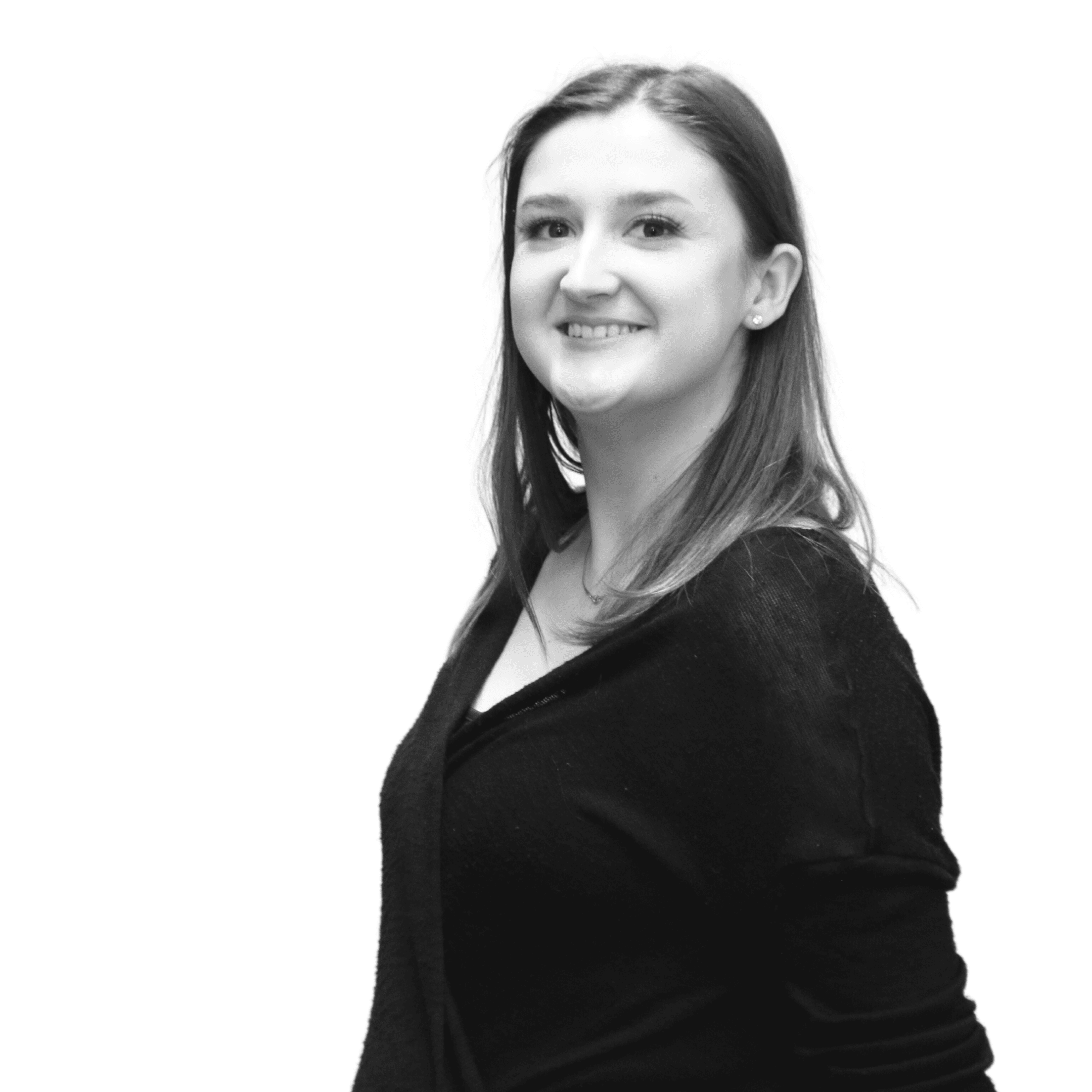 Summer Welch
Volunteer Actor
Summer Welch (Investor 1, Ensemble) is a Creative in the Marketing Department at Blattner Company. She's been involved with many GREAT shows on and offstage, and starred in recent GREAT productions of GREASE!, Mamma Mia!, and Matilda. Summer likes to spend her free time with family and friends, playing video games, and listening to music and podcasts.
AN EXTRAORDINARY GIRL WITH ASTONISHING WIT CHANGES HER DESTINY!
Through dazzling performances and pumped-up musical arrangements, the twisted genius of Roald Dahl comes to life on stage in this story of an extraordinary girl. Armed with a sharp mind and vivid imagination, Matilda dares to take a stand against the nasty, name-calling, bullying adults in her life and change her story. Youth and grown-ups will be captivated by this hit musical that celebrates the power of imagination and the importance of becoming your own person. Get ready for a little revolution!
Matilda is a fantastical story of extreme light and dark, and a powerful girl who knows the difference. As we wonder what makes the story resonate with so many, it's helpful to remember where the story comes from and who has told it so far.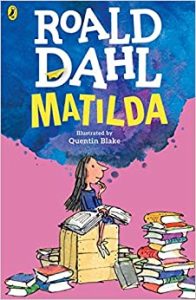 Matilda was originally a book, written by Roald Dahl. Roald Dahl is best known for being a prolific children's author, with famous works like James and the Giant Peach, Charlie and the Chocolate Factory, Matilda, and many more. Many of Roald Dahl's books were written for children, but he began his writing career with short stories geared toward adults. His body of work draws largely from his lived experiences. In fact, the first short story he ever published was about his experience crashing a plane as a fighter pilot. Roald Dahl didn't usually write about his own life so literally, but many characters and themes in his books (and especially in Matilda) can be traced back to the strict schools and strange experiences of his childhood.
 Dahl was born in September of 1916, in the United Kingdom. He lost his father at a young age, and his mother sent him to a series of strict boarding schools. In these settings Dahl rebelled, and he became known as boisterous and untamed. Disenchanted with school, Dahl elected not to go to university. Instead he traveled the world before enlisting in the Royal Air Force as a fighter pilot in 1939. After a crash landing left him too injured to continue flying, Roald Dahl was posted in Washington D.C. and supplied information to MI6, also known as the Secret Intelligence Service.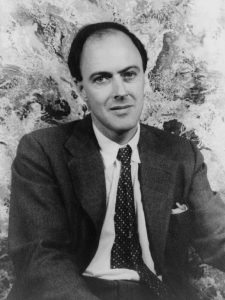 Roald Dahl was encouraged by a friend to write about his plane crash, and the story was his first piece of writing to be published. After this success, Dahl continued writing. Through the 1940's and 1950's, the majority of his writing was meant for adult readers, including one novel and many short stories.  
In 1953, Dahl met actress Patricia Neal, and the two fell in love. Their marriage resulted in five children, whose experiences also contributed to Dahl's children's books. In 1960, one of Roald and Patricia's children was struck by a car and sustained serious head injuries. Desperate to help, Dahl worked with others to invent the Wade-Dahl-Till valve. The device worked to save his son's life, relieving pressure that had built inside his head. It was after this experience that Roald Dahl started to write more books for children and fewer for adults.
After thirty years, Roald and Patricia divorced. Dahl remarried Felicity Crosland later in life, and together they started Roald Dahl's Marvellous Children's Charity. The Marvellous Children's Charity persists today, providing support and health care for children with complex illnesses.
Roald Dahl wrote Matilda in 1988, two years before he passed away at age 74. 
Matilda struck a chord with many readers, and it didn't take long after it was published for other artists to want to tell the revolting tale. In 1990, the book was adapted into a musical called Roald Dahl's Matilda: The Musical Play by the Redgrave Theater in the United Kingdom. This adaptation was directed by Graham Walker, with music and lyrics by Ken Howard and Alan Blaikley.
The story was adapted again less than a decade later, this time as a movie. Danny DeVito was drawn to the book when his daughter brought it home at ten years old. He knew right away that it would make an excellent movie, and he got to work. Matilda was released in 1996, directed by and starring Danny DeVito. He and his then wife Rhea Perlman played opposite each other as the infamous Mr. and Mrs. Wormwood, Matilda's negligent parents. Matilda was played by Mara Wilson, who would become lifelong friends with Danny and Rhea.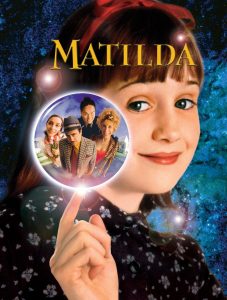 In 2010 the book was adapted by Dennis Kelly into another musical, simply called Matilda. Kelly was approached by the Royal Shakespeare Company in the United Kingdom and asked to write the musical. Musician and comedian Tim Minchin helped with the music and lyrics. The pair worked well together, and before long they had written a hugely successful musical. Matilda opened on the West End in 2011 and made its Broadway debut two years later.
Dennis Kelly and Tim Minchin created a critically acclaimed piece of art that has spoken to millions of people. At the onset though, neither of them thought of themselves as likely candidates to do so.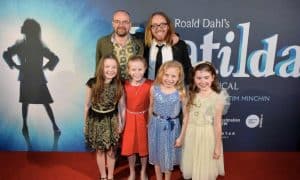 While theatre was an important element in Dennis Kelly's early life, he didn't try writing plays until his late twenties, with his first play being produced at thirty. Much of Kelly's work is in-yer-face theatre, a form of theatre known for being confrontational and abrasive, meant to disrupt audience expectations. The Royal Shakespeare Company approached Dennis to ask him to adapt the book Matilda into a musical in 2009. He wrote three drafts before seeking out Tim Minchin for help with the music and lyrics.
Tim Minchin attended the Western Australia Academy of Performing Arts and spent his twenties acting, writing music, and playing in bands. Minchin moved to Melbourne with his wife, Sarah Gardiner, in 2002. There he continued playing gigs and writing new material diligently. In 2005 he was launched into minor celebrity when his musical comedy routine 'Darkside' became a smash success. Over the next five years, Tim Minchin would tour the world, making audiences laugh and cry with his sharp wit and wild piano playing. When he was asked to write music for Matilda, he was both honored and incredulous. He agreed to take the project on, and wrote songs alongside Dennis Kelly. Together they created one of the most impactful and celebrated musicals of a generation, winning seven Olivier Awards and five Tony Awards.
Production Team
Kendra Norton Dando – Director
Hillary Vermillion – Music Director
Sara Bartlett – Choreographer
Mackenzie Krueger – Dance Captain
Jessie Chen – Set Designer
Lynn Isaacson – Scenic Painter
Colin Jarrell – Technical Director
Bonnie Bologna – Prop Designer
Edith Moreno – Costume Designer
Jessica Mancini – Costume Shop Manager
Aaron Porter – Lighting Designer
Steve Sanders – Sound Designer
Nick Loweree – Production Stage Manager
Caelin Clarke – Assistant Stage Manager
Jerome Akubue – Assistant Stage Manager
Valerie Vedder  – ASL Interpreter
Jeanna Borgerding – ASL Interpreter
Sean Jacobson – Rehearsal Pianist
Christina Tourino – Rehearsal Pianist
Act I
Miracle…………………………………………………………. Kids, Parents, Matilda, Ensemble
Naughty……………………………………………………….. Matilda
Acrobat Story I……………………………………………… Acrobat, Escapologist
School Song…………………………………………………. Kids
Pathetic……………………………………………………….. Miss Honey
The Hammer…………………………………………………. Trunchbull, Kids
Naughty Reprise (Superglue)………………………….. Matilda
Chokey Chant……………………………………………….. Kids
Mechanics……………………………………………………. Matilda
Loud……………………………………………………………. Mrs. Wormwood, Rudolpho, Ensemble
This Little Girl………………………………………………… Miss Honey
Bruce ………………………………………………………….. Kids
Act II
All I Know……………………………………………………… Mr. Wormwood
When I Grow Up  ………………………………………….. Kids, Miss Honey, Matilda
I'm So Clever………………………………………………… Mr. Wormwood
Acrobat Story IV (I'm Here) ……………………………. Escapologist, Matilda
The Smell of Rebellion…………………………………… Trunchbull, Kids, Matilda, Miss Honey
Quiet…………………………………………………………… Matilda
My House…………………………………………………….. Miss Honey, Escapologist
Revolting Children…………………………………………. Kids
Priyatna Paznakomitsa………………………………….. Sergei
Bows………………………………………………………….. Company
THANK YOU!
In addition to our corporate sponsors, donors, and volunteers, we wish to extend a special thank you to Northway Dental Associates and Joseph Bologna.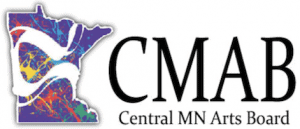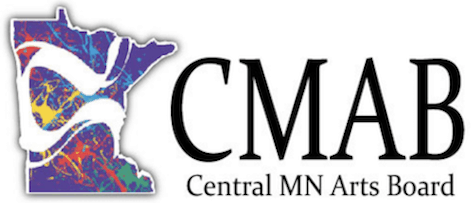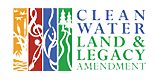 This activity is made possible by the voters of Minnesota through a grant from the Central MN Arts Board, thanks to a legislative appropriation from the arts and cultural heritage fund.
---
GREAT Donors
GREAT donors Month day, 2020 – Month Day, 2021
Donors who have given 3 or more years * | Monthly sustainers °
Ahles, Karen & Rick *
Ajayi, Adeyoola & Oluade *°
Algoe, Dave & Jan *
Allen, Sally & Tom
Alm, Micah °
Amazon Smile Foundation *
Ament, Bob & Karen *
Amosson Carlson Family Fund of the Central Minnesota Community Foundation *°
Anderson, Benjamin & Tiffany *°
Anderson, Bruce & Susan *
Anderson, Paulette
Anderson, Sandy
Anderson, Suzanne *
Anonymous *
Arnzen, Marianne & Rick *°
Ayers, Linda
Bahe, Mary *
Barbara & Dennis Gregory Family Fund of the Central Minnesota Community Foundation *
Baron, Sue
Barth, Daniel & Hokan, Raine
Bartz, Corey & Erica
Bates, Marge *°
Bauerly, Helga & Rick *
Becker, Liz & Monty
Beckmann Kids *
Behrends, Jessica M.*°
Bellmont, Bob & Karen *
Bellmont, Don & Nancy *
Benschoter, Bonita & John *
Berg, Dorothy
Berg, James & Kruger, Mary *
Berg, Ruth
Bidinger, Rory & Tiffany *
Binder, Annette °
Biorn, Deborah *
Birkland, Marilyn *
Bisek, Ginny & Jim *
Bjorklun, Gene & Mary Margaret *
Bjorklund, Byron, PegAnne & Megan *
Blenkush, Micki & Michaels, Dan*
Blesener, Rose & Daly, William *
Boatz, Margaret & Robert *
Bobeldyk, Karen
Bochonko, Coca & Springer, Mark *
Boesen, Chris, Staci, Brenden & Nathan *
Bohn-Gettler, Chris & Kate
Bollig, Deb *
Bologna, Bonnie & Steve *
Bolton, Aaron & Nicole
Bowden, John & Phyllis *
Branam Macauley, Kelly
Brenna, Cindy
Brinkerhoff, Amy
Brinkman, Harold & Marilyn *
Broker, Julie & Mike
Brown, Linda
Brunberg, Mary *
Bruner, Linda
Brunsvold, Elizabeth
Buhl Family
Burgess, Kyla, JR, Tenley, Brekken, Livianna & Zaya
Burggraff, Breana
Burggraff, Carrie & Don
Busse, Brad *
Buttweiler, Patricia
Calantoc, Mary & Hanks, Kevin *°
Cameron, Darryl & Karen *
Capital One Services LLC
Carlin-Goenner, Mary *
Carlson, Jerry
Carlson, Karen *
Carr, Mike & Sue *
Casey, Kathy
Central Minnesota Arts Board *
Central Minnesota Community Foundation *
Childs, Mark & Amy
Chmielewski, Mary
Christenson Family *°
Cicharz, Pat & Rick *
Clark, Doug & Tarryl *°
Clarke, Rachel *
Coborn's *
Colberg Family *
Coldspring *
Colgan, Teresa & Tim *
Colville, Dina *°
Cotton, Dan & Elaine
Counselor Realty – Aaron Trompeter *
Crafts Direct – Schlecht, Diane & John *
Cragle, M.D., Beth & Stephen P. *
Crowe, Vicky
Cuperus, Sara & Shane
D'averill, Kari
Dahlin, Alison
Dalsing, Rich
Danielson, Michele
Daubanton, Mary *
Dauer, Eileen & Brian *
Davis, Mary A. *°
Dearking, Amy & Eric
DeLong, Jeanette & Leonard
Dennis Smith Training – Smith, Denny & Pat *°
Dennis, Kay M.
Dick & Mimi Bitzan Family Fund of the Central Minnesota Community Foundation *
Dinndorf, Steve & In Memory of Dinndorf, Joyce, Linda & Louie
Diversified Media Resources
Dolan, Janet
Domek, Robert *°
Don Helgeson & Sue Shepard Fund of the Central Minnesota Community Foundation *
Donnelly, Beth & Kevin *
Dorothy C. Becker Fund of the Central Minnesota Community Foundation *
Dorrie & Scott Larison Fund of the Central Minnesota Community Foundation *
Dorsher, Joanne & Paul *
Dorsher, Patricia *
Dorsher, Steven *
Droll, Becky & Brock
Durrwachter, Krista & Kurt *
Dwyer, Seal
Dyer, Robert & Rochelle
Edeburn Family
Egeland, Deb *
Ehlen, Charles
Elg, Marsha & Ronald
Ellis, John & Sara *
Emberland, Heather, Mark & Family
Epsen, Kayla *
Erickson, Debbie & Jason *
Euteneuer, Jennifer, Chris, & Kaylee *
Executive Express – Logeman Family *°
Fabian, Sandra & Tom
Fark, Dan & Jane *°
Fasen, Deb & Bill *
Feigh, Alison *
Felton, Marc
Fenlason, Karen & Tom
Feriancek, Michele *°
Finlayson, Karen & Loren *
Fischer, Anita & Don
Fischer, Susan & Stephen
Flaherty, Brian & Willow *
Flinck, Theresa & Engholm, Joel °
Flynn, Beth
Foster, Kimberly & Nicholas *°
Fox Family
Fox, Jill *
Frank, Christine
Freudenrich, Layne & Oothoudt, Renae
Friedrich, Suzanne & Kuehl, Eric
Froehling, Marcia & Sandra *
Fuzak, Fred & Jyeton *
Gallagher, Michael & Mancini, Kateri *
Gammell, Ginny & John *
Gartland, Bob & Patti *
Gartner, Julie & Mark *
Gazdzik, Jennifer & Kaz
Geissler, Christina & John
Gerard, Ara
Gertz, Tanya & Faust
Giese, Teresa
Gilder, Lynnae
Gillian, Spencer
Gillman, Debra & Gerald
Grachek, Art & Barb
Grachek, Sara & Mihalek, Jim
Granite Equity Partners Fund, a Turn Key fund of the Initiative Foundation *
GraunTeen
Groetsch, Anne, Rick, & Paige *
Gruber, Rachel *
Gustafson Berreau, Linda *
Hadler, Tracy & Stacey
Hagestuen, Bruce & Nacey, Julie
Hall, Deb & Mark
Halliday, Christie
Hamak, Bridget & Scott *
Hammer, Kathi °
Hansen, Wendy & Roger *
Hanson, Brad & Lisa *
Harper, Amy, Jim & Jane
Hartmann, Jeanne & Tom *
Haugen, Keith & Susan *
Hawker, Lucinda *
Hedstrom, Rebecca
Heinen, Caitlyn
Helgeson, Karel & Michael *
Hemmesch, Eileen
Henderson, Nancy *°
Henry, Jim & Patty
Henry, Patrick & Welter, Pat *
Herman, Karen & Vince
Hermans-Miller, Lindsay & Miller, Ryan
Heusinkveld, Aaron & Jessica *
Hill, Abbie
Hinkemeyer, Kent & Mary
Hinnenkamp, Ruth *
Hitzeman, Karen
Hoehn, Ann *
Hoelscher, Brad & Megan
Hoeschen, Stacie & Tad °
Hoffman, Irene *
Hogenson, Cynthia & Erik
Holien, Chad & Kelsi *
Hollenhorst, Mark *
Hornung, Dianne *
Hoskins, Heather
Hotz, Geri & John *
Hunter, Amy & Leinen, James
Hurrle, Mitchell *
Illies, Jody, Marcy & Emily *
Imholte, Kristi & Steve
In Memory of Kyle Weisbrich
Inkster, Bob & Chris *
Ivers, Gail
Jacobs, Tracy *
Jacobson, Amber & Sean *
Jameson, Kelly
Janet & Tom Grones Fund of Central Minnesota Community Foundation
Jeff & Melinda Gau Family Fund of Central Minnesota Community Foundation *
Jendro, Sharon *
Jennissen, Kevin, Kayla, Eleanor & Stephen
Jensen, Mandy
Jensen, Patricia L.
Jeske, Nancy *
John, Gareth & Metzo, Christine *°
Johnson, Bob & Judy *
Johnson, Chad & Jaclyn
Johnson, Chet & Karen °
Johnson, Diane
Johnson, Ileen & Edward*
Johnson, Janelle *°
Johnson, Laurie *°
Johnson, Mark
Johnson, Murdoch & Tuff, Dianne *
Johnson, Tony Errold °
Johnston, Kaarin *
Joul, Brenda & Steve *°
Juilfs, Cathy & Darren *
Kalthoff, Amy & Jim *
Kaschmitter Family
Kay, Bonnie & Brian *
Keenan, Barb & Emmett & In Memory of Carlos Ortega
Kempen, Jean
Kensington Bank *
Kieser, Don & Mary Anne *
Kiffmeyer, Clarence & Judy *
Killoren, Peggy *
King, Buddy & Keshia
Kittok, Gerry
Klein, Karen & Rick *
Kloster Collateral Resources
Knapek, Doris
Knutson, Sharon *
Koepp, Duane & Kim
Kosloski, Christine & Mike *
Krebs, Judy
Krebsbach, Sherry *
Kremer, Liz
Krillan Inc. *
Kroll, Gerard & Taffy
Kron, Steve & Erlandson, Matthew – Kron & Erlandson Family Dentistry
Krueger, David & Pat *
Kruse, Karen *
Kudrna, Chris, Joanne & Family *
Kuhlman, Brad & Ruth *
Kuzma, Susan *
Lack, Aprile
Lacroix, Bill & Phyllis *
Lalley, Debra
Landman, Kirk & Jane
Laraway Financials, Inc.
Larkin, Valerie
Larsen, Margaret
Larson, Camilla & David
Lauer, Glen
Laumeyer, Amy & Marty *
Lawrence, Alan & Sandy *
Lawrence, Kris & Schumann, Rob & Family *
Legatt, Karen & Mathew*
Leider, Paula & Jacob
Lemke, Cindy *
LeMont, Jessica
Lenarz, Denise & Tom *
Lesnau, Brenda & Jesse
Lieser, Alvina & Isidore *
Lieser, Judy
Linnemeyer, Bruce *
Lisbon, Marilyn & Joe
Listug-Lunde, Dane & Lori *
Lombardi, Joan & Paul *
Lommel, Geraldine
London, Diane L.
Lopez, Carlos & Clara *
Loven, Royal
Loy, Leanne
Luetmer, Stacey
Maanum, Andrea *
Mahowald, John & Maryanne *
Maloney, Andrew & Sarah *°
Manar, Christopher & Katie *
Mancini, Jordan & Stacy *
Marco *
Marks Family *
Marston Ruhlman Family
Martin-Chaffee, Bill & Chip *
Marty, Lucinda
Marushin, Patrick & Robin
Massmann, Susan Marie
Mattick, Kristen & Thor *
Maurer, Eleanor & Richard *
May, Tylor
Mazacek, Joan
McAlister, Deb
McAnally, Dan & Michele
McCarl, Deb & Skurdahl, Marilyn *
McClelland, Lynn & Mike *
McClintock, Tamara *
McClure, David & Diane *
McConoughey, Elizabeth
McGowan, Linda & Tom *°
McLean, Angela & Tim
MDO Periodontics PA *
Mechelke, Kate & Mark *°
Meers, Sue *
Melby, Jill & Weitzel, Paul *
Melis, Rachel & Galler, Robert
Mersinger, Hannah
Meyer, Cherrie & Dan
Meyerhofer, John & Tammy *
Miles Psychological Services, LLC *°
Miller, Allan
Minnesota State Arts Board *
Miron, Aimee & Joel *
Mix, Rebecca & In Memory of Jody Trovall
Moeller, Diane & Ralph
Monahan, Paula *
Mongeau, Matt
Moore, Jessica
Moreland, Judith
Morgan Family Foundation *
Morgan, Lee & Vicki *
Mosack, Nancy & Stan
Mrozek, Faye & Gary *
Muchow, William P. *
Muehlbauer, Roxanne *
Mueller, Nadine & Gary *
Muff, Ann & Murray
Mulder, Andy & Leslie *
Mund, Merry C. *
Murray, Alec & Pauline *
Myers, Megan *
Nacey, Gina & Priya *°
Neisen, Kelly & Tim
Nelson-Rademacher, Jess
Nelson, Margaret & Justin *
Nelson, Pat *
Nessa, Jill *
Neubert, Janet & Marvin
Neville, Hannah
Newiger, Brenda *°
Nieland, Ashley
Noble, Sarah
Nohner, Steven *
Norie & Bob Mahowald Fund of Central Minnesota Community Foundation
Norton Dando, Kendra & Michael °
Norton, David & LB
Noyes, Jonathon, Mardi & Alexa *°
Nunke, Jim & Mary *
Nystrom, Betty *
O'Hara, Mary *
O'Malley, Robert A.
Ohlenkamp, Mark & Melinda *
Olson, Jo Ann
Ostendorf, Julie
Oswell, Larry G. & Sandy *
Overby, Nicole, Nathan & Family*
Oxton, Jane & John *
Paige, Amanda
Palmer, Deb & Steve
Pangier, Marilyn
Pantzke, Kathleen *
Parries Family
Patrick & Jane Mitchell Family Fund, a Turn Key fund of the Initiative Foundation *
Pauly, Jill & Jonathan *
Peeters, Trina
Pence, Glenn & Sandra
Penly, Bobby & Lorraine *
Pepper
Peterick, Tanya *°
Petersen, LaWayne & Pam *
Peterson, Ardith
Peterson, Jeff & Lyn
Pflipsen, Bob & Heidi
Philippi, DeAnn & Josh *
Phillips Adams, Kathy
Pitzen, Sally °
Place, Elaine
Plumhoff, Matthew, Jinae & Family
Poeschl, Ellen & Mark *
Pogatschnik, Susan *
Popowski, Marcie *
Porter, Aaron
Potter, Lori *
Potthoff, Jeff & Tracy
Precise Heating, A/C, Plumbing, and Refrigeration, Inc.
Preferred Credit, Inc.
Prochnow, Bob & Joanne
Proell, Mary
Proviant – Barclay & Janet Carriar *
Radeke, Katie & Paul *°
Ramler, Nancy *
Rasmussen, Chris
Reagan, Janet & Michael *
Reber, Anita & Steve
Reberg, Dan & Kim
Refine Dermatique Aesthetic Center – LaBine, Barry & Leslie *
Reid, Carol & Sherwood *
Reigstad, Greg & Janet
Reisinger, Elizabeth & Eric *
Rethmeier, Dan & Mary *
Reuter, Bernice & Nicholas *
Ries, Teresa & Takala, Ted *
Riesner, Ann, Shawn & Bryce *
Riser, Virginia *
Ritter, Debra *
Rivera-Reyes, Yadaira & Yenéslie
Robatcek, Debra
Roelofs, Debra
Rogan, Jacqueline *
Romanowsky, Ann & Dr. James *
Roske, Lisa
Ross, Roseanna *
Rotto, Judy & Luther *
Ruegemer, Diane *
Running, Cheryl
Salner, Annie & Ryan *°
Sanderson, Marc & Marie *
Schelske, Patsy R. *
Schiffler, Bernie & Dennis *
Schindele Paulzine, Dana & Paulzine, Lee
Schirmers, James & Lacey *
Schlough, Joyce & Tom *
Schlueter, Jill
Schmidt, Chris & Melanie *
Schmidt, Rebecca
Schneider, Abby & Craig °
Schoenfelder, Jackie & Ron *
Schoenherr, Laura
Schroeder, Rebecca & Todd *
Schultz, Mindi
Segura Schwartz, Mónica & Troy *
Sell, Marion
Shaddrick, Kelley & Mary
Sharp, Douglas
Shaughnessy, Shannon & Kosel, Dave*
Shea, Trina *
Shobe, Joel & Susan *
Siemens, Molly & Ryan
Simmons, James, Michelle, Ella, Molly & Autumn *°
Simonson, Lynn & Hoffman, Kathleen
Sinclair, Jan & Ken
Sis, Thomas & Wanda
Skeate, Char & Gary *°
Smith, Brenda
Snider, Nicole & Gerald
Solheim, Dave & Jean *
Spah, Adam & Brittany
Spanier, Maureen *
St. Cloud Optimist Club *
Stack Goerger, Rachel
Stadther, Jennifer
Staneart, Timothy *
Stark Engineering *
Stark, Charles
Stavrum, Dick & Perian *
Stearns County Business and Non-Profit Relief
Stebbins, Kristen – State Farm Insurance *
Stegman, Brian & Tanya *
Stenberg, Paul & Amanda*
Stenger, Chuck *
Stephens, Charlotte *
Steve & Peggy Laraway Family Fund *
Stewart, Elizabeth
Stoeckel, Julie & Micah *
Stone, Linda & Thomas
Storkamp, Mary *
Stracke, Ed, Kris & Family
Sturlaugson, Nancy & Phil *
Sueker, Beth, Family & Friends In Memory of Cassie Sueker *°
Swanson, Gretchen *
Symalla, Joe & MaryAnn *°
Taatjes, Audrey
Tamm, Melinda
Tangen, Helen
Tenneson, Linda G. *
Theisen, James & Carol
Thell, Joleen
Thickpenny, Brian D. *
Thielman, Jane & Marilyn *
Thompson, Jeff & Molly *
Thornton, Steve
Tilstra, Dave & Janet *
Tomporowski, Mary Alice *°
Trettel, Dan & Lisa
Tritabaugh, John & Laurie *
Trombley, Amy & Matt *°
Trompeter, Aaron & Jessica *
Trueman, Kathleen
Turnow, Caryl *
Freudenrich, Layne & Oothoudt, Renae
McCarl, Deb & Skurdahl, Marilyn *
Walz, David & Dena *
Unger, Jennifer *
Unger, Maureen
VanBeck, Diane & Joe *
VanBeek, Angie
Vander Weyst, Stacey & Christopher
Vermillion, Dr. Hillary & Terry
Vetter, Brian & Megan
Vick, Carol
Voelz, Neal
Voigt, Karla, Larry & Family *
Von Korff, Connie & Jerry *
Vos, Mary *
Vosen, Judy & Thomas *
Vossen, Betty & Ralph
Vouk, Lisa & Frank
Wagner, Gordon *
Wallinga, Eve & Gary *
Walton, Kali
Walz, David & Dena *
Watkin, Dove & Tracey *
Watson, Dan & Jessica *
Wayne, Chris & Katie *
Weatherz, Tia & Brandon *°
Weber, Melissa & Ryan *
Weekley, Denise & John *°
Weitz, John & Sue *
Weldon, Derik & Nancy *°
Welle, Andy & Nicole *
Weno, Martha *
Wensman, Janet & Tim *
Westby, Eloise & Jerry *
Weyer, Valerie
Whipple, Steve *
White, Margaret & Michael *
WhiteBox Marketing – Karki, Carrie
Wild, Carol & Lonny *
Williams, Sandra Q. *
Windschitl, Mike & Rose
Witherbee, Jenna & Matt
Witte, Debbie *
Wolfe, Ellie
Wynnemer, Linda J. *
Yassin, Sheryl & In Memory of Louise Julia Hoffman *
Zeleny, Katey & Pete *
Zellmann, LuAnn
Zellner, Annella
Zetah, Jody
Zetterlund, Judy & Allen
Zoeller, Diane & David