Rogers and Hammerstein's Cinderella Program
Live theatre is back!
"It feels SO good to say WELCOME to GREAT Theatre's production of Rodgers and Hammerstein's Cinderella!
I didn't arrive by horse drawn carriage, but it still feels a bit like a fairy tale to be under the Minnesota sky, taking in live theatre and soaking in the beautiful twilight hour at The Ledge Amphitheater with all of you.
If I could, I'd like to ask you to take a moment to say hello to your seat neighbor. This may be a family member, acquaintance, or stranger, but together we are a community. And this community is strong — even when we weren't able to be together in the same space, this community CAME TOGETHER to ensure that this fairy tale evening would be possible again.
We are feeling bold, bright, and more excited than ever to be gathering to share this theatrical experience with you all. That's why I want to use this brief moment of your attention to say thank you and to remind you how amazing spaces like this amphitheater and other public spaces are. Any time you can hear a new story or witness a moment that you're not an immediate part of adds meaning and richness to your life. Your presence here tonight is important in that it has added richness to the experience and that's the difference between living and thriving. GREAT Theatre is thriving, growing, changing, and taking in every moment like it's 11:59pm and the ball is about to end. Whether we turn into pumpkins or not doesn't really matter so long as the glitter of the night sticks around to add a little sparkle to our future!"
Cassie Miles
Board President, GREAT Theatre
---
"Thank you for joining us tonight at the brand new The Ledge Amphitheater for our inaugural Broadway series musical. This production has been years in the making since the City of Waite Park dreamed of turning donated quarries into Minnesota's most beautiful outdoor venue. Everything you experience on stage this summer is created just for you by a very talented group of artists featuring the very best in local volunteer talent.
This show really proves anything is possible and GREAT Theatre kicks off our first full season of shows since March 2020. We are so grateful for your support to ensure that GREAT survived and thrived during a very challenging time. And a personal thanks to all the volunteers and artists who have worked so hard over the last six months to create our local production of "Rodgers + Hammerstein's Cinderella" that will amaze and enthrall you.
And mark your calendars because an outdoor summer musical is now part of your fourth weekend in July (July 21-23, 2022) plans each year. We are already hard at work planning for 2022 and we can't wait to wow you with a bigger, pinker and more amazing show!"
Dennis Whipple
Executive Director, GREAT Theatre
Corporate Support for Cinderella comes from: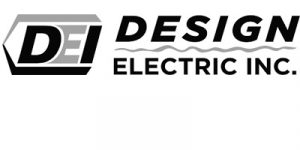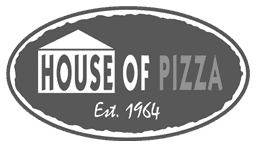 THE CLASSIC TALE FULL OF ADVENTURE, FRIENDSHIP, AND MAGIC!
Originally presented on television in 1957 starring Julie Andrews, this masterpiece has been twice remade; first in 1965 starring Lesley Ann Warren, and again in 1997 featuring Brandy and Whitney Houston.
This ICONIC story follows Ella, a young woman with big hopes and dreams in search of something larger than herself as she struggles to make her way in the world under the grip of a cruel step-mother. With the help of friends and her Fairy Godmother, Ella journeys to make the impossible a reality in this new Broadway adaptation of the classic musical!
This production is approximately 2 hours and 20 minutes long and is enjoyed by audiences of all ages.
Cast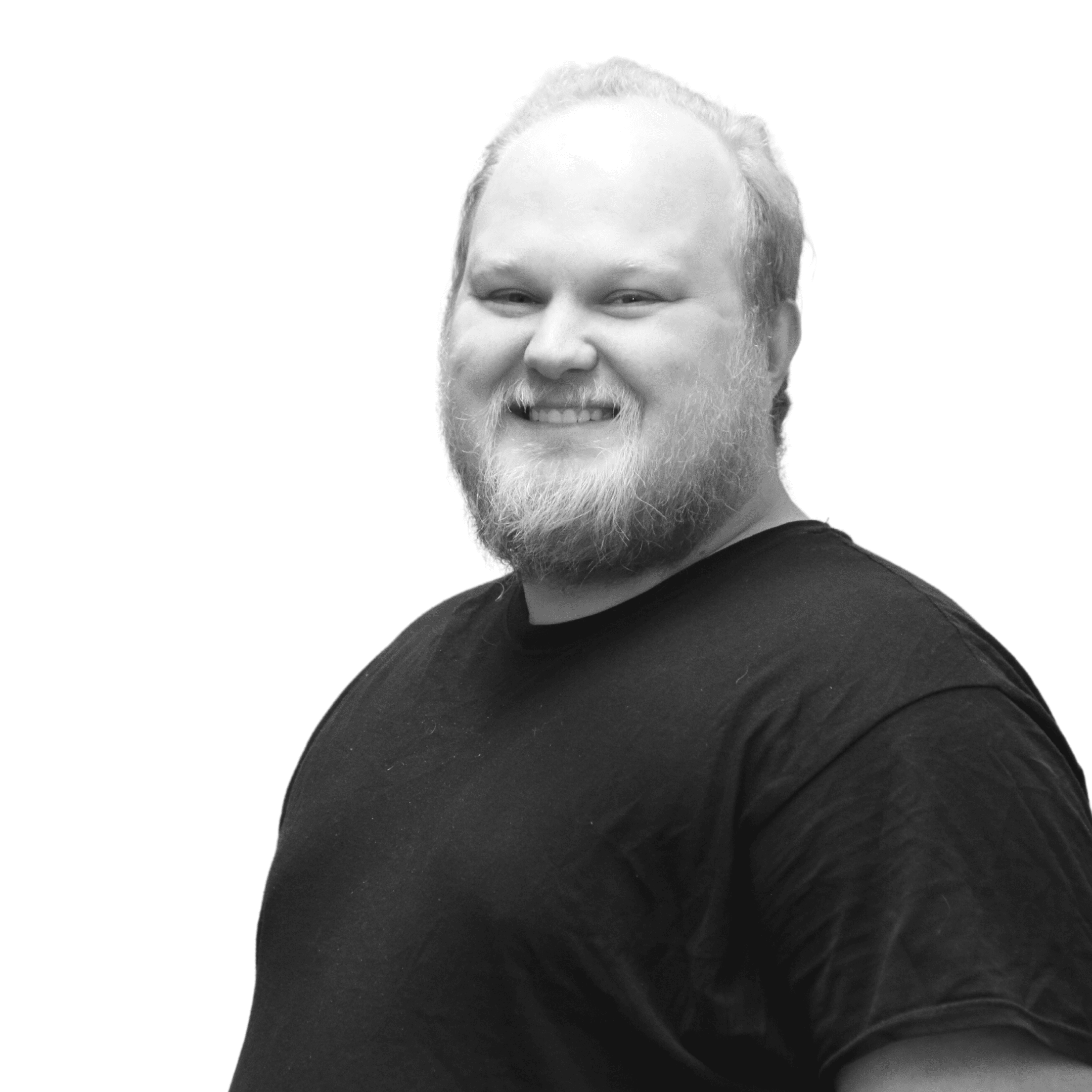 Micah Alm
Volunteer Actor
Micah Alm (Goon 1, Ensemble, J.D U/S), is a Natural Resources Technician at Lake Maria State Park. Jimmy Buffett's Escape to Margaritaville marks Micah's third performance at the Ledge Amphitheater with GREAT, which represent only a fraction of his involvement with GREAT in past years. Micah has also been in shows including Matilda and Murder on the Orient Express, and has been backstage for shows like Descendants and Play that Goes Wrong. When Micah has free time, he likes baking and being with friends.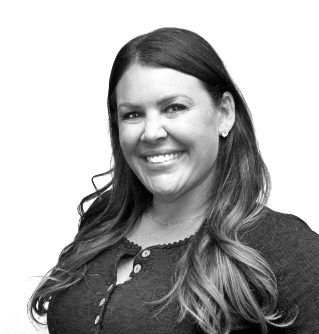 Savanna Bain
Volunteer Actor
Savanna is a stay-at-home mom. She enjoys singing, dancing, hiking, trying new foods, and spending time with her friends. Savanna has been in several shows including Peter Pan, Alice in Wonderland, and Tom Sawyer as well as GREAT's productions of The Music Man and Guys & Dolls.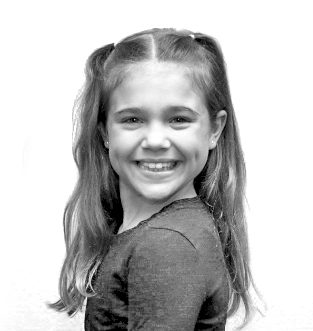 Emirsyn Bain
Volunteer Actor
Emirsyn enjoys dancing, singing, creating art and crafts, and spending time with her friends. She has been in many GREAT summer theatre camps including The Wizard of Oz, Snow White, and Charlotte's Web. Emirsyn is excited to make her GREAT debut!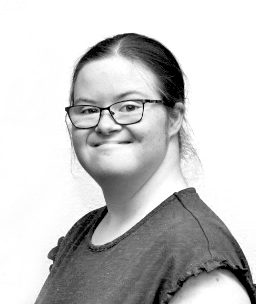 Megan Bjorklund
Volunteer Actor
Megan works at Custom Catering. She loves dancing, playing the piano, singing, and going to the lake with her family. Megan has appeared in GREAT's productions of Peter Pan and Disney's The Little Mermaid.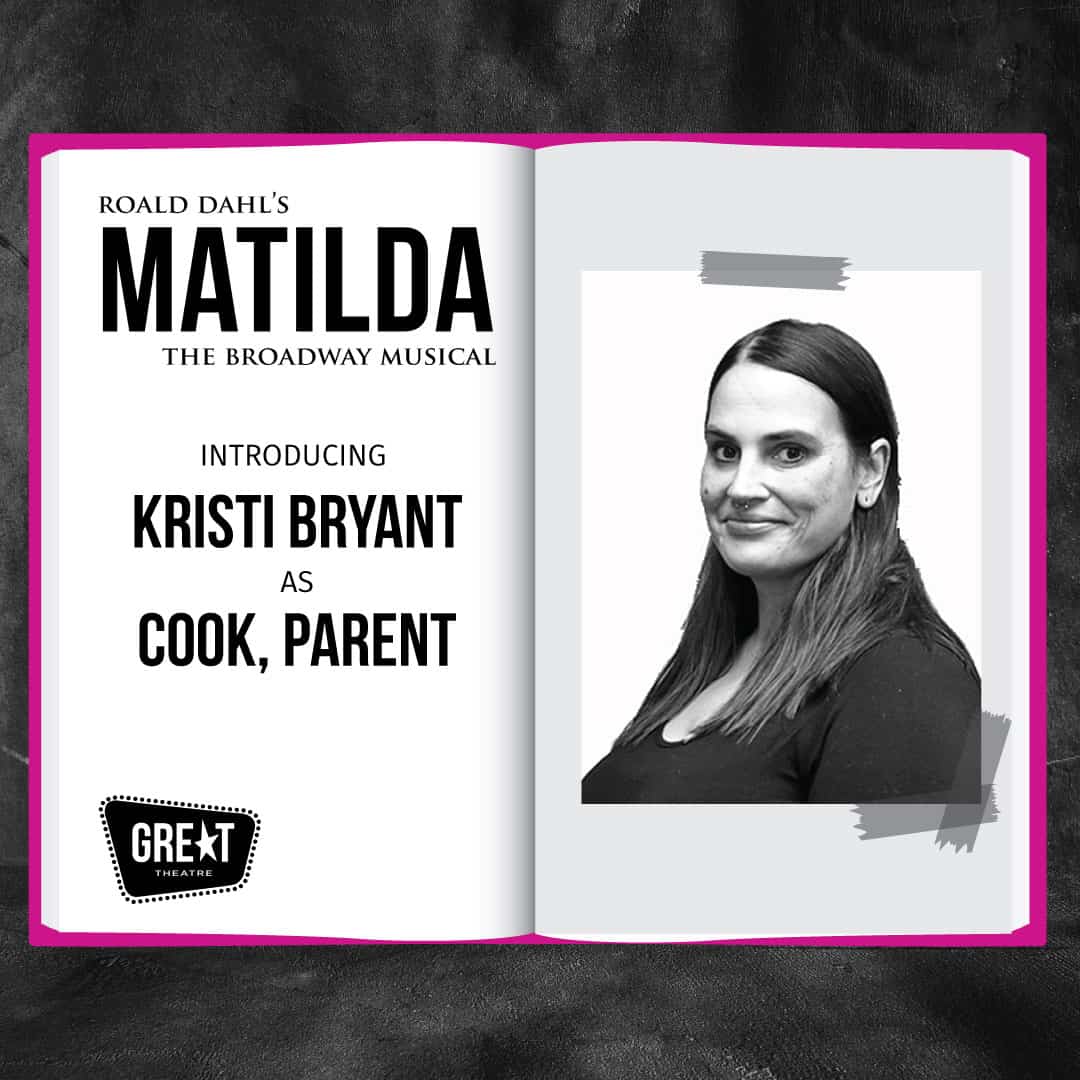 Kristi Bryant
Volunteer Actor
Kristi Bryant is a Registered Nurse with Centracare. She has performed in GREAT shows like A Christmas Carol, Shrek, and most recently, Rodgers & Hammerstein's Cinderella. Kristi enjoys crocheting, crime documentaries, and naps. Being in Matilda has offered her a unique opportunity to share her love of theatre with her son Derek, who she will share the stage with!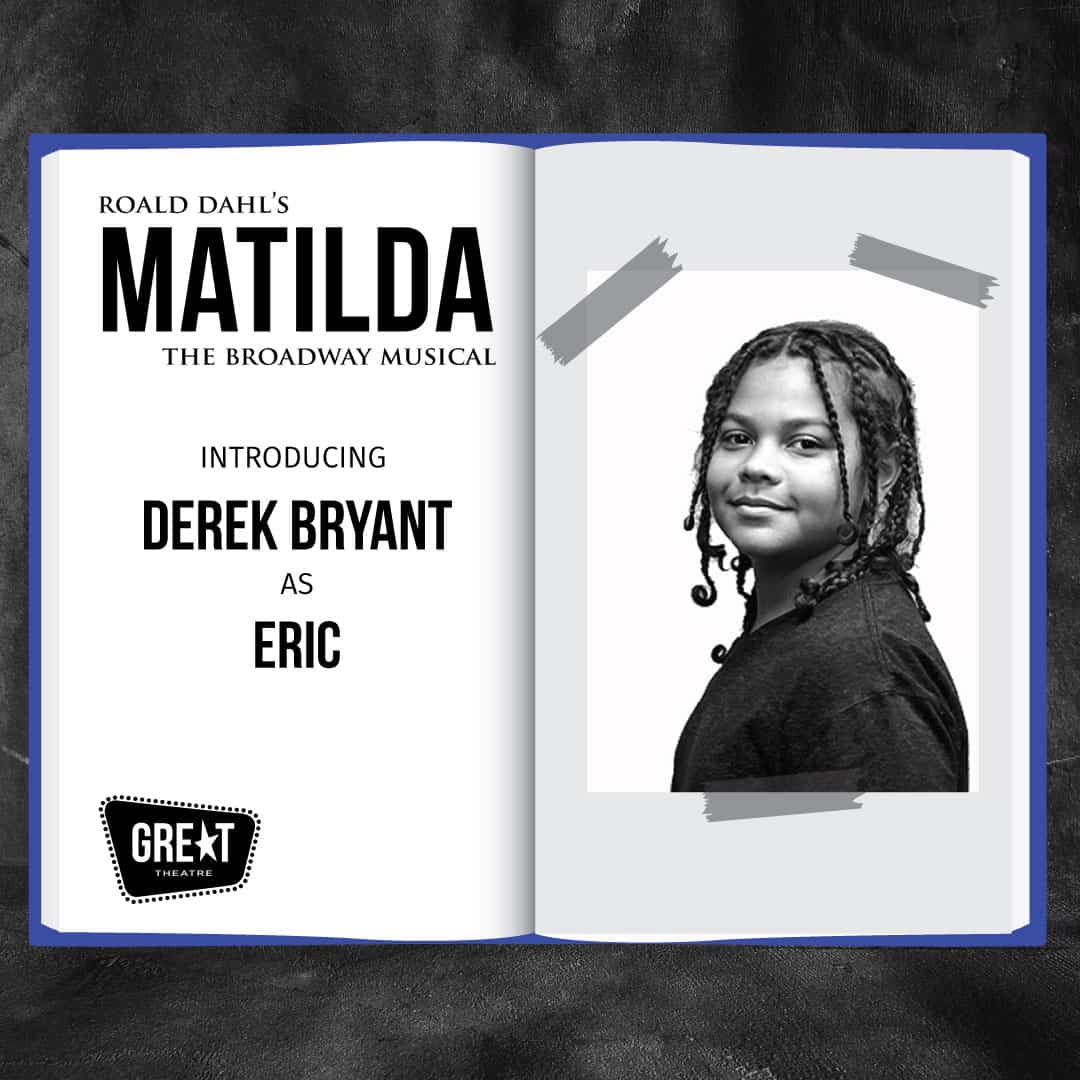 Derek Bryant
Volunteer Actor
Derek Bryant is in the sixth grade at Sauk Rapids-Rice Middle School. He likes basketball, gaming, and Black history. Derek has been in GREAT's production of Rodgers & Hammerstein's Cinderella, and he's excited to return to the stage for Matilda. Being on stage is Derek's happy place, and he is sharing that experience with his mother Kristi!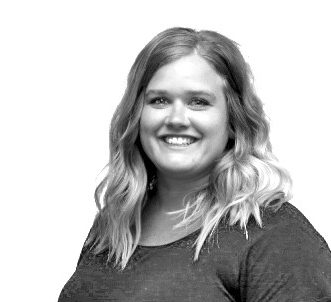 Bridget Deutz
Volunteer Actor
Bridget is the Founder & Chief Marketing Strategist at Greenline Marketing. In her free time, Bridget teaches piano and voice lessons, enjoys photography and hand lettering, and lectures at her alma mater, CSB|SJU. She loves small-town coffee shops, digging in antique stores, spending time with her labradoodle Dolly, and seeing + experiencing new places. Above all else, Bridget truly cherishes time spent with her family and friends. Bridget has been in many productions including Grease, Wizard of Oz, Godspell and GREAT"s production of Alice in Wonderland.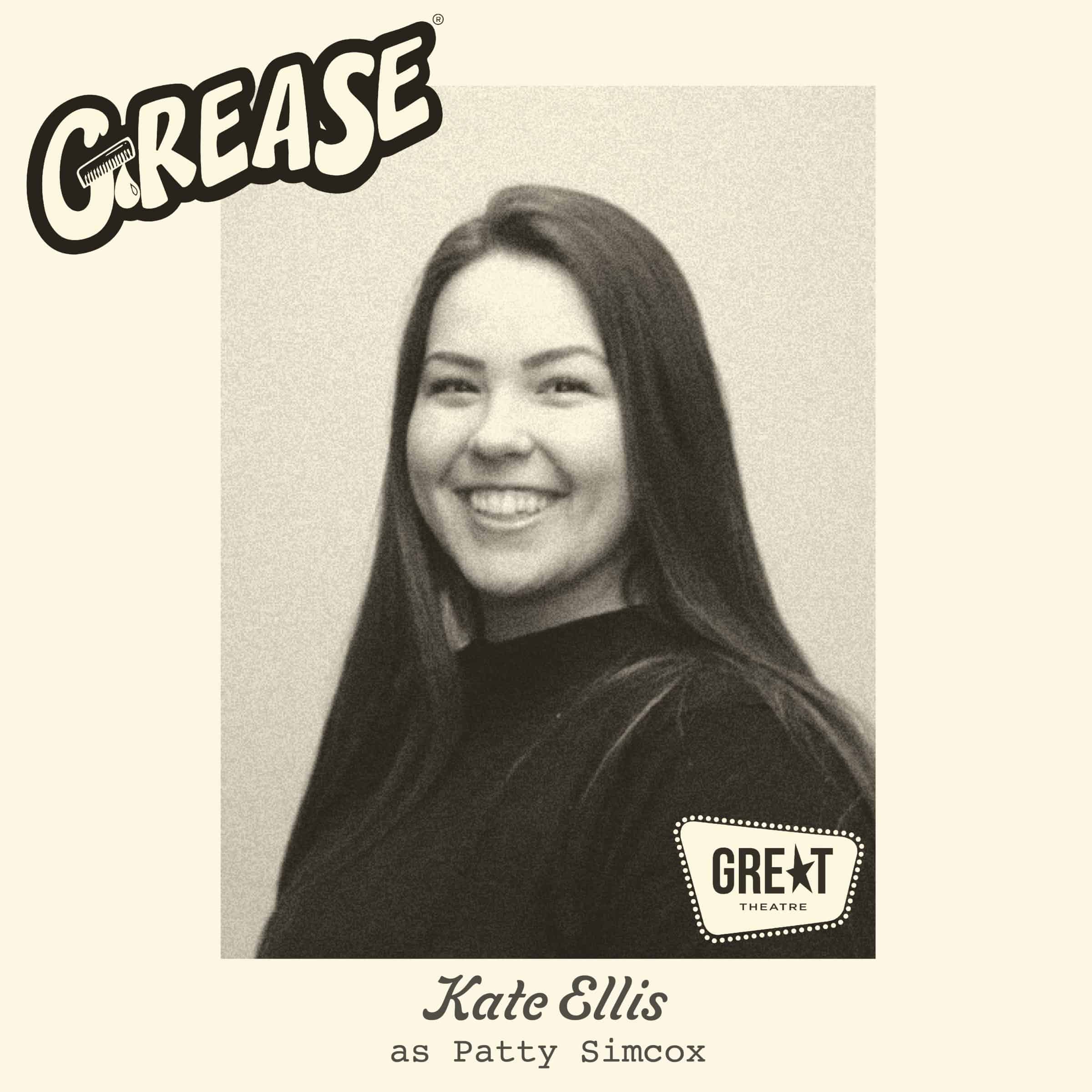 Kate Ellis
Volunteer Actor
Kate Ellis will be a freshman at Creighton University this fall, where she will be studying Biochemistry. She enjoys going on long drives, watching romantic comedies, listening to Taylor Swift, and drinking venti iced chais. Kate has graced the stage with roles in Cinderella and The Sound of Music with GREAT.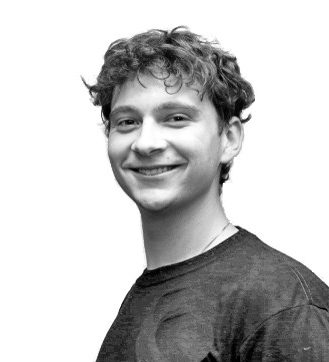 Wesley Gardner
Volunteer Actor
Wesley is a Summer Teaching Artist with GREAT. In his free time, Wesley enjoys playing the piano. He has been in Sweeney Todd: Demon Barber of Fleet Street and Annie Get Your Gun; this is Wesley's GREAT debut!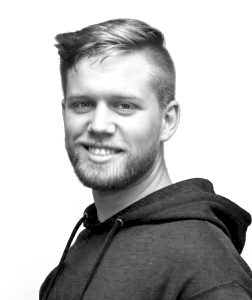 Kristopher Gjerme
Volunteer Actor
Kristopher is employed with Transit Resource Company and enjoys reading, writing, poetry, philosophy, plants, and fitness. He has appeared in GREAT's productions of Romeo and Juliet, The Hobbit, Beauty and The Beast, and Guys and Dolls.
Tierney Hammer
Volunteer Actor
Tierney loves theatre, dancing, and singing. While attending Sartell High School, she was cast in many shows including The Addams Family, The Music Man, A Midsummer Night's Dream, and several more! Tierney has also appeared in several GREAT productions including Disney's The Little Mermaid, It's a Wonderful Life, My Fair Lady, and Shrek the Musical.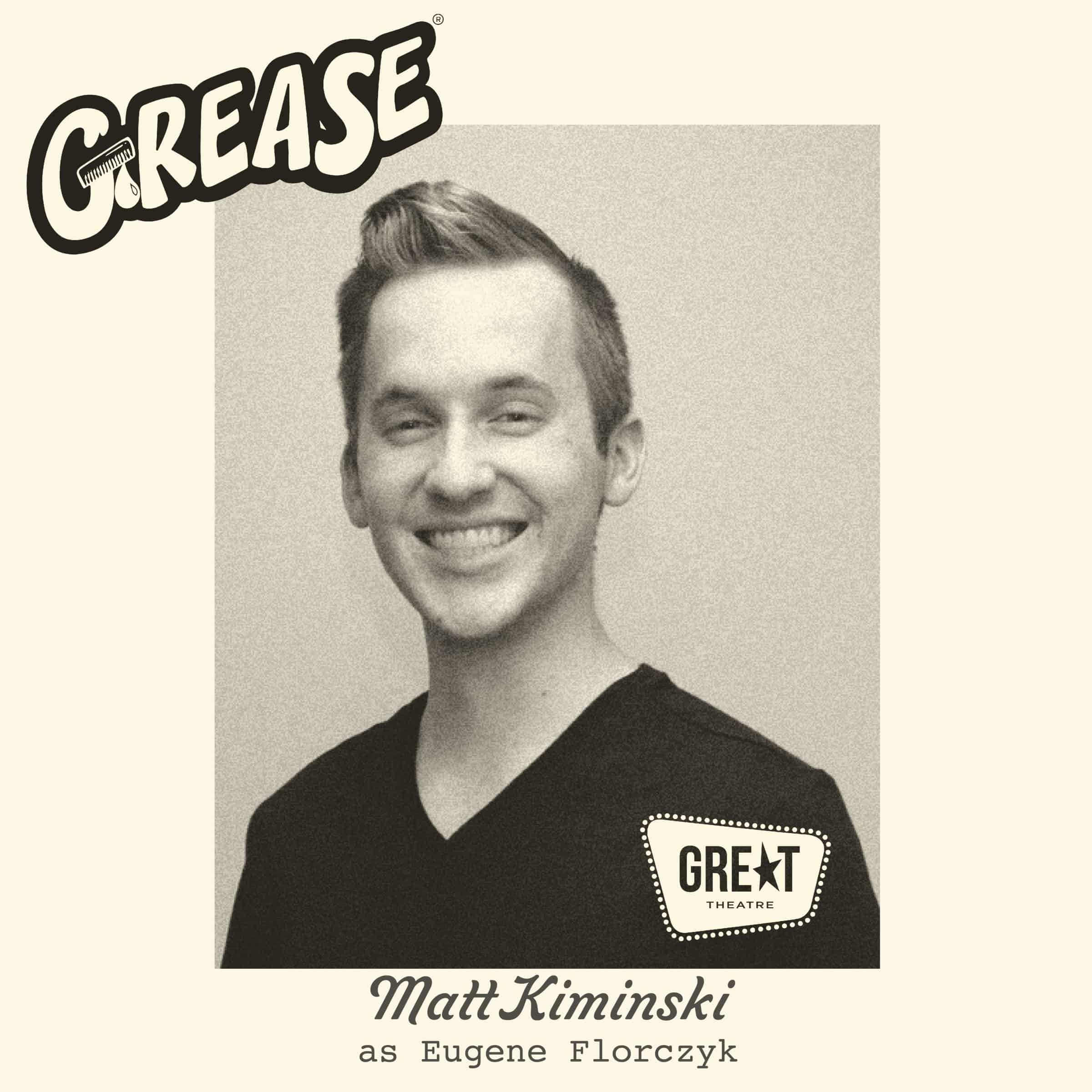 Matt Kiminski
Volunteer Actor
Matt Kiminski is a Choir Teacher at Becker Middle School. He enjoys traveling, adventuring, biking, and learning. Matt has been in Cinderella with GREAT, and has served as a Vocal Director for various school productions.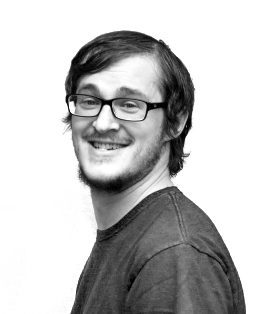 Nate Lundstrum
Volunteer Actor
Nate loves performing in plays and musicals. His other hobbies include relearning the piano (after not playing it since high school), hiking and camping in the summer, and skiing in the winter.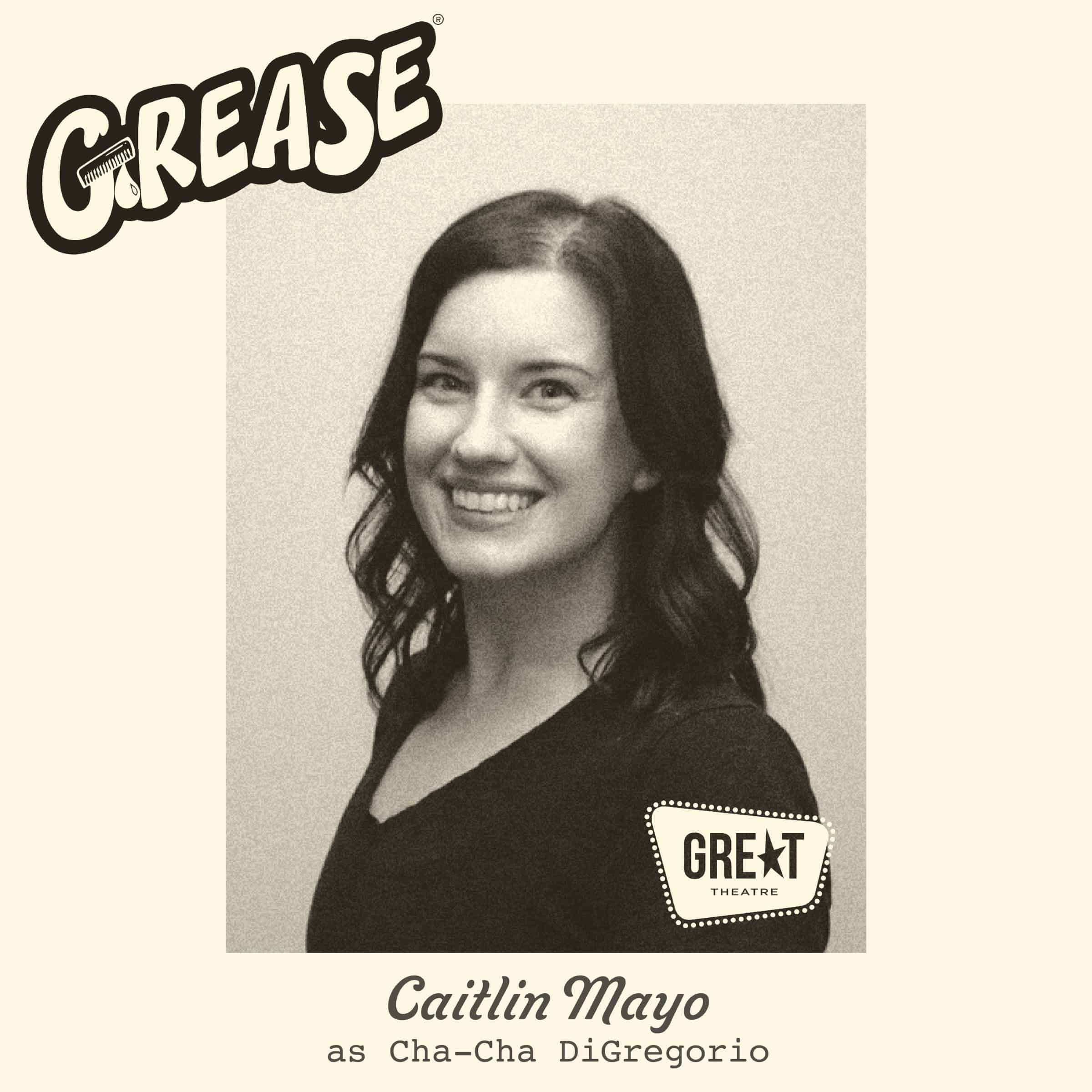 Caitlin Mayo
Volunteer Actor
Caitlin Mayo is a teacher and dance instructor at Melrose Area Schools. She loves traveling, reading, snuggling with pets, and spending time with family and friends. Caitlin got to participate in her high school's production of Grease, an experience that allowed her to discover an abundance of confidence in. Caitlin has also been in GREAT productions such as Beauty and the Beast and Cinderella.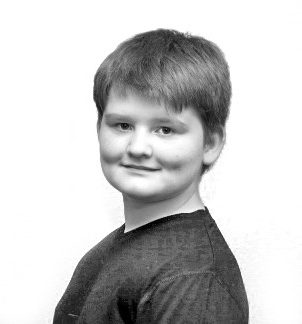 Aiden Miller
Volunteer Actor
Aiden loves creating art, studying history, and reading comic books. He has participated in many GREAT Theatre summer camps including Robin Hood, The Wizard of Oz, and Charlotte's Web. This production is Aiden's GREAT debut!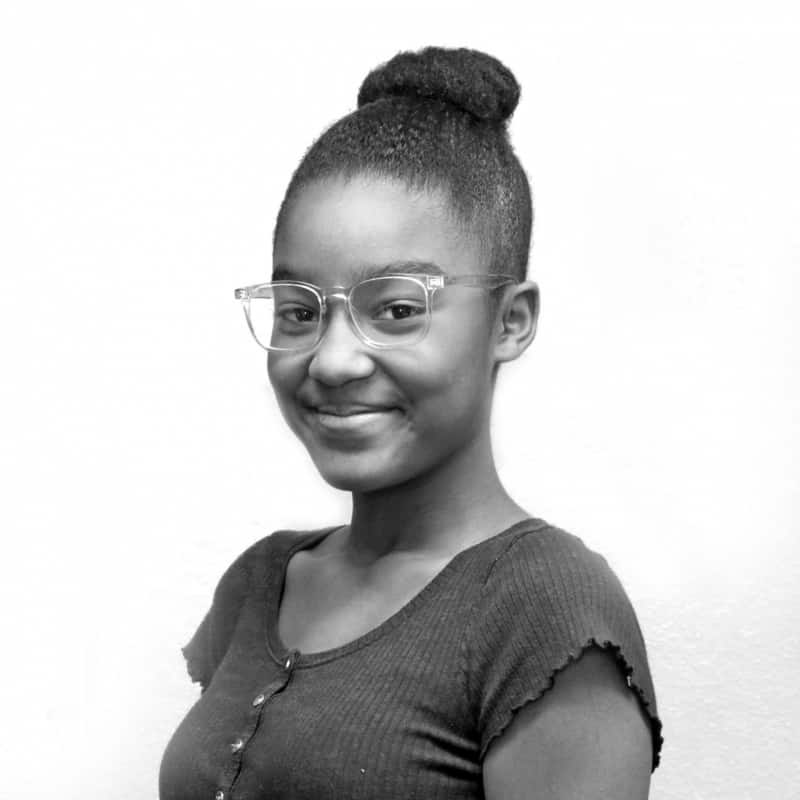 Cadence Mix
Volunteer Actor
Cadence is a student at Sartell Middle School. She enjoys singing, acting, DIY projects, makeup, and spending time with friends. Cadence has participated in several school productions as well as GREAT's Miracle on 34th Street: A Live Musical Radio Play, Akeelah and the Bee, and The Rainbow Fish Musical.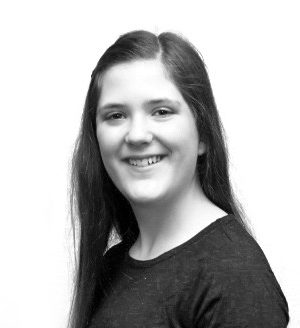 Stella Mohs
Volunteer Actor
This is Stella's GREAT debut!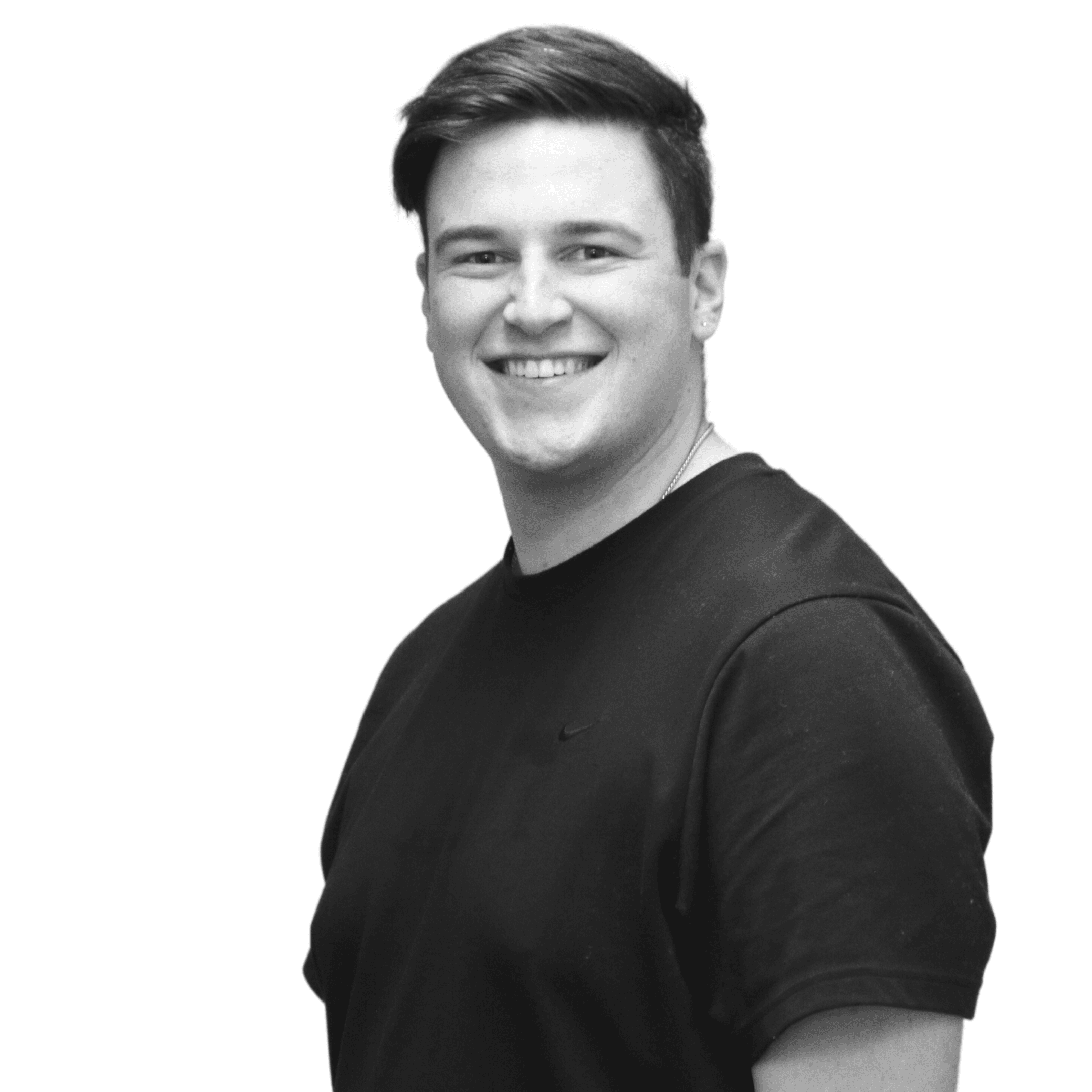 Colin Nord
Volunteer Actor
Colin Nord (Chadd, Brick U/S) is the Education Manager at GREAT Theatre. He's been in GREAT productions of Singin' in the Rain, Beauty and the Beast, and last year's outdoor musical GREASE!. Escape to Margaritaville will be Colin's third show at the Ledge, and he's so excited to be returning to this stage! When he's not at work or rehearsal, Colin might be getting coffee and laughing with friends or family.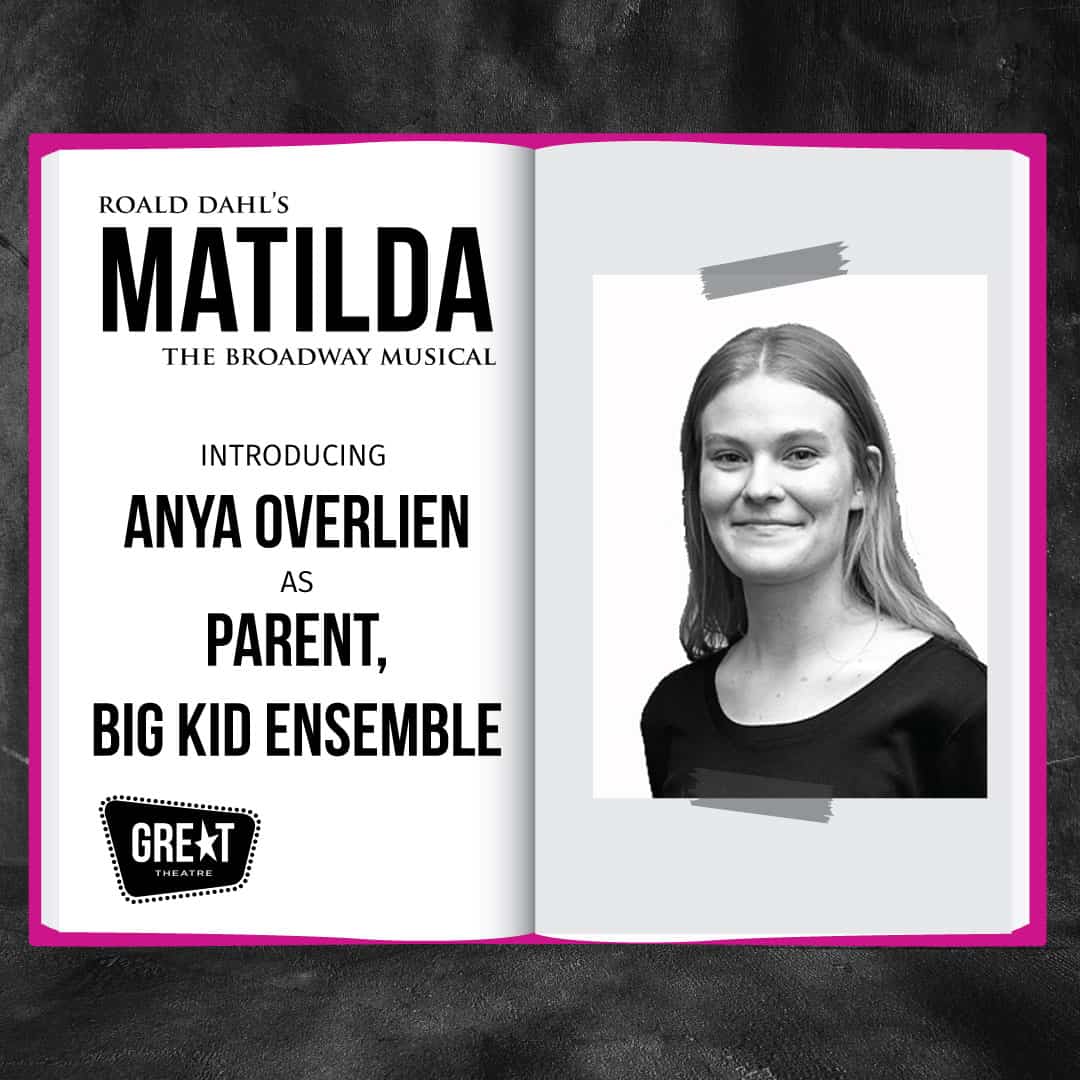 Anya Overlien
Volunteer Actor
Anya Overlein goes to the University of St. Thomas. In her free time, she listens to music, makes friends, runs, and plans road trips. Anya has been in GREAT shows such as The King & I, The Wizard of Oz, and most recently, Rodgers & Hammerstein's Cinderella. Anya is thrilled to be involved with theatre, having fewer opportunities to do so since going away to college!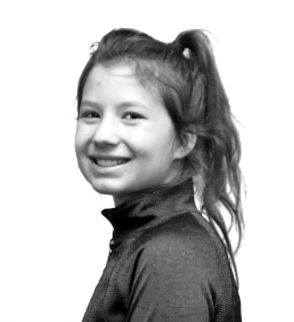 Victoria Pangerl
Volunteer Actor
Victoria is a student at Sartell Middle School. She enjoys theatre, swimming, playing the piano, hanging out with her friends, and spending time with her family's dogs. Victoria has been in many of her school's productions, including How the Grinch Stole Christmas, Zombies the Musical, and more! Victoria has also participated in many GREAT theatre summer camps and is making her GREAT debut!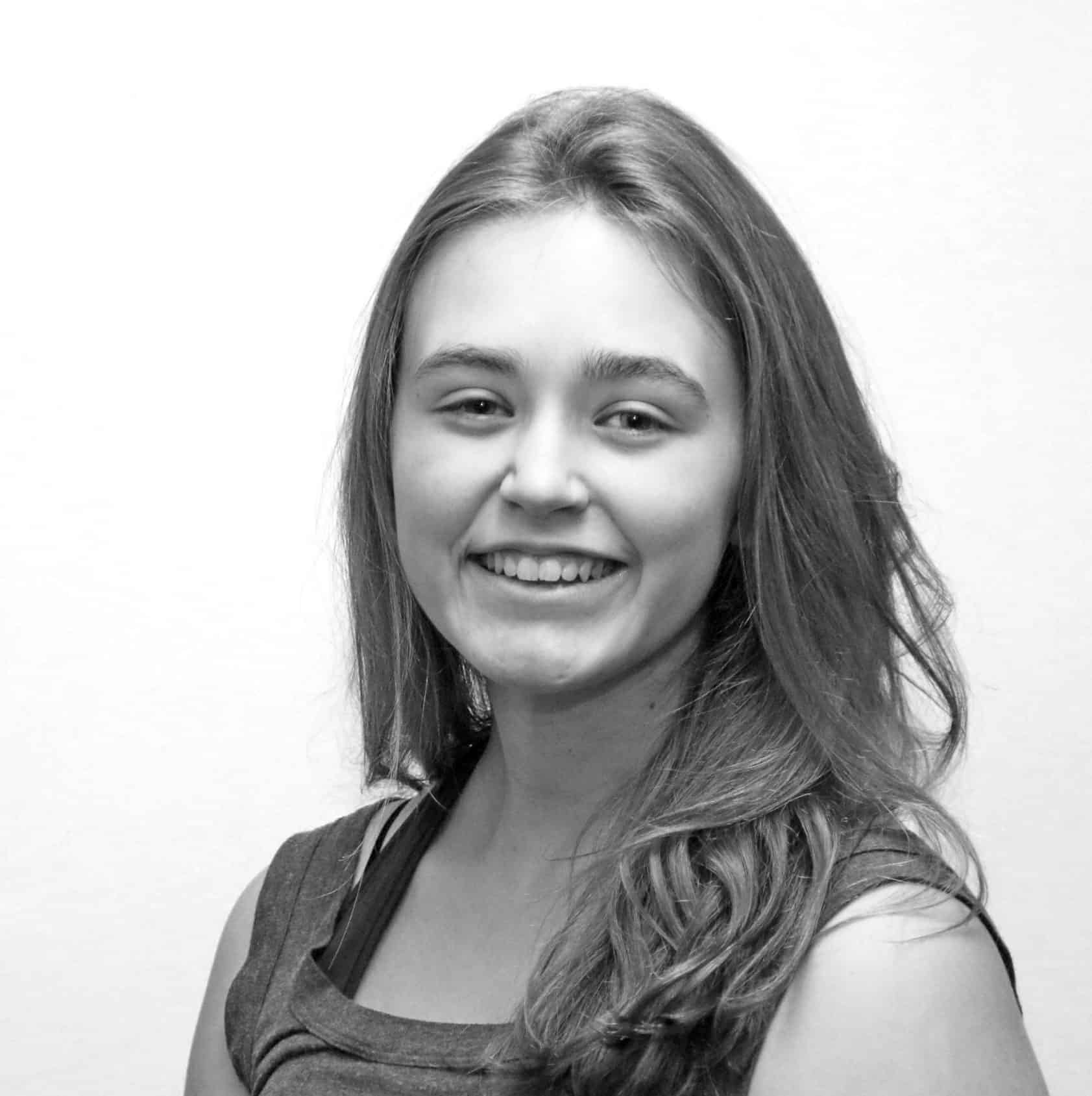 Grace Radeke
Volunteer Actor
Grace loves any and all things that have to do with performing! She also enjoys making coffee, working out, thrifting, and cooking. Grace has participated in many GREAT productions including Annie, Charlotte's Web, The Wizard of Oz, Shrek the Musical, My Fair Lady, Disney's Newsies, and several others!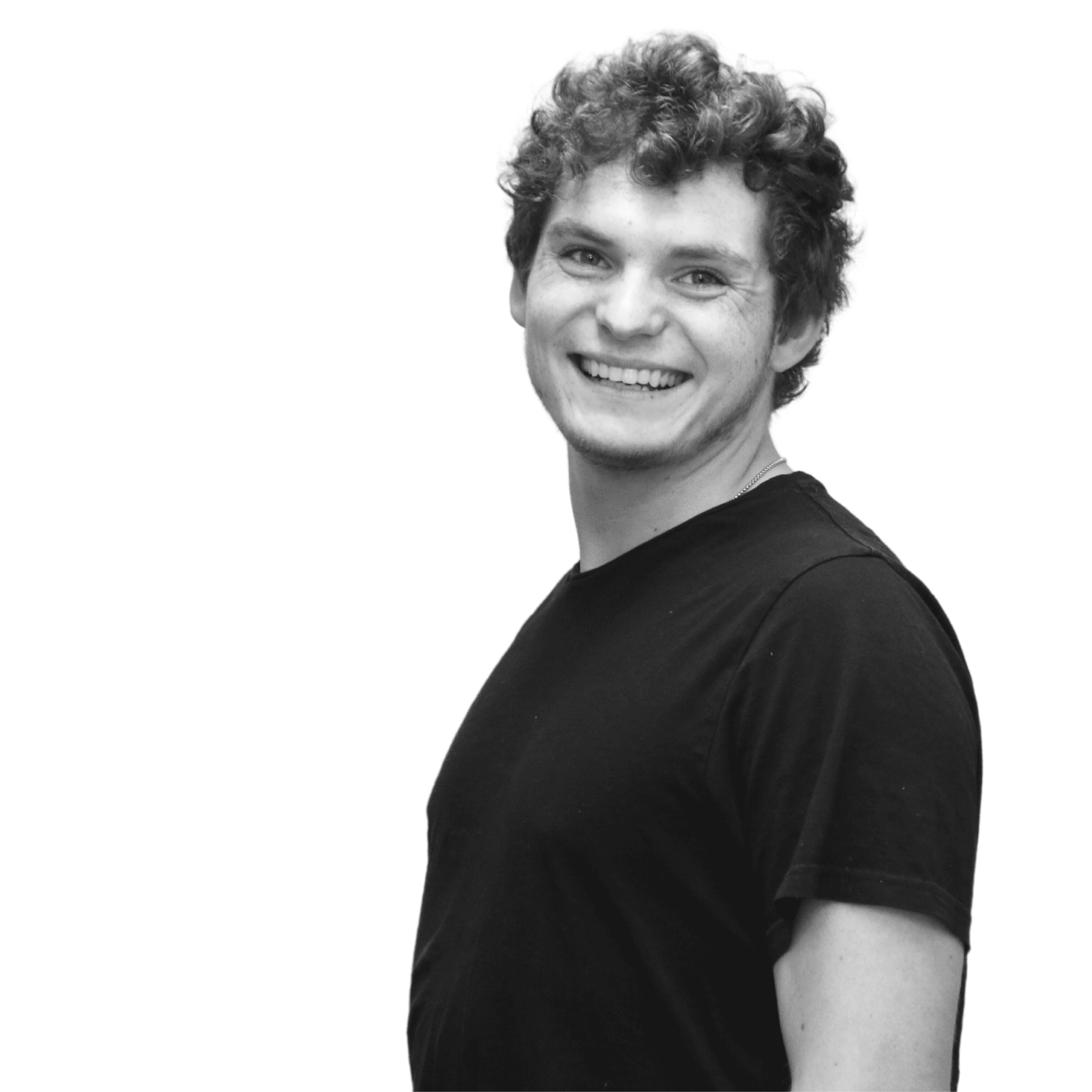 James Reichow
Volunteer Actor
James Reichow (Brick) is majoring in Social Studies Education at St. Cloud State University. He's been in GREAT productions of The Laramie Project, Cinderella, and GREASE!, and he decided to audition for Escape to Margaritaville because "Margaritaville" is his mom's favorite song! Some of James' favorite hobbies are rowing, antiquing, and choir.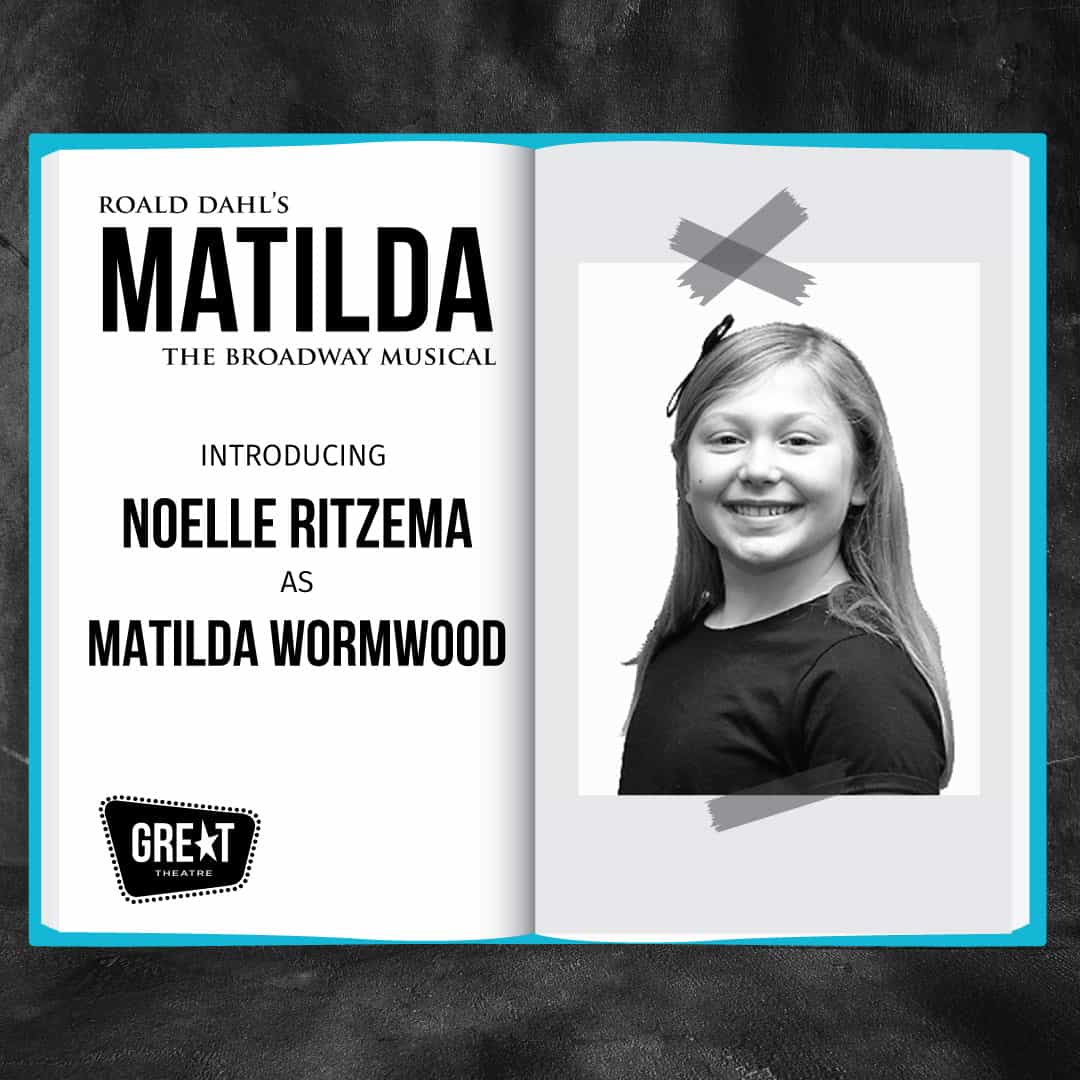 Noelle Ritzema
Volunteer Actor
Noelle Ritzema is a student at St. Cloud Christian School. She was in Rodgers & Hammerstein's Cinderella last year, and has returned to the stage with GREAT Theatre as Matilda because not many shows speak to children the way Matilda does! Some of Noelle's favorite pastimes are reading, roller blading, and playing the flute.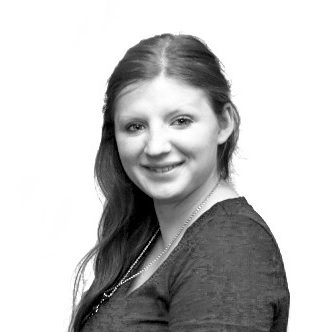 Katherine Ronyak
Volunteer Actor
Katherine is a junior at Saint Cloud State University and works in food services. When she's not busy studying or working, Katherine loves to sing, paint, bake cupcakes, and spend time with her family – especially her new baby nephew! Katherine has appeared in many shows including The Addams Family, West Side Story, Flowers for Algernon, and many others as well as GREAT's productions of Disney's The Little Mermaid, Pollyanna, A Christmas Carol, and My Fair Lady.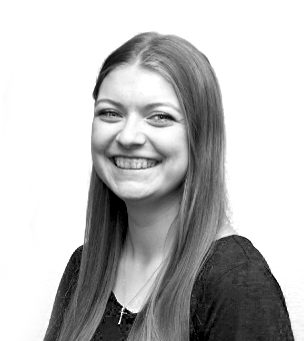 Maria Schneider
Volunteer Actor
Maria is a choral education student at the College of Saint Benedict's. She has been in many productions including Chicago, All Shook Up, Legally Blonde, Sister Act, Footloose, The Addams Family, and several others. In her free time, Maria loves writing music, baking, crafting, and spending time outdoors. This production is Maria's GREAT debut!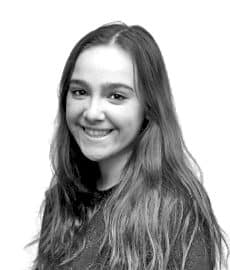 Leighton Stebbins
Volunteer Actor
Leighton is a  student at Sartell High School. She enjoys driving, mini golfing, watching The Princess and the Frog, and hanging out with friends. She has been in Sartell High School's productions of The Music Man, The Addams Family, and Hello! My Baby. Leighton also appeared in GREAT's Charlie and the Chocolate Factory and Elf the Musical.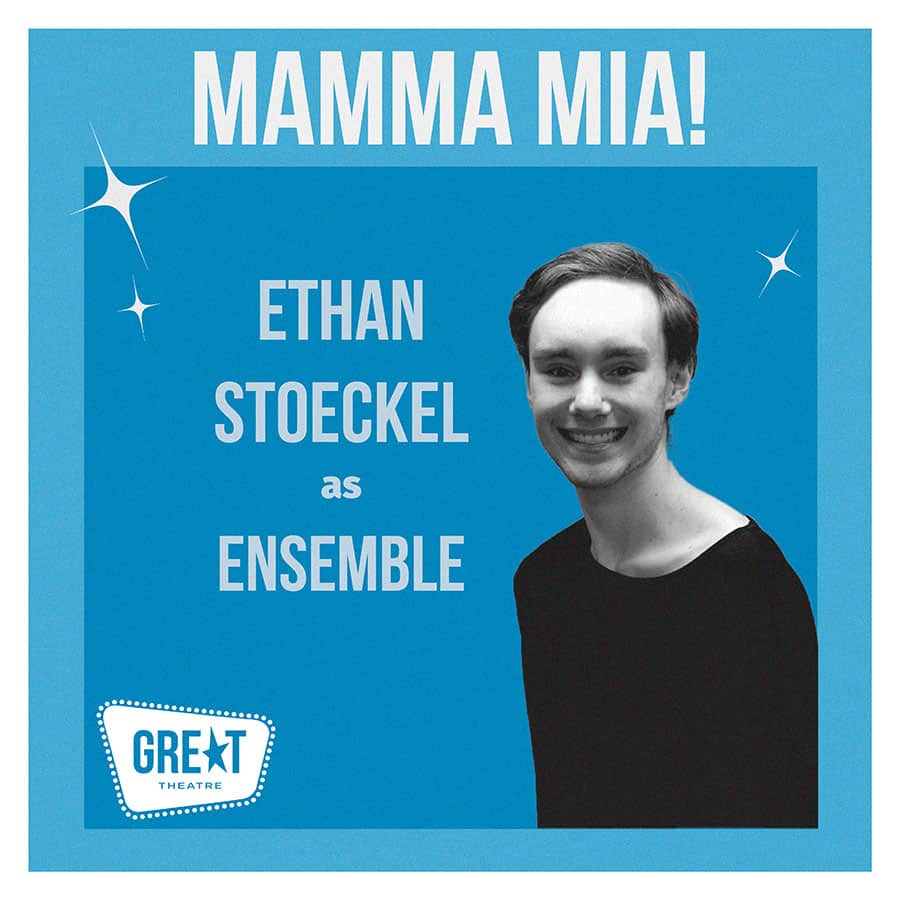 Ethan Stoeckel
Volunteer Actor
Ethan Stoeckel is a senior at Tech High School. Ethan had never seen the musical or movie versions of Mamma Mia! when he decided to audition. In fact, he'd only ever listened to the show's soundtrack! Ethan has been in a number of productions, including recent GREAT productions of Rodgers & Hammerstein's Cinderella and Matilda. Ethan likes writing, Dr. Who, retro computer games, and anime.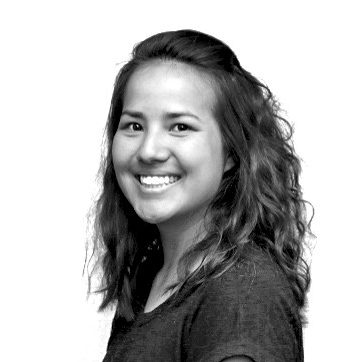 Danielle Summers
Volunteer Actor
Danielle is an elementary school teacher who enjoys singing, playing the ukulele, and swing dancing. Danielle has appeared in shows such as The Wizard of Oz, The Sound of Music, Annie, and Oliver. She is now making her GREAT debut!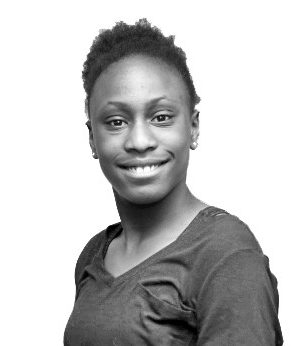 Emelia Terwey
Volunteer Actor
Emelia is a student at Rocori Middle School where she participates in track. She also enjoys playing soccer, dancing, and doing gymnastics. She is looking forward to her GREAT debut!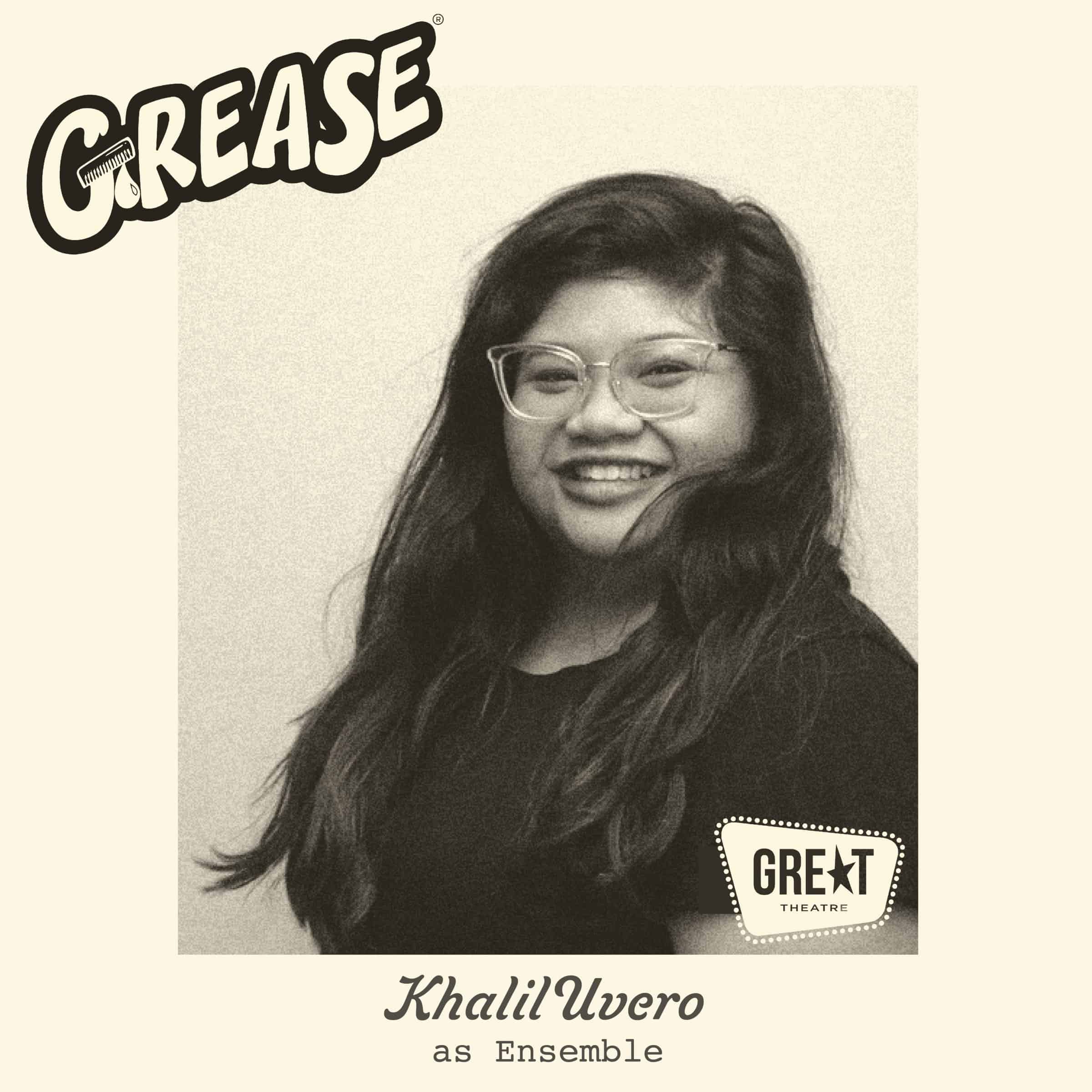 Khalil Uvero
Volunteer Actor
Khalil Uvero works as a Client Service Associate at Preferred Credit Inc. Khalil has been in To Kill a Mockingbird, Cinderella, and Mamma Mia!, and is currently directing Rocky Horror Picture Show. Khalil loves everything theatre, and enjoys embroidery and knitting.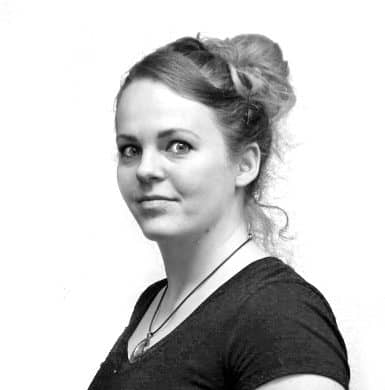 Lindsay Vincent
Volunteer Actor
Lindsay works with Anderson Trucking Services. She enjoys lyra, painting, singing, dancing, acting, sewing and knitting. Lindsay has participated in many shows before moving to Minnesota and is now excited for her GREAT debut!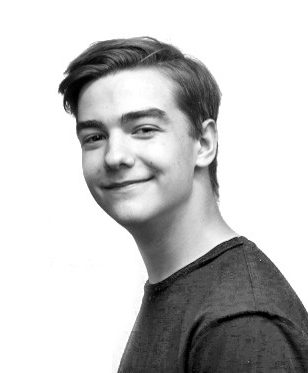 Elliot Weber
Volunteer Actor
Elliot attends Sartell High School and was featured in their production of The Addams Family.  He enjoys tennis, singing, biking, and hanging out with friends. Elliot also participated in GREAT's production of Joseph and the Amazing Technicolor Dreamcoat.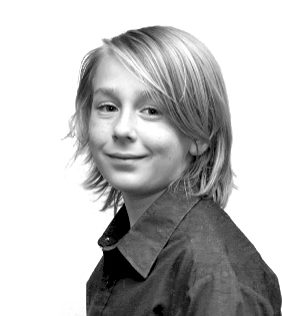 Emery Wirth
Volunteer Actor
Emery is a student at Annandale Elementary School. He enjoys practicing the piano, running, learning about Greek mythology, and playing chess. Emery participated in GREAT's Mulan summer camp. This production is his GREAT debut.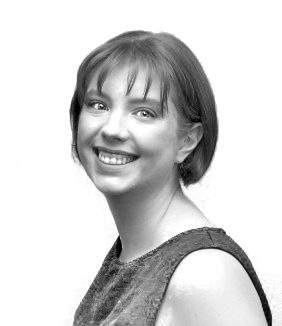 Alyssa Zaczek
Volunteer Actor
Alyssa is an employee of DAYTA Marketing, published author of books for school-aged children, and owner of an online vintage clothing boutique. Outside of writing and curating vintage, Alyssa also enjoys cooking, gaming, and spending time outside with her partner and their dogs.
Prior to moving to Central Minnesota, Alyssa was a cast member in many shows both throughout her school years and in community/non-professional regional theatre. She has appeared in Almost, Maine; A Streetcar Named Desire; Disney's Beauty and the Beast; High School Musical (twice!); and many others! This production is Alyssa's GREAT debut.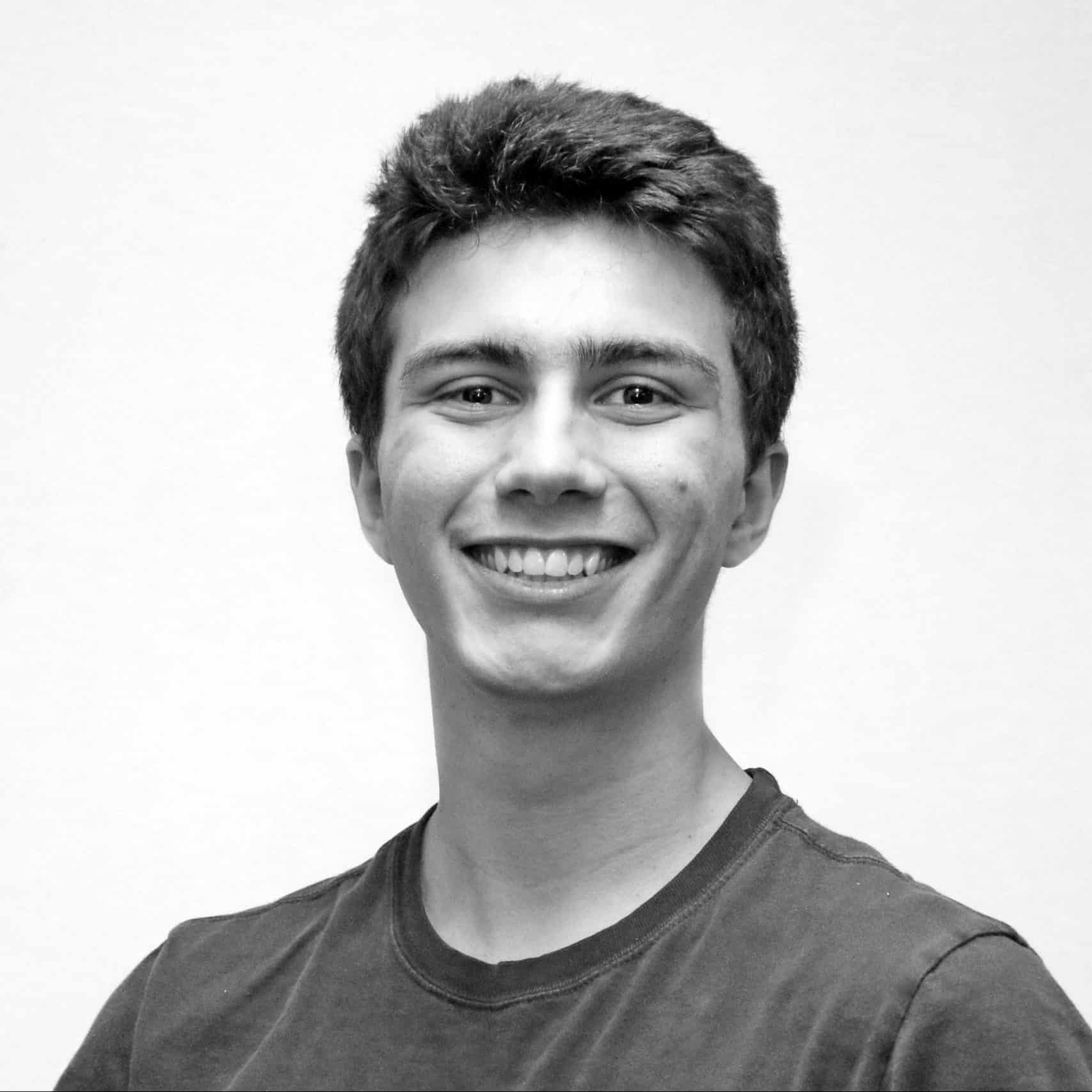 Alexander Zapf
Volunteer Actor
Alex works with Great Estates Yard and Tree. He enjoys music, singing, and soccer. Alex has been in GREAT's productions of Disney's Newsies and Joseph and the Amazing Technicolor Dreamcoat.
Production Team
Dennis Whipple – Director
Kendra Norton Dando – Assistant Director
Nick Loweree – Production Stage Manager
Megan Myers – Assistant Stage Manager
Hillary Vermillion – Music Director
Allyson Richert – Choreographer
Colin Jarrell – Technical Director & Scenic Designer
Aaron Porter – Production Manager & Lighting Designer
Matthew Bell – Sound Designer
Steve Sanders – Sound Technician
Jessica Mancini – Costume Shop Manager
Rich Kimmerle – Assistant Technical Director
Bonnie Bologna – Prop Designer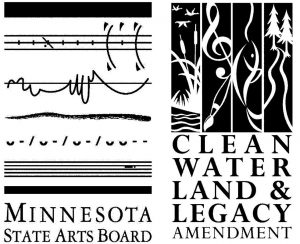 This activity is made possible by the voters of Minnesota through grants from the Minnesota State Arts Board and the Central MN Arts Board, thanks to a legislative appropriation from the arts and cultural heritage fund.
---
GREAT Donors
GREAT donors March 1, 2020 – June 30, 2021
Donors who have given 3 or more years * | Monthly sustainers °
1 Better
Aadland, Sally & Tim
Abercrombie, Cindy *
Adventure Creative *
Ahles, Karen & Rick *
AIS Planning – Juilfs, Cathy & Darren *
Ajayi, Adeyoola & Oluade *°
Algoe, Dave & Jan *
Alm, Micah °
Amazon Smile Foundation *
Amosson Carlson Family Fund of the Central Minnesota Community Foundation *°
Amundson, Matt
Anderson, Benjamin & Tiffany *°
Anderson, Bruce & Susan *
Anderson, Sandy
Anderson, Solveig & Krafnick, Ed
Anderson, Suzanne *
Anonymous *
Arndt, Beverly & Gery
Arnzen, Marianne & Rick *°
Ayers, Linda
Backes, Darlene
Backes, Sara & Timothy
Bain, Savanna & Mitch
Barbara & Dennis Gregory Family Fund of the Central Minnesota Community Foundation *
Baron, Sue
Barrett, Jeanine & Micah
Barth, Daniel & Hokan, Raine
Bastien, Becky & Schlough, Mike *
Bates, Marge *°
Bauer, Kristen & Josh
Bauerly, Helga & Rick *
Becker, Emily
Becker, Liz & Monty
Becker, Lori & Mike
Beckmann Kids *
Bedard, Caren *
Behrends, Jessica M *°
Bellmont, Bob & Karen *
Bellmont, Don & Nancy *
Benschoter, Bonita & John *
Beretta, Dante & Jaimie *
Berg, Dorothy
Berg, James & Kruger, Mary *
Berg, Lisa *
Berg, Ruth
Bidinger, Rory & Tiffany *
Binder, Annette °
Biorn, Deborah *
Bird, Howard & Shirley
Bisek, Ginny & Jim *
Bjorklun, Gene & Mary Margaret *
Bjorklund, Byron, PegAnne & Megan *
Bleam, Jeffrey & DeBlieck, David *
Blenkush, Micki & Michaels, Dan*
Blesener, Rose & Daly, William *
Blissenbach, Becky & Jonathon
Blixt Family
Bobeldyk, Karen
Bobick, Andi & Mike *
Bochonko, Coca & Springer, Mark *
Bodien Family
Boesen, Chris, Staci, Brenden & Nathan *
Bohn-Gettler, Chris & Kate
Bollig, Deb *
Bologna, Bonnie, Steve & Family *
Bolton, Aaron & Nicole
Borgert, Sharon & David
Boulka, Gretchen T.
Bourassa, Adam & Lauren
Bowden, Paul
Boyle, Phil & Kris
Brambrink, Juliet & Hailey
Brenna, Cindy
Brenny Transportation – Brenny, Joyce & Todd *
Brewster, Mary Jane & Roger *
Brinkman, David & Debra *
Brinkman, Harold & Marilyn *
Broker, Julie & Mike
Broker, Paris & William *
Brown, Linda
Brown, Phyllis M. *
Bruner, Linda
Brunsvold, Elizabeth
Buettner, Lori & Ralph *
Buhl, Dave & Elizabeth
Bunting, Dannielle *
Burchill, Mary
Bush, Bonnie *
Busse, Brad *
Buttweiler, Patricia
Byram, Deborah
Calantoc, Mary & Hanks, Kevin *°
Cameron, Darryl & Karen *
Capital One Services LLC
CAPmation Foundation
Carlin-Goenner, Mary *
Carlson, Peggy & Nielsen, Chuck
Casey, Kathy
Cash, Brian & Karen *
Cheever Family
Childs, Mark & Amy
Chmielewski, Mary
Christensen, Kathryn & Derrick
Christenson Family *°
Cicharz, Pat & Rick *
Clancy, Lindsey & Jeff
Clark, Doug & Tarryl *°
Clarke, Rachel & Caelin *
Coborn's
Colberg Family *
Coldspring *
Colgan, Teresa & Tim *
Colville, Dina *°
Como, Paulette & Tom *
Cossairt, Melissa
Cotton, Dan & Elaine
Counselor Realty – Aaron Trompeter *
Crafts Direct – Schlecht, Diane & John *
Cragle, M.D., Beth & Stephen P. *
Crilly, Emily
Crouse, Katrina & Matthew
Crue, Kelly
Cummings, Beth & Michael *
Cuperus, Sara & Shane
Curtis, Jessica
D'averill, Kari
Dahlen, Kent & Suzette *
Dahlstrom, Bethany
Dale Gruber Construction *
Danielson, Michele
Daubanton, Mary *
Dauer, Eileen & Brian *
Davick-Halfen, Kris
Davis, Mary A. *°
Day, Jennifer
Dearking, Amy & Eric
Decker, Heather
Deland, Tami
DeLong, Jeanette & Leonard
Dennis Smith Training – Smith, Denny & Pat *°
Derr, Rebecca
Dick & Mimi Bitzan Family Fund of the Central Minnesota Community Foundation *
Dinndorf, Steve & in memory of Joyce, Linda & Louie Dinndorf
Dolan, Janet
Dombrovski, Mary
Domek, Robert *°
Don Helgeson & Sue Shepard Fund of the Central Minnesota Community Foundation *
Donnelly, Beth & Kevin *
Doom, Jennifer & Ben
Dorothy C. Becker Fund of the Central Minnesota Community Foundation *
Dorrie & Scott Larison Fund of the Central Minnesota Community Foundation *
Dorsher, Joanne & Paul *
Dorsher, Patricia *
Dorsher, Steven *
Douvier, Brenda & Steve *
Droll, Becky & Brock
Duffy, Brendon & Megan
Dumonceaux, Erik & Melissa °
Dupla Family
Durrwachter, Krista & Kurt *
Dvorak, Erica
Dyer, Robert & Rochelle
Edeburn Family
Egeland, Deb *
Ehlen, Charles
Eilers, Mary
Elg, Marsha & Ronald
Ellis, John & Sara *
Engel, Greg & Susan
Epsen, Kayla *
Erickson, Chris & Shelby *
Erickson, Debbie & Jason *
Erickson, Sara *
Ernst, Patricia & Chuck
Essig/Warren Household
Euteneuer, Jennifer, Chris, & Kaylee *
Executive Express – Logeman Family *°
Fabian, Sandra & Tom
Faith, Andrew & Dru Ann *
Fark, Dan & Jane *°
Fasen, Deb & Bill *
Feigh, Alison *
Feigh, Elizabeth
Felling, Jodie, Mark & Grace
Felsch, John & Christina
Fenlason, Karen & Tom
Feriancek, Michele *°
Finlayson, Karen & Loren *
Finlayson, Max *
Fischer, Anita
Fischer, Susan & Stephen
Fitzharris, Pat
Flaherty, Brian & Willow *
Flinck, Theresa & Engholm, Joel °
Flinn, Charles A. & Hayden, Elizabeth A. *
Flynn, Beth
Ford, Jerry & Kreitlow, Marienne *
Foster, Kimberly & Nicholas *°
Franzmeier, Martin & Paula *
Freudenrich, Layne & Oothoudt, Renae
Friedrich, Suzanne & Kuehl, Eric
Friese, Toni
Froehling, Marcia & Sandra *
Fromm, Donna & Jeff *
Fuchs, Catherine & Richard
Fuzak, Fred & Jyeton *
Gallagher, Michael & Mancini, Kateri *
Gammell, Ginny & John *
Gartland, Bob & Patti *
Gartner, Julie & Mark *
Gerads, John
Gerard, Ara
Gertz, Tanya & Faust
Giese, Teresa
Gilder, Lynnae
Gillman, Debra & Gerald
Glanz-Gambrino, Lori *
Goodner, Julie & Tim *
Gordon, Tracy
Gouker, David & Roberta
Grachek, Art & Barb
Grachek, Sara & Mihalek, Jim
Granite Equity Partners Fund, a Turn Key fund of the Initiative Foundation *
Great North Labs
Groetsch, Anne, Rick, & Paige *
Grones, Janet & Thomas *
Gustafson Berreau, Linda *
Hadler, Tracy & Stacey
Hageman, Diane & Stemper, John *
Hall, Angela *
Hall, Deb & Mark
Hammer, Kathi °
Hammond, Albert & Janice *
Hammond, Victoria
Hansen, Judy & Norm
Hansen, Karen & Carlen
Hansen, Wendy & Roger *
Hanson, Brad & Lisa *
Hanson, Scott & Charmaine
Harding, Darlene & Robert *
Hartmann, Jeanne & Tom *
Hastings, Jessa & Chris
Haugen, Keith & Susan *
Hawker, Lucinda *
Heen, Dena & Mike
Hein, Barbara, Tom & Family *
Heinen, Caitlyn
Heinen, DeAnn & Matt
Helgeson, Karel & Michael *
Hemmesch, Eileen
Henderson, Nancy *°
Hengel, Joe, Tina, Riley & Reagan *
Henry, Jim & Patty
Henry, Patrick & Welter, Pat *
Hergert, Tom
Herman, Karen & Vince
Hermans-Miller, Lindsay & Miller, Ryan
Heusinkveld, Aaron & Jessica *
Hinkemeyer, Kent & Mary
Hinnenkamp, Ruth *
Hoehn, Ann *
Hoelscher, Brad & Megan
Hoeschen, Anne & Scott
Hoeschen, Stacie & Tad °
Hoffman, John
Hogenson, Cynthia & Erik
Holien, Chad & Kelsi *
Hollenhorst, Mark & Jane Ann *
Holmgren-Hoeller, Gayla
Holstad, Deborah & Katelyn**
Holtz, Phyllis
Hooper, Denise
Hornung, Dianne *
Hotz, Geri & John *
House of Pizza & Pacific Wok
Howard, Cheryl & Jeff
Howard, Laura
Hruska, LaVern
Hughs Photography *
Hughs, Braden & Lynette *
Hunter, Amy & Leinen, James
Hurrle, Mitchell *
Huston, Lucy
Illies, Jody, Marcy & Emily *
In memory of Kyle Weisbrich
Inkster, Bob & Chris *
Inkster, Brianna & John
Isaacson, Jolene & Harens, Mike
Isaacson, Kayley
Ivers, Gail
Jack Paulsen Home Specialties – Paulsen, Jack & Nancy *
Jacobs, Tracy *
Jacobson, Sean *
Jeff & Melinda Gau Family Fund of Central Minnesota Community Foundation *
Jendro, Sharon *
Jennissen, Kevin, Kayla, Eleanor & Stephen
Jeske, Nancy *
John, Gareth & Metzo, Christine *°
Johnson, Betty *
Johnson, Chet & Karen °
Johnson, Diane
Johnson, Ileen *
Johnson, Janelle *°
Johnson, Krister D.
Johnson, Laurie *°
Johnson, Mike & Ruth *
Johnson, Murdoch & Tuff, Dianne *
Johnson, Tonja
Johnston, Kaarin
Joul, Brenda & Steve *°
Kalthoff, Amy & Jim *
Kampa, John & Kathleen
Kaschmitter Family
Kath, Kathy *
Kay, Bonnie & Brian *
Keller, Jean
Keller, Rachel & Josh
Kendall, LuBell *
Kensington Bank *
Kiffmeyer, Clarence & Judy *
Kigin, Marie
Kiley, Jeni, Mike, Lexi & Briella *
Killoren, Peggy *
Kittok, Gerry
Klaverkamp, Debra
Klein, Karen & Rick *
Kline, Gerry
Kloster Collateral Resources
Knapek, Doris
Knoernschild, Nate & Ellen
Knutson, Sharon *
Koscielniak, Margaret & Donald
Kosloski, Christine & Mike *
Krebs, Judy
Krillan Inc. *
Kritzeck, Jami & Eaton, Pete
Kroll, Gerard & Taffy
Krueger, David & Pat *
Kruse, Karen *
Kudrna, Chris, Joanne & Family *
Kuhl, Donna *
Kuhlman, Brad & Ruth *
Kurtz, Janell & Morris
Kuzma, Susan *
Lacroix, Bill & Phyllis *
Laib, Pat & Mary
Lalley, Debra
Landman, Kirk & Jane
Laraway Financials, Inc.
Larsen, Margaret
Larson, Camilla & David
Laumeyer, Amy & Marty *
Lawrence, Kris & Schumann, Rob & Family *
Layne, Phillip & Sarah *
Lecy, Daryn & Jennifer *
Legatt, Karen & Mathew*
Legg, Allison & Jon *
Leigh, Cindy *
Leitch, Mary & Vernon
Lemke, Cindy *
Lenarz, Denise & Tom *
Lesnau, Brenda & Jesse
Lewandowski, Janel & Tom
Lieser, Alvina & Isidore *
Linnemeyer, Bruce *
Listug-Lunde, Dane & Lori *
Litterst, Drs. Judy & Larry
Loch, Jennifer & Jay
Lombardi, Joan & Paul *
Lommel, Geraldine
Lopez, Carlos & Clara *
Loven, Royal
Loy, Leanne
Luczak, Matthew
Lueck, Nancy
Maanum, Andrea *
Mahowald, John & Maryanne *
Maier, Chris & Mary *
Maiers, Amy & Joe
Maloney, Andrew & Sarah *°
Manar, Christopher & Katie *
Mancini, Jordan & Stacy *
Marco *
Marks Family *
Marston Ruhlman Family
Martin-Chaffee, Bill & Chip *
Martin, Gretchen & Reller, Kevin
Marty, Lucinda
Marushin, Patrick & Robin
Massmann, Susan Marie
Matthias, Mark & Ronda *
Mattick, Kristen & Thor *
Matzke, Jen & Bret
Maurer, Eleanor & Richard *
Mazacek, Joan
McAnally, Dan & Michele
McClelland, Lynn & Mike *
McClintock, Tamara *
McClure, David & Diane *
McFadzean, Liz & David
McGowan, Linda & Tom *°
McKeever, Darren & Sara
McLean, Angela & Tim
McMullen, Jo
MDO Periodontics PA *
Mechelke, Kate & Mark *°
Meers, Sue *
Meerschaert, JoAnn
Melby, David & Gloria
Melby, Jill & Weitzel, Paul *
Melis, Rachel & Galler, Robert
Menken, Julia *
Merchant, Lisa
Mersinger, Hannah
Meyer, Alexis & Nathan
Meyer, Cherrie & Dan
Meyer, Jed & Sara
Meyerhofer, John & Tammy *
Miles Psychological Services, LLC *°
Miller, Aaron & Jennifer
Miller, Allan
Miller, Dave & Kate
Millner, Jason
Miron, Aimee & Joel *
Mix, Rebecca
Moeller, Diane & Ralph
Monahan, Paula *
Moore, Jessica
Moreland, Judith
Morgan, Lee & Vicki *
Mork, Tina & Ryan
Morris, Ellen & Ryan *
Morris, George, Mary Kay & Family *
Morstad, Megan & Mickey *
Mosack, Nancy & Stan
Mrozek, Faye & Gary *
Muchow, William P. *
Muehlbauer, Roxanne *
Mueller, Nadine *
Muff, Ann & Murray
Mulder, Andy & Leslie *
Mullin, Laura & Michael
Mund, Merry C. *
Murray, Alec & Pauline *
Nacey, Gina & Priya *°
Nahan, Connie & Mike *
Nahan, Emily & Patrick
Nelson, Barb
Nelson, Craig & Debbie
Nelson, Joel & Ann
Nelson, Josh & Michele *
Nelson, Kay & Jim *
Nelson, Margaret & Justin *
Nelson, Pat *
Nessa, Jill *
Neubert, Janet & Marvin
Neumann, Myrel
Newiger, Brenda *°
Newstrom Family, in memory of Judi Newstrom *
Nies, Jason, Kim & Genet *
Nix, Stephanie & Jay
Noble, Sarah
Nohner, Steven *
Nordos, Suzanne & Jon
Norton Dando, Kendra & Michael °
Norton, David & LB
Noyes, Jonathon, Mardi & Alexa *°
Nunke, Jim & Mary *
Nyberg, Annette
Nystrom, Betty *
O'Hara, Mary *
O'Malley, Robert A.
Ohlenkamp, Mark & Melinda *
Olson, Jo Ann
Opatz, Mary Cheryl
Oswell, Larry & Sandy *
Ouellet, Carolyn & Jacques, Lamb, Jim & Yvonne, Lamb, Susan & Families
Ouellette, Sandra
Outhwaite, Ariana & Beckett
Overby, Nicole, Nathan & Family*
Oxton, Jane & John *
Paavola, Jennifer
Paige, Amanda
Palmer Printing – a division of POS Professional Office Solutions, Inc. *
Palmer, Deb & Steve *
PAM'S Auto Inc. *
Pan-O-Gold Baking Co. *
Pantzke, Gerald & Kathleen *
Parries Family
Patrick & Jane Mitchell Family Fund, a Turn Key fund of the Initiative Foundation *
Paul & Kimberly Thompson Fund of the Central Minnesota Community Foundation *
Paul, Robyn & Steve *
Pehler, Beverly & Jim *
Penly, Bobby & Lorraine *
Pennertz, Julie
Peterick, Tanya *°
Petersen, LaWayne & Pam *
Peterson, Jeff & Lyn
Peterson, Jeff & Stephanie
Peterson, Ruth
Petroski, Jodi
Pflipsen, Katherine
Philippi, DeAnn & Josh *
Piepenburg Family
Piepkorn, Cindy
Pitzen, Sally °
Piza, Linnea & Manuel *
Plath, Jane
Plumhoff, Matthew, Jinae & Family
Porter, Aaron
Potter, Lori *
Potthoff, Jeff & Tracy
Preferred Credit, Inc.
Prestby, Douglas & Kelly *
Prochnow, Bob & Joanne
Proell, Mary
Proviant – Barclay & Janet Carriar *
Pryately, Marge *
Quick, Mary
Radeke, Katie & Paul *°
Radtke, Jenna
Rahm, Lisa & Scott *
Rajala, Nikki
Ramler, Nancy *
Rasmussen, Chris
Reagan, Janet & Michael *
Reber, Anita & Steve
Reck, Jerry & Jane
Refine Dermatique Aesthetic Center – LaBine, Barry & Leslie *
Reid, Carol & Sherwood *
Reid, Denise & Keith
Reigstad, Greg & Janet
Reisinger, Elizabeth & Eric *
Reisinger, John & Kathy
Reiter, Jessica & Wayne
Reker, Jennifer & Kevin
Rethmeier, Dan & Mary *
Reuter, Bernice & Nicholas *
Reuter, Bret & Nicole
Reuter, Nathan & Val *
Ries, Teresa & Takala, Ted *
Riesner, Ann, Shawn & Bryce *
Riser, Virginia *
Ritter, Debra *
Rivera-Reyes, Yadaira & Yenéslie °
Robak, Trista *
Robatcek, Debra
Roehl, Rosemary & Frank
Roelofs, Debra
Rogan, Jacqueline *
Romanowsky, Ann & Dr. James *
Romosz, Becky
Ross, Roseanna *
Rothstein, Erich & Jessica *
Rotto, Judy & Luther *
Rud, Amber & Ricky
Rudningen, Lyle & Janelle
Ruegemer, Diane & Dick *
Ruis, Jon & Joy
Russell, Lorea
Ruzanic, Rachel & Ted
Salner, Annie & Ryan *°
Sandbur Acres
Sanderson, Marc & Marie *
Schad, Alex & Katie *
Schaefer, Jennifer & Scott
Schaefer, Victoria
Scharf, Lisa & Ted
Scharnweber, Amber
Schelske, Patsy R. *
Scheuerell, Bob & Judy
Schiffler, Bernie & Dennis *
Schindele Paulzine, Dana
Schirmers, James & Lacey *°
Schleif, Keryn & Thomas
Schlenner Wenner & Co., CPA's *
Schlough, Joyce & Tom *
Schmid, Judith
Schmidt, Chris & Melanie *
Schmitz, James
Schneider, Abby & Craig °
Schneider, Alice Marie
Schoenfelder, Jackie & Ron *
Schoenherr, Laura
Schoenleben, Barbie & Jeff
Schroeder, Jennifer
Schroeder, Rebecca & Todd *
Schulte, Rose
Schumacher, Greg & Stacy
Schumacher, Sarah
Seaborn, Cristina & Walter, Rick
Seamans, Kyle & Megan *
Segura Schwartz, Mónica & Troy *
Severson, Carol & Doug
Shaughnessy, Shannon & Kosel, Dave*
Shea, Trina *
Shelander, Diane
Shobe, Joel & Susan *
Sidmore, Amy & Nohner, Julie
Siemens, Molly & Ryan
Simmons, James, Michelle, Ella, Molly & Autumn *°
Simonson, Lynn
Sinclair, Jan & Ken
Skeate, Char & Gary *°
Skoe, Anne & Steve
Smetana, Tracy
Smith, Brenda
Snider, Nicole & Gerald
Solheim, Dave & Jean *
Soltau, Christine, Danny & Jada *
Sommerfeld, Jeffrey P. & Dr. Lori
Sorell, Jan *
Spah, Adam & Brittany
Spanier, Maureen *
St. Cloud Area Sertoma Club *
St. Cloud Optimist Club *
St. Cloud Reading Room Society
Staneart, Timothy *
Starich/Paulson
Stark Engineering *
Stark, Charles
Statz, Angel
Stavrum, Dick & Perian *
Steffes, Melissa
Stegman, Brian & Tanya *
Stellmach, Jan
Steman, Suzanne & Tom
Stenberg, Paul & Amanda*
Stenger, Chuck *
Stephens, Charlotte *
Steve & Peggy Laraway Family Fund *
Stewart, Elizabeth
Stewart, Kris *
Stoeckel, Julie & Micah *
Stoering, Anita & Tyler
Stoermann, Joanne
Stone, Linda
Stracke, Ed, Kris & Family
Strandemo, Barb & Gary
Stupar, Karen & Pete
Sturlaugson, Nancy & Phil *
Sueker, Beth & Cassie *°
Summers, Marcia *
Swanson, Gretchen *
Swanson, Jill
Symalla, David, Erin, & Cordelia *
Symalla, Joe & MaryAnn *°
Tamm, Melinda
Tenneson, Linda G. *
Tetrault, Greg & Cathy
Theisen, James & Carol
Thell, Joleen
Thielen, Dan & Diane *
Thielman, Jane & Marilyn *
Thiessen, Maggie & Ronald
Thompson, Chris & Sarah
Thompson, Ellen *
Thompson, Jeff & Molly *
Thueringer, Tricia & Greg
Tilstra, Dave & Janet *
Timmerman Family *
Tjaden, Kim & Nguyen, Joe
Toepfer, Karen & Tony *
Tomporowski, Mary Alice *°
Toogood Froehle, Sharon & Woolcott, Marsha A. *
Town, Aggie
Treptau, Jessica & John
Trettel, Dan & Lisa
Tritabaugh, John & Laurie *
Trombley, Amy & Matt *°
Trueman, Kathleen
Turnow, Caryl *
Unger, Maureen
VanBeck, Diane & Joseph *
Vander Weyst, Stacey
Verkinnes, Gary & Wendy
Vermillion, Dr. Hillary & Terry
Vetter, Brian & Megan
Vick, Charles & Carol
Voeller, Sharon °
Voigt, Karla, Larry & Family *
Von Korff, Connie & Jerry *
Vos, Mary *
Vouk, Lisa & Frank
Wacker, Robbyn & Malkiewicz, Jani
Wagner, Gordon *
Wakefield, Dallas F.
Walker, Mari
Wallinga, Eve & Gary *
Walz, David & Dena *
Warhol, Sherry
Watkin, Dove & Tracey *
Watkins, Betsy & Shawn
Watson, Dan & Jessica *
Wayne, Chris & Katie *
Waytashek, Jeff & Jill *
Weatherz, Tia & Brandon *°
Weber, Gary & Pat
Weber, Kari
Weber, Melissa & Ryan *
Weekley, Denise & John *°
Weitz, John & Sue *
Weldon, Derik & Nancy *°
Welle, Andy & Nicole *
Welle, Rose
Weno, Martha *
Wensman, Janet & Tim *
Wesenberg, Janell & Jason *
Westby, Eloise & Jerry *
Wetterling, Jerry & Patty
Weyrens, Hugo & Rita *
Whipple-Wachtler, Dennis, Scott & Jacob *
Whipple, Steve *
White, Margaret & Michael *
WhiteBox Marketing – Karki, Carrie
Wild, Carol & Lonny *
Williams, Sandra Q. *
Windfeldt, Beth & Greg
Windschitl, Mike & Rose
Wright, Brenda & Tim
Wright, Calinda & Derik *
Wynnemer, Linda *
Young, Sarah & Stuart
Zeleny, Katey & Pete *
Zierden, Stacey & Jason
Zimmerman, Dawn & Ryan *
Zoeller, Diane & David