A story set nearly a century ago in a time period that is still widely romanticized, The Great Gatsby tells the story of Nick and his experiences surrounding the legendary figure of Jay Gatsby. This story that you are about to listen to has become one that is quite close to my heart over the past couple of months. From its perspective or commentary on various aspects of society, to people's relationships, to the dreams that people have, this story has something for everyone.
When GREAT Theatre approached me with the opportunity to direct The Great Gatsby, I was ecstatic to have the chance to take part in the wonder that is theatre once again. The stories and experiences that theatre provides has been a passion of mine for a number of years now. Having the ability to do so with an organization that I have incredible memories with and believe in wholeheartedly is just the cherry on the top.
But none of this would have been possible without all of the effort and dedication put forth by this incredible cast. From our first rehearsal to the last tech rehearsal, this cast has been an absolute joy to work with. The work and dedication that they have put into this production has blown me away. From the different voices that have made me laugh, jingles that had me singing along, and dialogues/monologues that almost made me tear up, I couldn't be prouder of what they have accomplished. Thank you guys for making something so roaringly great!
Joshua Cash
Director of The Great Gatsby
Character List
Mark Brennan – Hercule Poirot
Caleb Schweim – Monsieur Bouc
Mara St Pierre – Mary Debenham
Matthew M. Toumi – Hector Macqueen
Micah Alm – Michel the Conductor, Head Waiter
Karen Niedzielski – Princess Dragomiroff
Georgia Hallman – Greta Ohlsson
Talitha Kopp – Countess Andrenyi
Elizabeth Calpas – Helen Hubbard
Jordan Buysse – Colonel Arbuthnot, Samuel Ratchett
Katelyn Holstad – Voice of Mother, Announcer, Understudy
Luis Maldonado –   Voice of Father, Radio Voice, Understudy
Crew
Luis Maldonado – Deck/Props Crew
Alyssa Euteneur – Wardrobe Crew
Alvina Lieser – Wardrobe Crew
Cast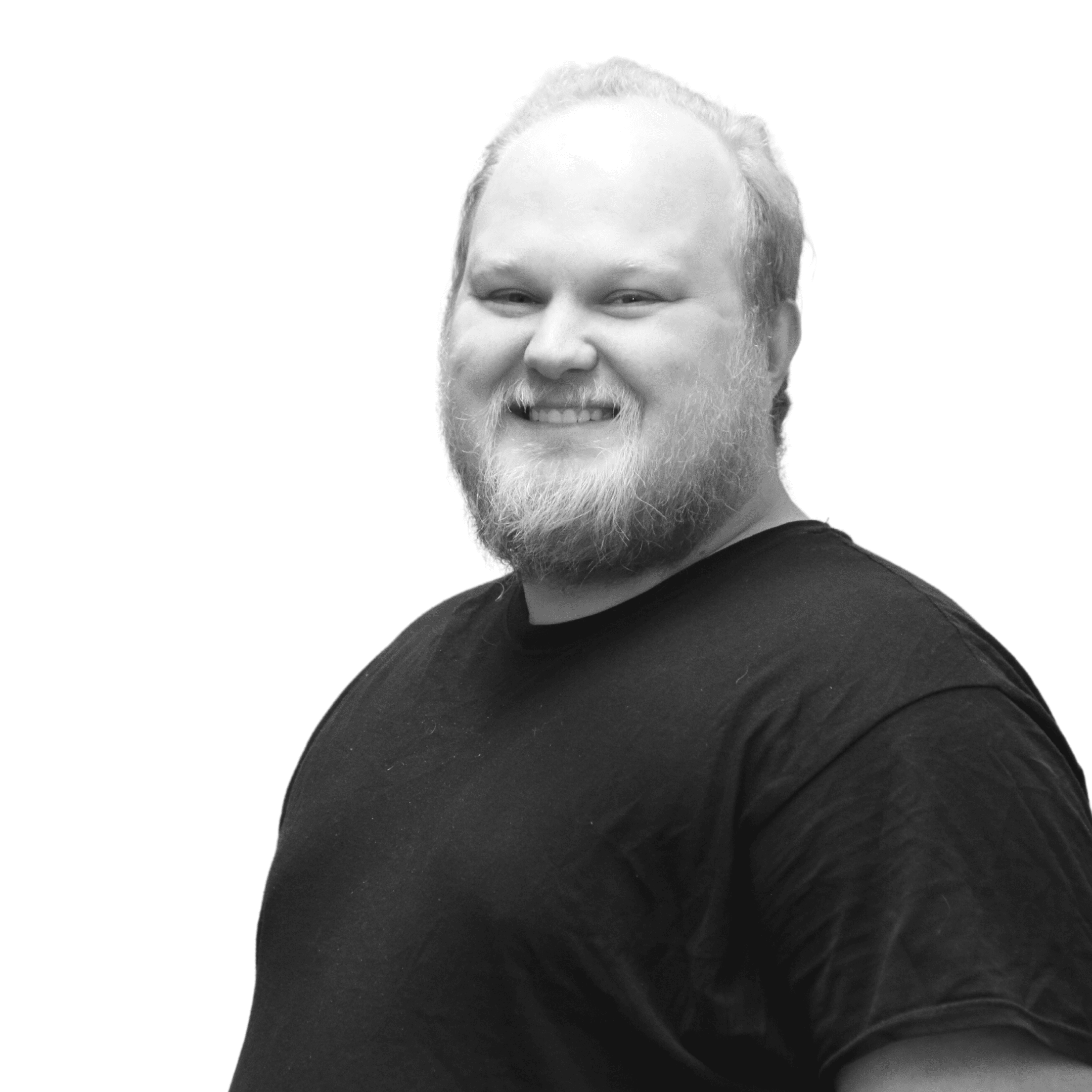 Micah Alm
Volunteer Actor
Micah Alm (Goon 1, Ensemble, J.D U/S), is a Natural Resources Technician at Lake Maria State Park. Jimmy Buffett's Escape to Margaritaville marks Micah's third performance at the Ledge Amphitheater with GREAT, which represent only a fraction of his involvement with GREAT in past years. Micah has also been in shows including Matilda and Murder on the Orient Express, and has been backstage for shows like Descendants and Play that Goes Wrong. When Micah has free time, he likes baking and being with friends.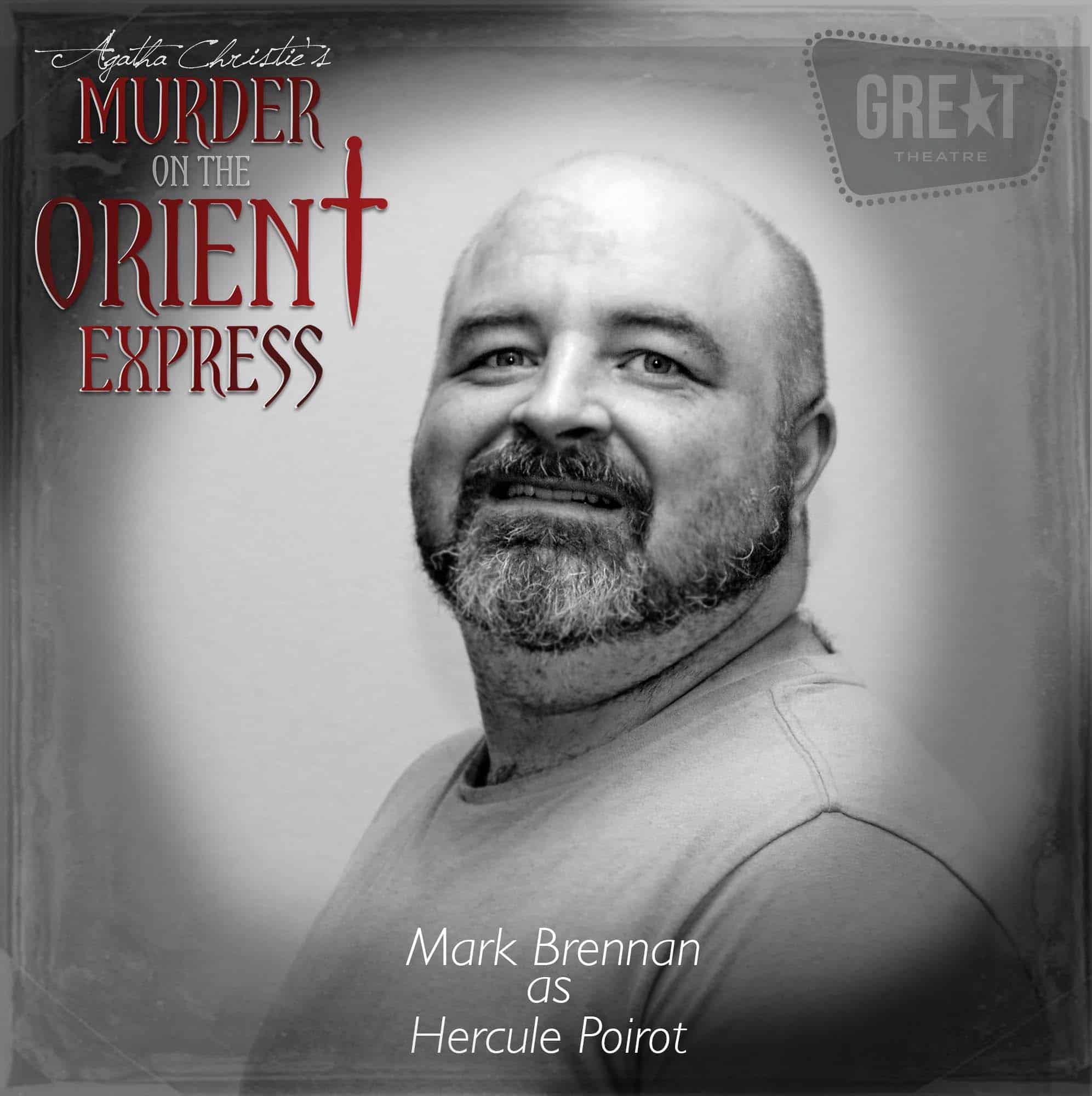 Mark Brennan
Volunteer Actor
Mark Brennan is a graduate student at SCSE. He enjoys video games, tabletop RPGs, exercise, and painting. Mark recently moved St. Cloud and auditioned after enjoying the theater scene.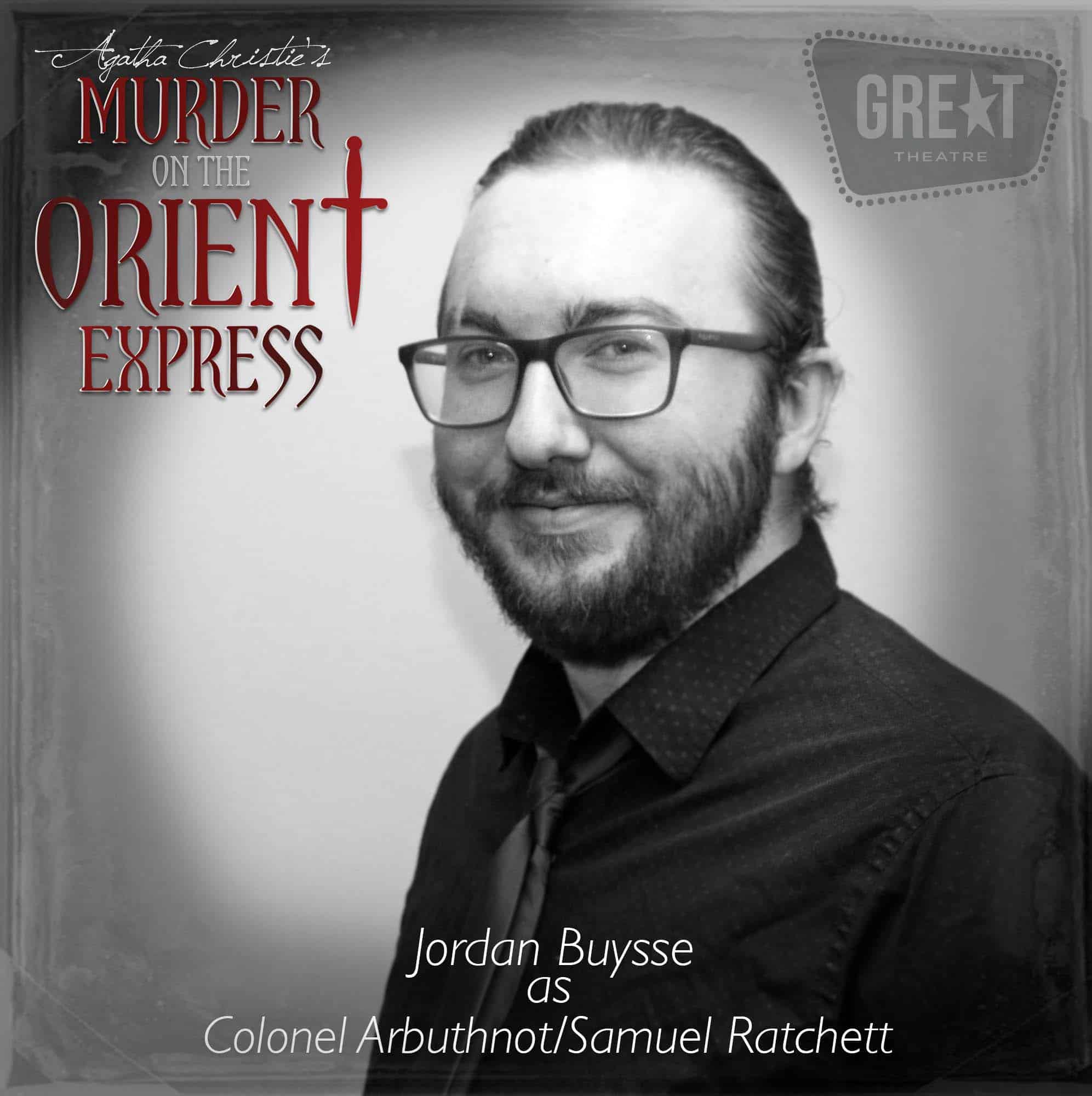 Jordan Buysse
Volunteer Actor
Jordan Buysse is an employee at Target. He enjoys writing, reading, video games, voice acting, and model kit building. Jordan has appeared in Oklahoma!, A Christmas Carol, and Victoria's Summer.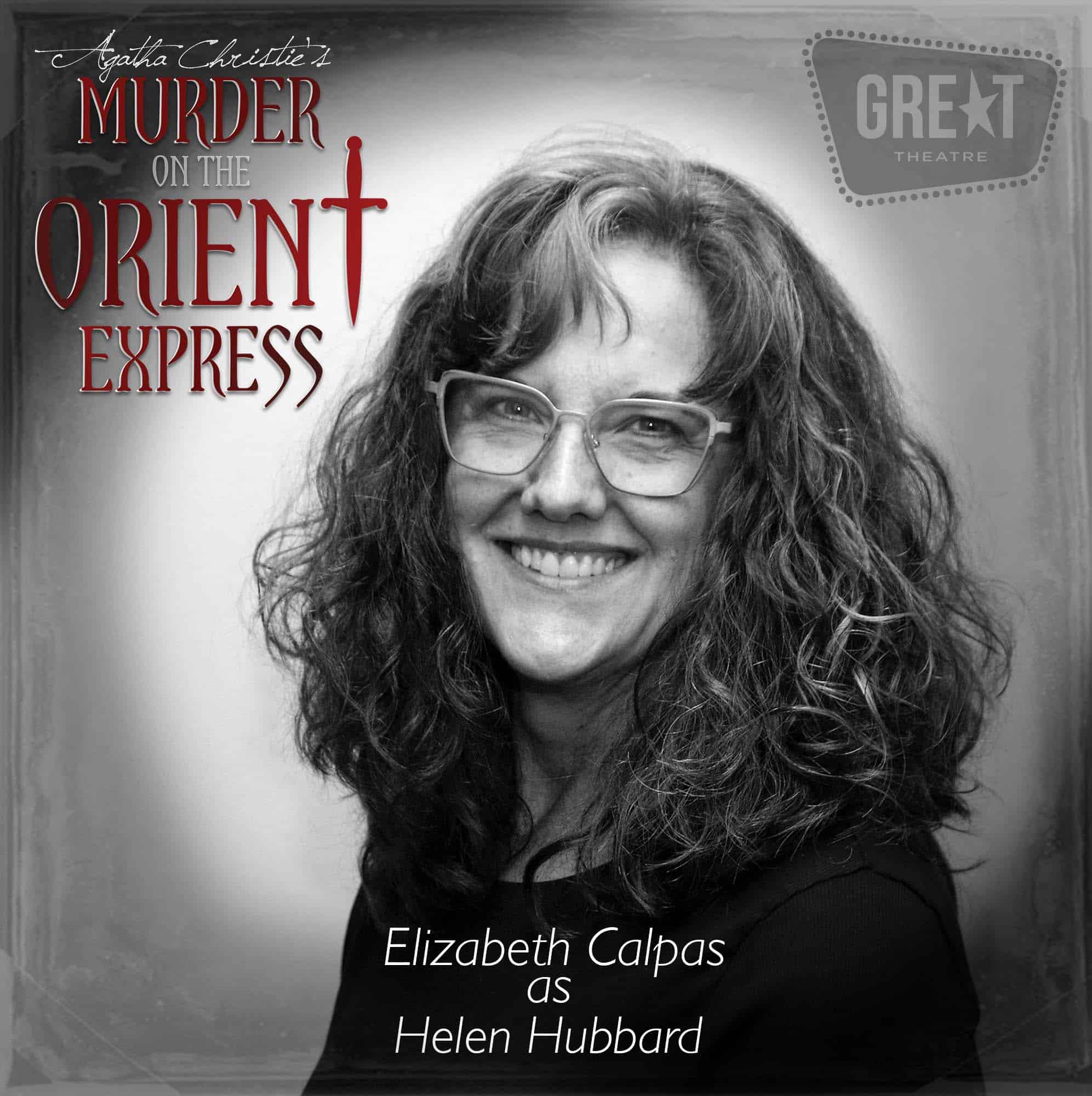 Elizabeth Calpas
Volunteer Actor
Elizabeth Calpas is the office manager at the Monticello Dental Center. She enjoys cooking and spending time with her husband and their five four legged "kids." Elizabeth has appeared in GREAT's productions of To Kill a Mockingbird, It's a Wonderful Life, and many more behind the scenes!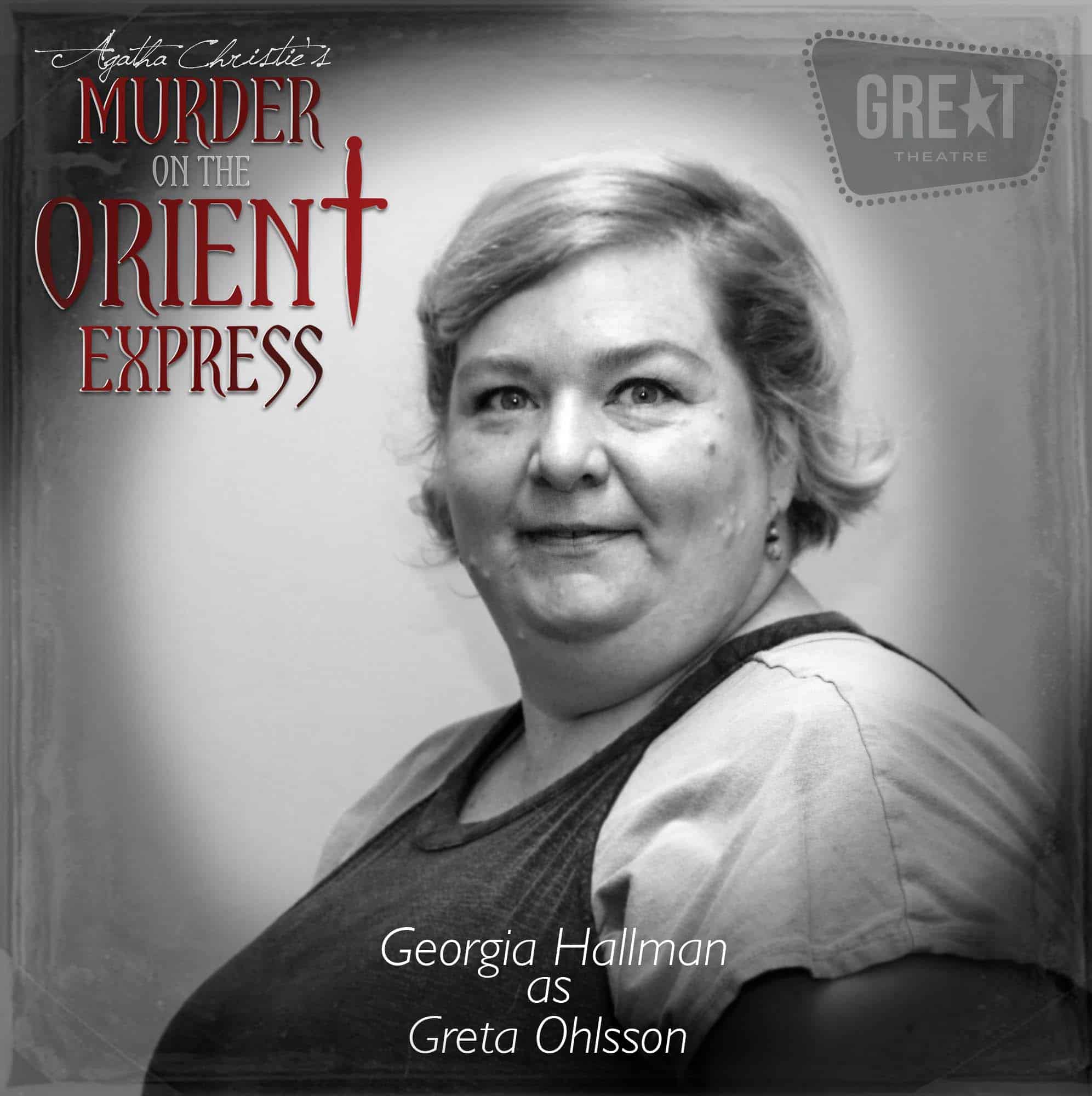 Georgia Hallman
Volunteer Actor
Georgia Hallman is a floral designer at Coborn's! She spends her free time watching old movies, cooking, playing card games, and admiring cats. Georgia has been in a number of productions including Into The Woods, Rosencrantz and Guildenstern Are Dead, and Slow Clap For Pie, and this is her GREAT debut!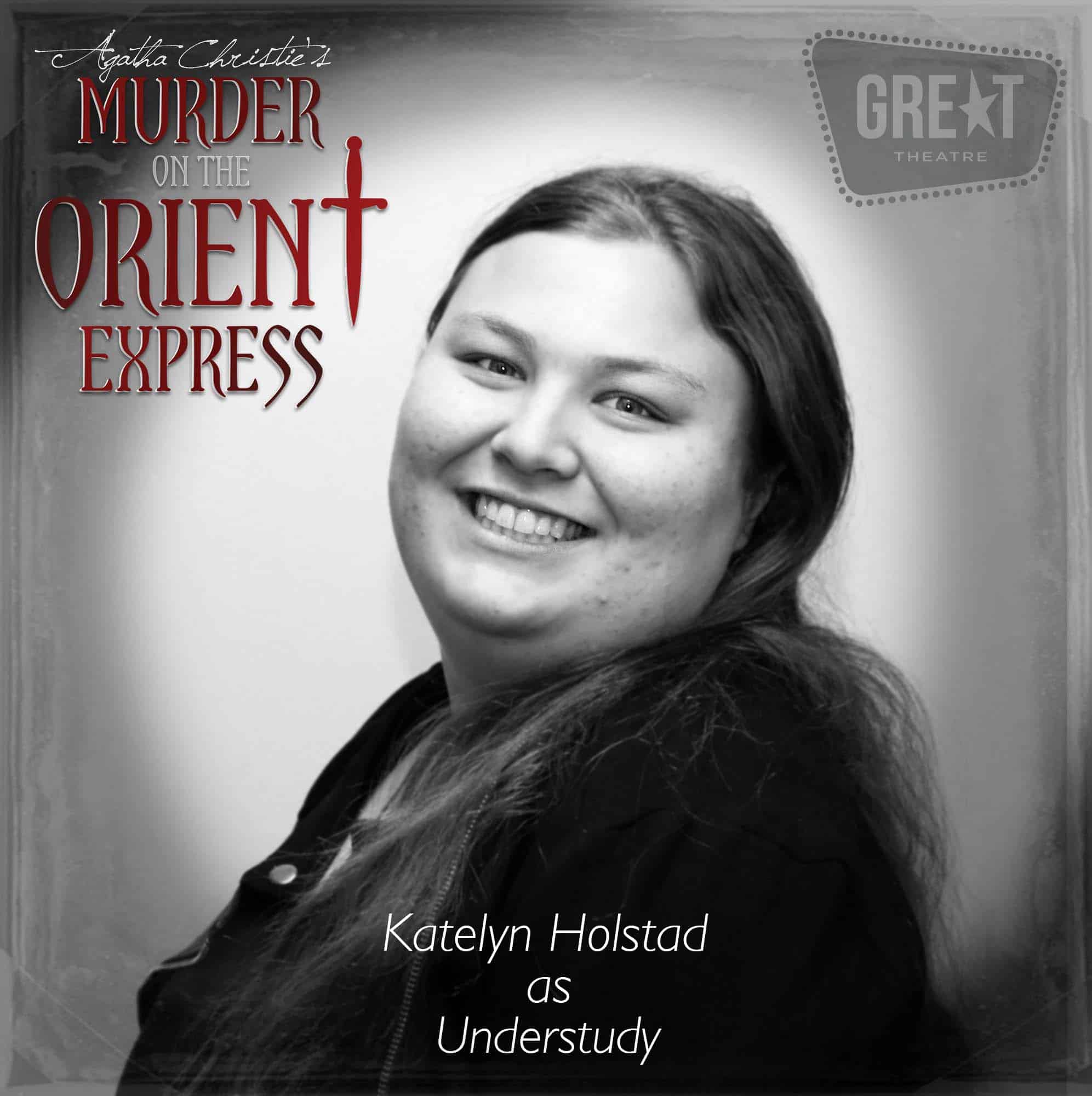 Katelyn Holstad
Volunteer Actor
Katelyn Holstad is an assistant teacher at Playhouse Child Care Center. She enjoys singing, reading, video games, and traveling. Katelyn has appeared in GREAT's productions of The Little Mermaid Jr., Night of the Living Dead, and Mary Poppins. She is excited to return to GREAT's productions, and to return to theater in general!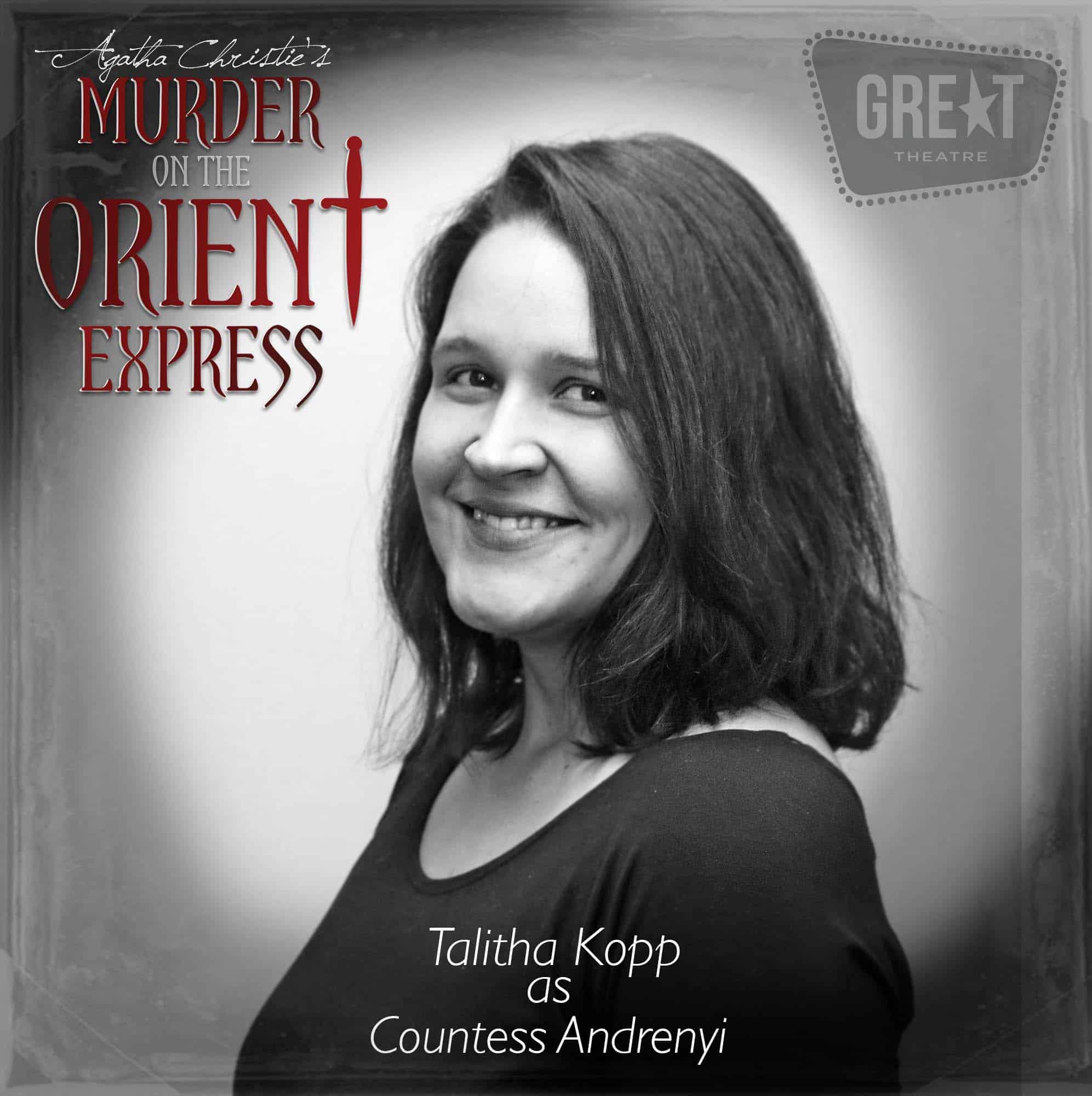 Talitha Kopp
Volunteer Actor
Talitha Kopp is a Mental Health Counselor for adolescents at Newport Healthcare. She enjoys all things theatre, horses, painting, and reading. Talitha normally works behind the scenes, but heeded the call of the stage! She has appeared in GREAT's production of The Hobbit.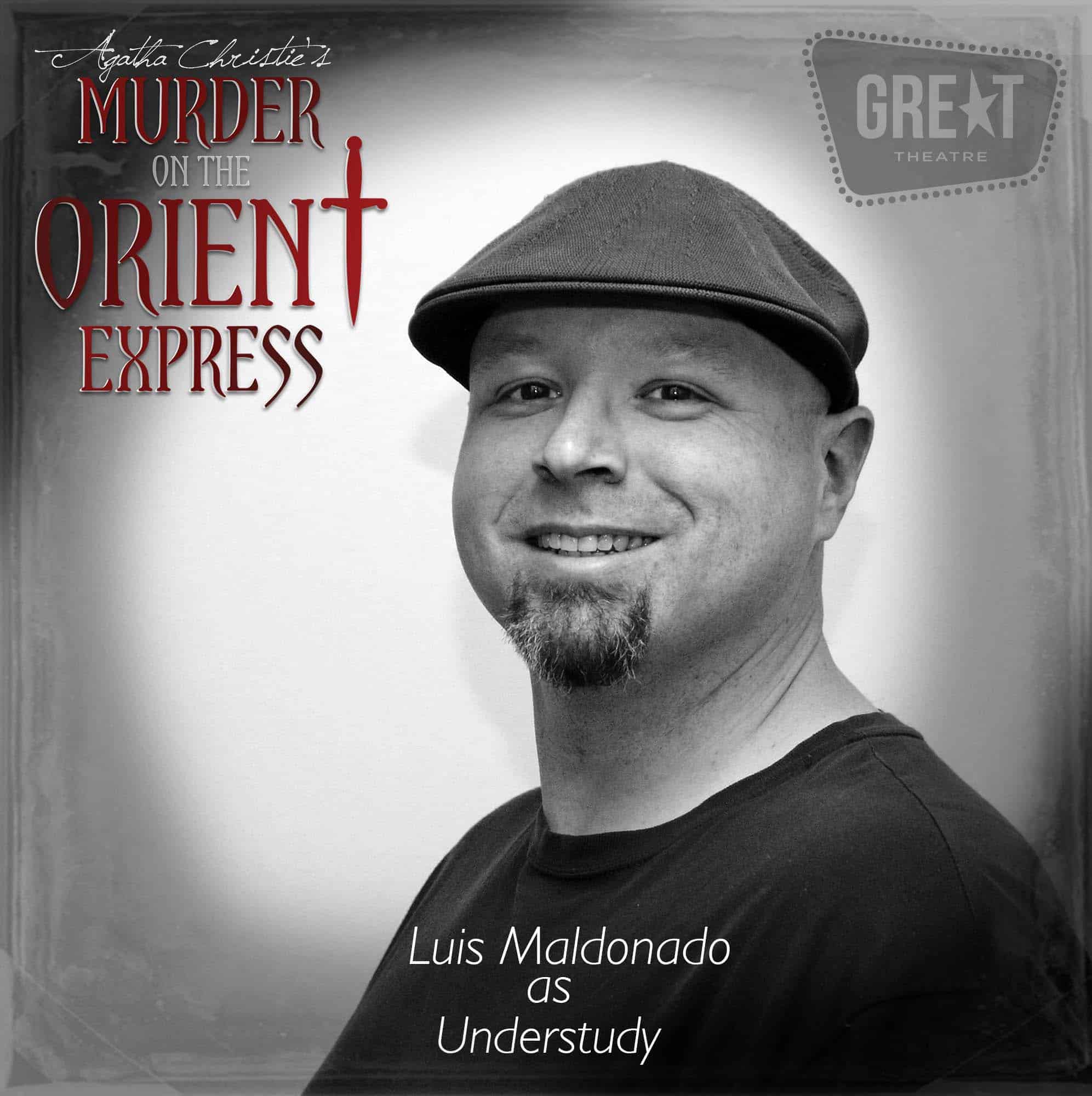 Luis Maldonado
Volunteer Actor
Luis Maldonado is an Electrical and Controls Engineer at Central McGowan. He enjoys community theater, watching movies, listening to all kinds of music, video games, and building halloween animatronics. Agatha Christie's Murder on the Orient Express has been an opportunity for Luis to hone his vocal skills in the form of accents! He has appeared in numerous GREAT productions including The Wiz, Guys and Dollz, and Into The Woods.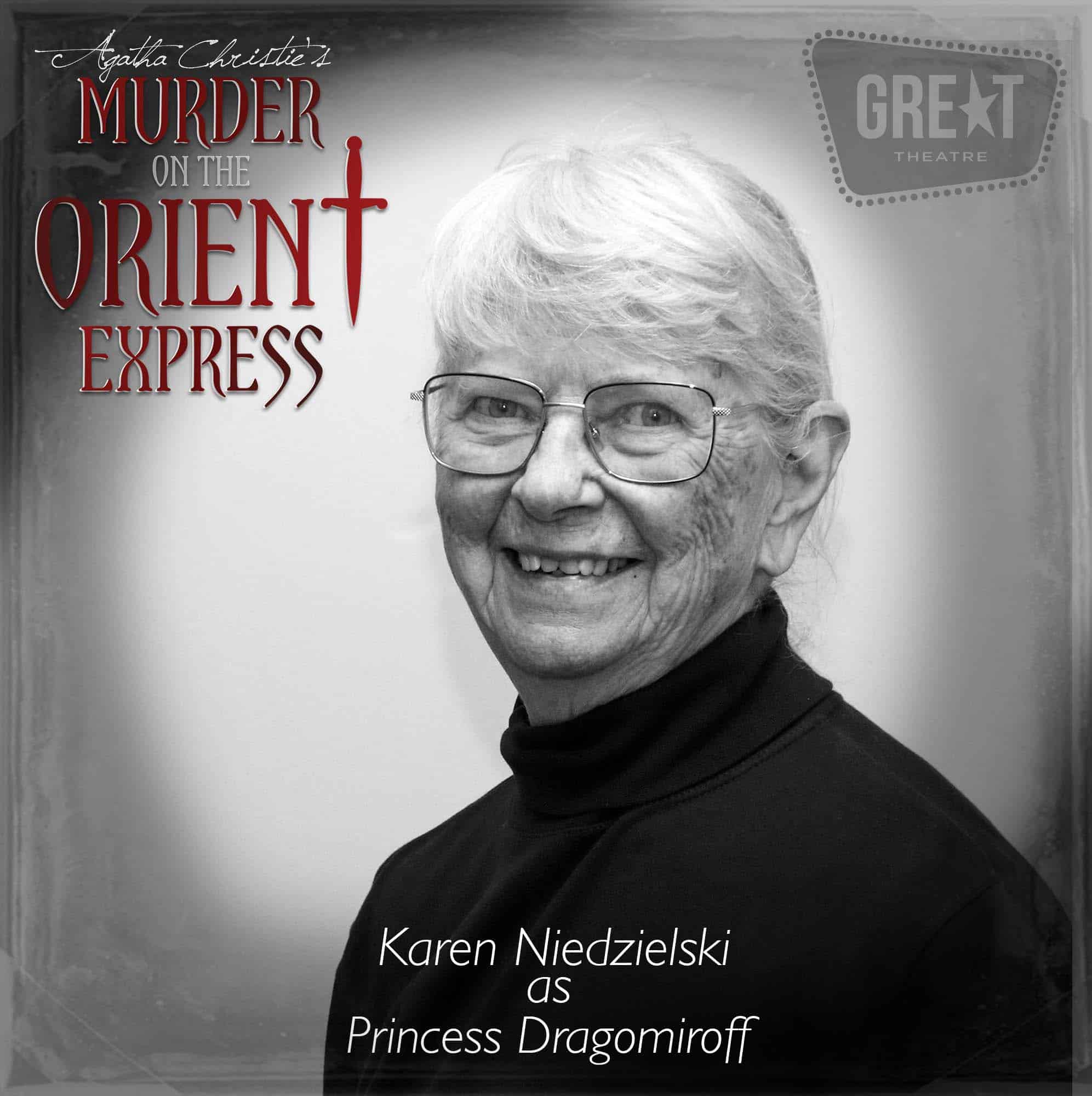 Karen Niedzielski
Volunteer Actor
Karen Niedzielski is a library volunteer and substitute teacher at St. Katherine Drexel school. Katherine cross stitches, makes greeting cards out of old cards, and goes to the YMCA to swim and run. She is excited to make her GREAT stage debut after many years of bring the joys of theater to her students.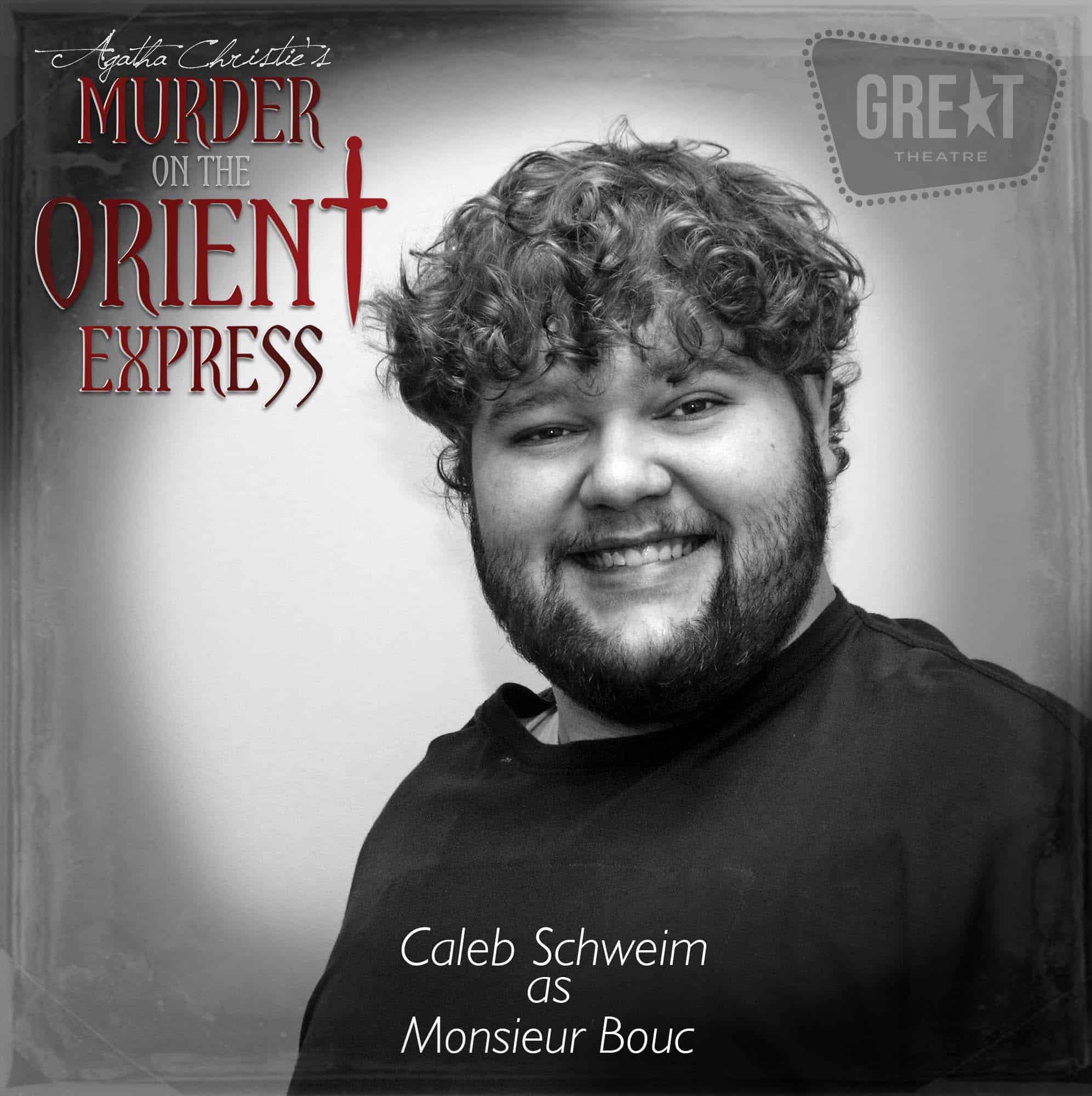 Caleb Schweim
Volunteer Actor
Caleb Schweim is a sophomore at Minnesota State University Mankato. He enjoys Dungeons and Dragons, cooking, drawing, and playing video games. Caleb loves to perform and entertain the masses, citing Gabriel Iglesias, John Mulaney, and Jack Black as comedic influences. Caleb has appeared in GREAT's productions of The Sound of Music, and Grease.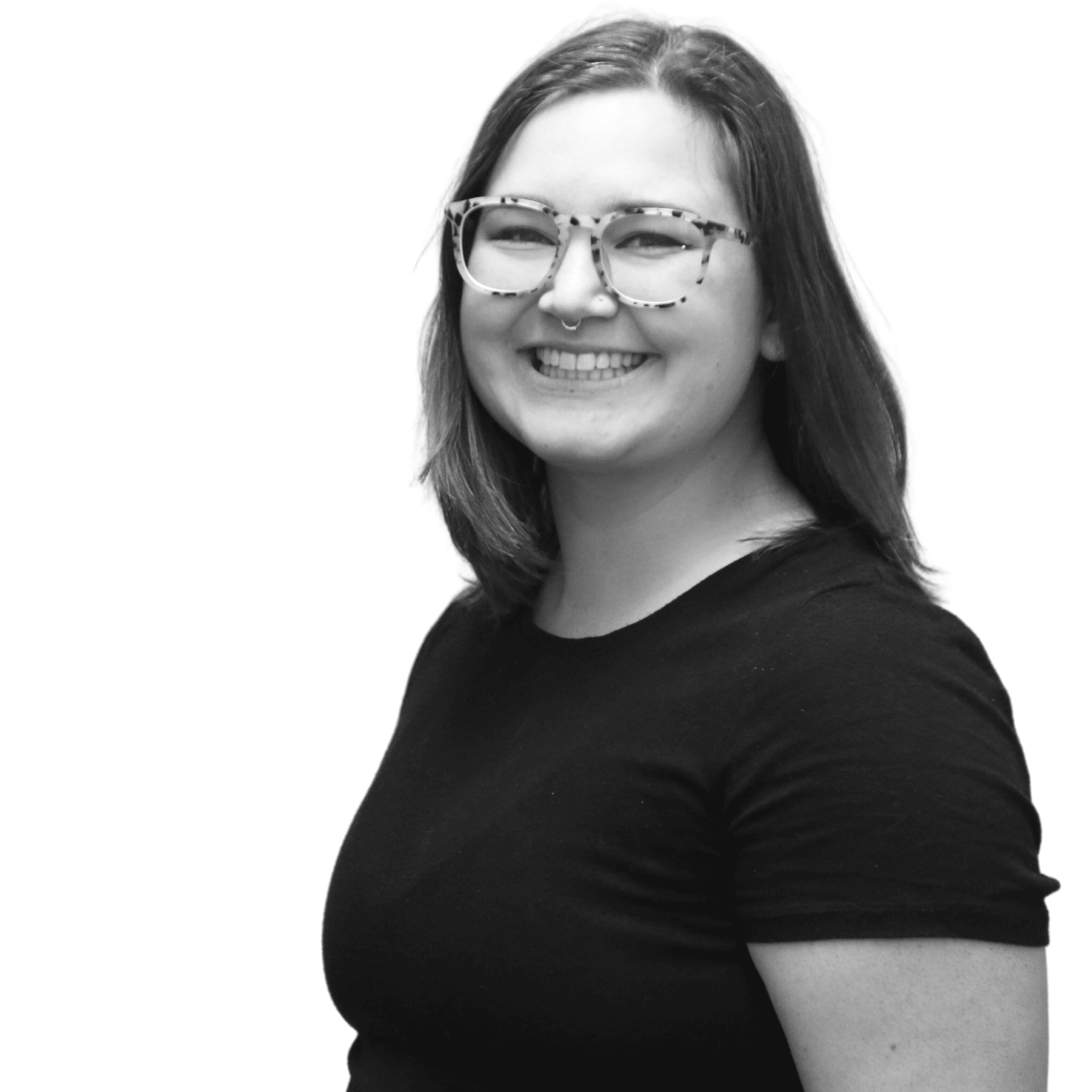 Mara St Pierre
Volunteer Actor
Mara St Pierre (Female Investor, Ensemble) is an Entrepreneur in theatre for social issues. She's been in shows like How I Learned to Drive, Godesses, Wives, and Slaves, and GREAT's recent production of Murder on the Orient Express. In her free time, you might find Mara horseback riding, reading, painting, or rock climbing.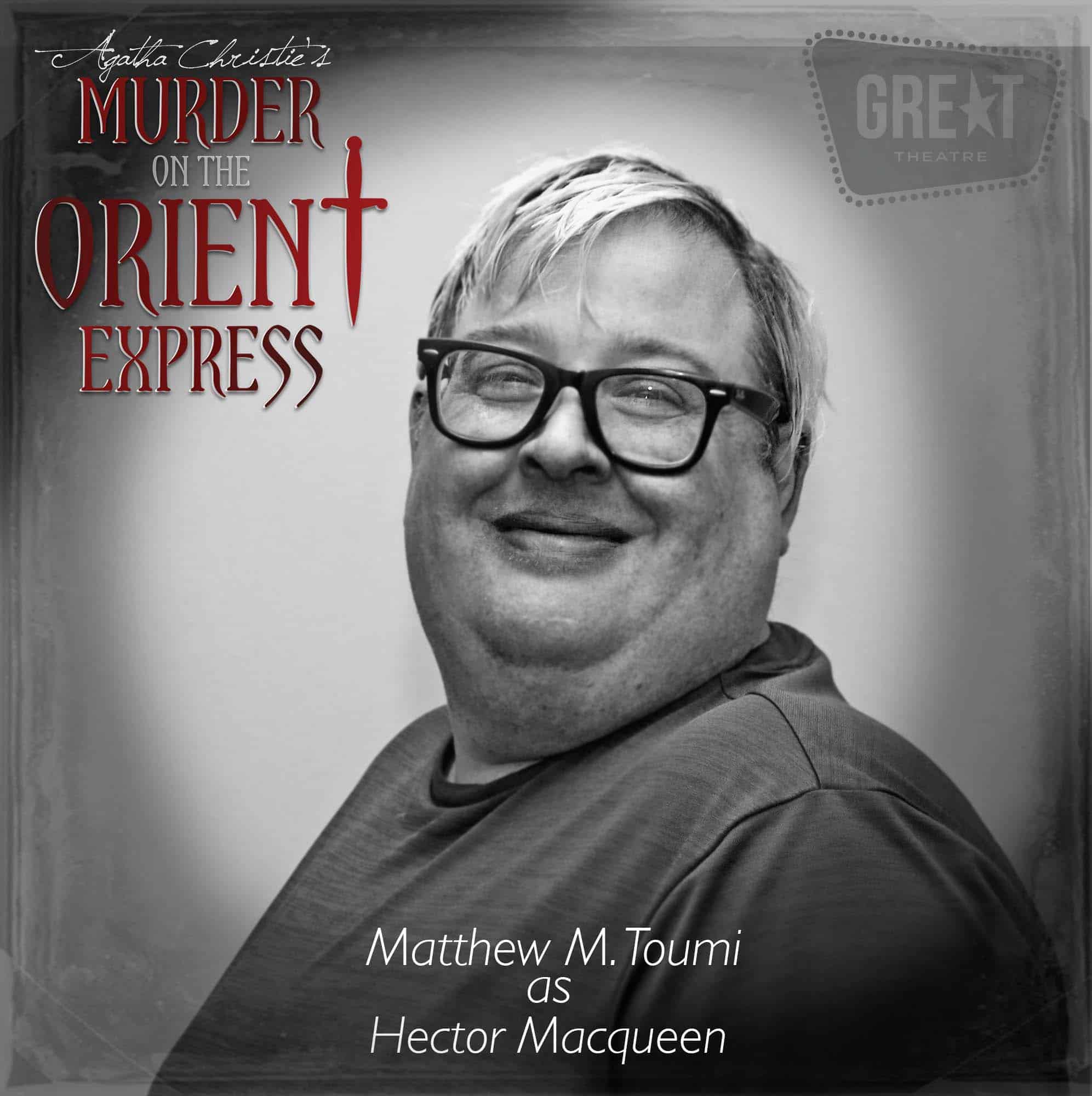 Matthew M. Toumi
Volunteer Actor
Matthew M. Toumi is a cashier/bookkeeper at Holiday Stationstores. He enjoys karaoke, Movies, TV, and spending time with his niece, nephew, and mom. Murder on the Orient Express is not Matthew's first foray into Agatha Christie's work, having appeared in Three Little Indians on three different occasions. Matthew has appeared in numerous GREAT productions such as Elf the Musical, Roald Dahl's Matilda, and Mamma Mia.
AGATHA CHRISTIE'S CLASSIC IS NOW LIVE ONSTAGE IN A FAST-PACED THRILL RIDE.
It's the 1930s and all of society's elite are aboard The Orient Express. Just after midnight, a snowdrift stops the train in its tracks. By morning an American tycoon lies dead in his compartment, his door locked from the inside. Isolated with a killer in their midst, detective Hercule Poirot must identify the murderer before they strike again.
This show is about 1 hour and 45 minutes long, with an additional 15 minute intermission.
Content guide: This production contains weapons and gun shots.
Production Team
Lydia Wagner – Director
Mark Hennigs – Scenic Designer
Colin Jarrell – Technical Director
Ross Harris – Assistant Technical Director
Anthony Schrock – Scenic Carpenter
Bonnie Bologna – Scenic Painter, Prop Designer
Jasmyn Linn – Scenic Painter
Jessica Mancini – Costume Designer, Costume Shop Manager
Erin Belpedio – Lighting Designer
Steve Sanders – Sound Designer
Anita Reber – Stage Manager
Facio Long – Production Assistant
Jeanna Borgerding – ASL Interpreter
Valerie Vedder  – ASL Interpreter
THANK YOU!
In addition to our corporate sponsors, donors, and volunteers, we wish to extend a special thank you to Brian of Two Bits Men's Grooming Salon! Another special thank you to MJ Macauley for voicing Daisy Armstrong!
---
GREAT Annual Fund Donors
GREAT donors September 2021 – October 2022
Donors who have given 3 or more years * | Monthly sustainers °
1 Better LLC *
Ahles, Karen*
Ajayi, Adeyoola & Oluade *°
Algoe, Dave & Jan *
Allen, Sally & Tom
Alm, Micah °
Amazon Smile Foundation *
Ament, Bob & Karen *
Anderson, Benjamin & Tiffany *°
Anderson, Paulette
Anderson, Sandy
Anderson, Suzanne *
Anonymous *
Arnzen, Marianne*
Ayers, Linda
Bach, MJ & Hagedorn, Jake
Back Shed Brewing
Backes, Darlene
Bahe, Mary *
Barbara & Dennis Gregory Family Fund of the Central Minnesota Community Foundation *
Baron, Sue
Barth, Daniel & Hokan, Raine
Bartz, Corey & Erica
Basol, Jessica & Travis
Bastien, Becky & Schlough, Mike *
Bates, Marge *°
Bauer, Carla & Trinity
Bauer, Kristen & Josh
Bauerly, Helga & Rick *
BCI Construction
Bechtold, Patricia
Becker, Liz & Monty
Becker, Lori & Mike
Beckmann Kids *
Behrends, Jessica M.*°
Bellmont, Bob & Karen *
Bellmont, Don & Nancy *
Bemboom, Joy
Benschoter, Bonita & John *
Benson, Joanne & Robert *
Berg, Dorothy
Berg, Gail
Berg, James & Kruger, Mary *
Berg, Lisa *
Bidinger, Rory & Tiffany *
Birkland, Marilyn *
Bisek, Ginny & Jim *
Bjorklun, Gene & Mary Margaret *
Bleam, Jeffrey & DeBlieck, David *
Blenkush, Micki & Michaels, Dan*
Blesener, Rose & Daly, William *
Boatz, Margaret & Robert *
Bobeldyk, Karen
Bochonko, Coca & Springer, Mark *
Bohn-Gettler, Chris & Kate
Bohn, Barbara & David
Bohnsack, Jennifer & Benjamin
Bollig, Deb *
Bologna, Bonnie & Steve
Bolton, Aaron & Nicole
Boyle, Kris & Phil
Branam Macauley, Kelly
Brenna, Cindy
Broker, Julie & Mike
Brossoit, Margaret
Bruender, Katie & Nathan
Brunberg, Mary *
Bruner, Linda
Brunsvold, Elizabeth
Brzinski, Ecko
Buegler, Lori *
Buhl Family
Bunting, Dannielle *
Burggraff, Breana
Burggraff, Carrie & Don
Burt, Jason
Busse, Brad *
Buttweiler, Patricia
Calantoc, Mary & Hanks, Kevin *°
Calpas, Dean & Elizabeth
Cameron, Darryl & Karen *
Carlin-Goenner, Mary *
Carlson, Jerry
Carlson, Karen *
Carlson, Peggy & Nielsen, Chuck
Casey, Kathy
Cash, Brian & Karen *
Central Minnesota Arts Board *
Central Minnesota Community Foundation *
Childs, Mark & Amy
Chmielewski, Mary
Christenson Family *°
Cicharz, Pat & Rick *
Clancy, Lindsey & Jeff
Clark, Doug & Tarryl *°
Clarke, Rachel *
Clary, Tammy
Coborn's *
Como, Paulette & Tom *
Cotton, Dan & Elaine
Counselor Realty – Aaron Trompeter *
Crafts Direct – Schlecht, Diane & John *
Cragle, M.D., Beth & Stephen P. *
Crouse, Katrina & Matthew
Cummings, Beth & Michael *
Dahl, Jessica & Nathaniel
Danielson, Michele
Daubanton, Mary *
Dauer, Eileen & Brian *
Davis, Mary A. *°
Dearking, Amy & Eric
Deland, Tami
Dennis Smith Training – Smith, Denny & Pat *°
Dennis, Kay M.
DeVillers, Cameron
Dick & Mimi Bitzan Family Fund of the Central Minnesota Community Foundation *
Dinndorf, Steve & In Memory of Dinndorf, Joyce, Linda & Louie
Disturbed Soil, LLC.
Diversified Media Resources
Dolan, Janet
Domek, Robert *°
Don Helgeson & Sue Shepard Fund of the Central Minnesota Community Foundation *
Donna Kuhl & John M. Mahowald, M.D. Fund of Central Minnesota Community Foundation
Donnelly, Beth & Kevin *
Dorothy C. Becker Fund of the Central Minnesota Community Foundation *
Dorrie & Scott Larison Fund of the Central Minnesota Community Foundation *
Dorsher, Joanne & Paul *
Dorsher, Patricia *
Dorsher, Steven *°
Droll, Becky & Brock
Duclos, Judy
Dwyer, Seal
Edeburn Family
Egeland, Deb *
Ehlen, Charles
Ellis, John & Sara *
Emberland, Heather, Mark & Family
Euteneuer, Jennifer, Chris, & Kaylee *
Executive Express – Logeman Family *°
Fark, Dan & Jane *°
Fasen, Deb & Bill *
Felton, Marc
Fenlason, Karen & Tom
Feriancek, Michele *°
Finlayson, Karen & Loren *
Finlayson, Max *
Fischer, Anita & Don
Fischer, Susan & Stephen
Flaherty, Brian & Willow *
Flinck, Theresa & Engholm, Joel °
Foster, Kimberly & Nicholas *°
Fox Family
Frank, Christine
Freudenrich, Layne & Oothoudt, Renae
Friedrich, Suzanne & Kuehl, Eric
Fries McDougle, Jodi *
Froehling, Marcia & Sandra *
Fromm, Donna & Jeff *
Fuzak, Fred & Jyeton *
Gallagher, Michael & Mancini, Kateri *
Gammell, Ginny & John *
Gartland, Bob & Patti *
Gartner, Julie & Mark *
George, Sandra
Gerard, Ara
Gertz, Tanya & Faust
Giese, Teresa
Gilbertson, Zach
Gilder, Lynnae
Gillian, Spencer
Gillman, Debra & Gerald
Glanz-Gambrino, Lori *
Grachek, Art & Barb
Grachek, Sara & Mihalek, Jim
Grether, Frank
Groetsch, Anne, Rick, & Paige *
Gruber, Rachel *
Gustafson Berreau, Linda *
Gustafson, Jennie
Hadler, Tracy & Stacey
Hageman, Diane & Stemper, John *
Hagestuen, Bruce & Nacey, Julie
Hall, Angela *
Hall, Deb & Mark
Halliday, Christie
Hamak, Bridget & Scott *
Hammer, Kathi °
Hansen, Judy & Norm
Hansen, Mary & Patrick
Hansen, Wendy & Roger *
Hanson, Brad & Lisa *
Harper, Amy, Jim & Jane
Hartmann, Jeanne & Tom *
Haugen, Keith & Susan *
Hawker, Lucinda *
Heen, Dena & Mike
Held, Mary Ellen
Helgeson, Karel & Michael *
Hemmesch, Eileen
Henderson, Nancy *°
Henry, Jim & Patty
Henry, Patrick & Welter, Pat *
Hershberger, Anne
Heusinkveld, Aaron & Jessica *
Hinkemeyer, Kent & Mary
Hinnenkamp, Ruth *
Hippler, Hope & Jeffrey
Hitzeman, Karen
Hoehn, Ann *
Hoelscher, Brad & Megan
Hoeschen, Stacie & Tad °
Hoffman, Irene *
Hogenson, Cynthia & Erik
Holien, Chad & Kelsi *
Hollenhorst, Mark *
Holweger, Kimberley *
Hornung, Dianne *
Hoskins, Heather
Hotz, Geri & John *
Hunter, Amy & Leinen, James
Hurrle, Mitchell *
Husen, Damien & Kristy
Hutar, Anne
Illies, Jody, Marcy & Emily *
Imholte, Kristi & Steve
In Memory of Kyle Weisbrich
Inkster, Bob & Chris *
Ivers, Gail
Jacobson-Ree Family *
Jameson, Kelly
Jantzer, Amanda & Jake
Jeff & Melinda Gau Family Fund of Central Minnesota Community Foundation *
Jendro, Sharon *
Jennissen, Kevin, Kayla, Eleanor & Stephen
Jensen, Patricia L.
Jeske, Nancy *
Jessen-Klixbull, Carol
John, Gareth & Metzo, Christine *°
Johnson, Betty *
Johnson, Bob & Judy *
Johnson, Chet & Karen °
Johnson, Ileen & Edward*
Johnson, Janelle *°
Johnson, Laurie *°
Johnson, Murdoch & Tuff, Dianne *
Johnson, Tony Errold °
Johnston, Kaarin *
Jones, Judi
Joul, Brenda & Steve *°
Juilfs, Cathy & Darren *
Kadlec, Jolene & Harens, Mike
Kaleidoscope Advocates for the Arts
Kath, Kathy *
Kay, Bonnie & Brian *
Kelash, Lisa
Kensington Bank *
Kieser, Don & Mary Anne *
Kiffmeyer, Clarence & Judy *
Kiminski, Matt
Kittok, Gerry
Kivel, Amanda *
Klein, Karen & Rick *
Knutson, Sharon *
Koop, Debra
Kosloski, Christine & Mike *
Kraemer, Tammy & Leroy *
Krebs, Judy
Kremer, Liz
Krillan Inc. *
Kroll, Gerard & Taffy
Kron, Steve & Erlandson, Matthew – Kron & Erlandson Family Dentistry
Krueger, David & Pat *
Kruse, Karen *
Kudrna, Chris, Joanne & Family *
Kuefler, Stacie
Kuhlman, Brad & Ruth *
Kuzma, Susan *
Lack, Aprile
Lacroix, Bill & Phyllis *
Lampert, Deb
Landman, Jane & Kirk
Larkin, Valerie
Larsen, Margaret
Larson, Camilla & David
Lauer, Glen
Lawrence, Kris & Schumann, Rob & Family *
Layne, Phillip & Sarah *
Legatt, Karen & Mathew*
Legg, Allison & Jon *
Leitch, Mary & Vernon
Lenarz, Denise & Tom *
Lesmeister, Jennifer
Lesnau, Brenda & Jesse
Lieser, Alvina & Isidore *
Lieser, Judy
Linn, Jasmyn
Lisbon, Marilyn & Joe
Lolmasteymaugh, Ken & Rachel
Lombardi, Joan & Paul *
Lommel, Geraldine
London, Diane L.
Lopez, Carlos & Clara *
Loven, Royal
Loy, Leanne
Luetmer, Stacey
Lunderby, Kathy
Mahowald, John & Maryanne *
Maloney, Andrew & Sarah *°
Mancini, Jordan & Stacy *
Marks Family *
Martin-Chaffee, Bill & Chip *
Marty, Lucinda
Mastromarco, Heather *
Matteson, Sheila
Mattick, Kristen & Thor *
Maurer, Eleanor & Richard *
Mazacek, Joan
McAlister, Deb
McAnally, Dan & Michele
McCarl, Deb & Skurdahl, Marilyn *
MccLaurin, Lesa
McClelland, Lynn & Mike *
McClintock, Tamara *
McClure, David & Diane *
McConoughey, Elizabeth
McCourt, Nancy
MDO Periodontics PA *
Mechelke, Kate & Mark *°
Meemken, Sara
Meers, Sue *
Melby, David & Gloria
Melby, Jill & Weitzel, Paul *
Melis, Rachel & Galler, Robert
Meller, Alecia
Mersinger, Hannah
Meyer, Cherrie & Dan
Meyerhofer, John & Tammy *
Miles Psychological Services, LLC *°
Miller, Allan
Miller, Dave & Kate
Miller, Kristi & Luke
Mills, Corey
Minnerath, Doris
Minnesota State Arts Board *
Miron, Aimee & Joel *
Mix, Rebecca – In Memory of Jody Trovall
Moeller, Diane & Ralph
Monahan, Paula *
Moore, Jessica
Moreland, Judith
Morgan Family Foundation *
Morgan, Lee & Vicki *
Morris, George, Mary Kay & Family *
Morstad, Megan & Mickey *
Mosack, Nancy & Stan
Moshier, Barbara & Roger
Mrozek, Faye & Gary *
Muchow, William P. *
Muehlbauer, Roxanne *
Mueller, Nadine & Gary *
Mulder, Andy & Leslie *
Mund, Merry C. *
Murray, Alec & Pauline *
Myers, Megan *
Nacey, Gina & Priya *°
Nastrom, Darlene & Greg
Neisen, Kelly & Tim
Nelson, Josh & Michele *
Nelson, Margaret & Justin *
Nelson, Pat *
Nessa, Jill *
Neubert, Janet & Marvin
Neville, Hannah
Newiger, Brenda *°
Nohner, Steven *
Nohner, Steven & Theresa *
Norton Dando, Kendra & Michael °
Norton, David & LB
Noyes, Jonathon, Mardi & Alexa *°
Nunke, Jim & Mary *
Nystrom, Betty *
O'Hara, Mary *
O'Malley, Robert A.
Ohlenkamp, Dennis
Ohlenkamp, Mark & Melinda *
Olson, Jo Ann
Osendorf, Gail & Phil
Oswell, Larry G. & Sandy *
Overby, Nicole, Nathan & Family*
Oxton, Jane & John *
Palmer, Deb & Steve
PAM'S Auto Inc. *
Pantzke, Kathleen *
Parries Family
Patrick & Jane Mitchell Family Fund, a Turn Key fund of the Initiative Foundation *
Patton, Alice
Petersen, LaWayne & Pam *
Peterson, Ardith
Peterson, Jeff & Lyn
Pfeiffer, Ian & Paul
Pflipsen, Bob & Heidi
Piepkorn, Cindy
Place, Elaine
Poeschl, Ellen & Mark *
Pogatschnik, Susan *
Polley, Douglas
Porter, Aaron
Potter, Lori *
Potthoff, Jeff & Tracy
Precise Heating, A/C, Plumbing, and Refrigeration, Inc.
Prochnow, Bob & Joanne
Proell, Mary
Proviant – Barclay & Janet Carriar *
Quiggle, Gretchen & Scott
Radeke, Katie & Paul *°
Ramler, Nancy *
Reagan, Janet & Michael *
Reberg, Dan & Kim
Reck, Jerry & Jane
Reding, Peggy
Refine Dermatique Aesthetic Center – LaBine, Barry & Leslie *
Reid, Carol & Sherwood *
Reigstad, Greg & Janet
Reisinger, Elizabeth & Eric *
Rethmeier, Dan & Mary *
Reuter, Bernice & Nicholas *
Richards, Clare
Ries, Teresa & Takala, Ted *
Riesner, Ann, Shawn & Bryce *
Riser, Virginia *
Ritter, Debra *
Robatcek, Debra
Roelofs, Debra
Rogan, Jacqueline *
Romanowsky, Ann & Dr. James *
Romosz, Becky
Roquette, Jan
Ross, Roseanna *
Rotto, Judy & Luther *
Rowley, Farrah & Shaun
Ruegemer, Diane *
Ruis, Jon & Joy
Running, Cheryl
Ruth, Andy & Paul
Salner, Annie & Ryan *°
Schaefer, Victoria
Scharf, Lisa & Ted
Schelske, Patsy R. *
Scheuerell, Bob & Judy
Schiffler, Bernie & Dennis *
Schindele Paulzine, Dana & Paulzine, Lee
Schindler, Jason & Sarah
Schirmers, James & Lacey *
Schlough, Joyce & Tom *
Schlueter, Jill
Schneider, Abby & Craig °
Schneider, Renae
Schoenfelder, Jackie & Ron *
Schroden, Jerome & Carol
Schroeder, Rebecca & Todd *
Schultz, Mindi
Seamans, Dottie & Tom
Seamans, Kyle & Megan *
Segura Schwartz, Mónica & Troy *
Shaddrick, Kelley & Mary
Shaughnessy, Shannon & Kosel, Dave*
Shea, Trina *
Sheesley, Florence & Gerald *
Shobe, Joel & Susan *
Siemens, Molly & Ryan
Simmons, James, Michelle, Ella, Molly & Autumn *°
Simonson, Lynn & Hoffman, Kathleen
Sinclair, Jan & Ken
Skeate, Char & Gary *°
Solheim, Dave & Jean *
Soltis, Patricia & Randy *
Sorell, Jan *
Spanier, Maureen *
St. Cloud Optimist Club *
St. Cloud Reading Room Society
Stark Engineering *
Stark, Charles
Stavrum, Dick & Perian *
Stebbins, Kristen – State Farm Insurance *
Stenberg, Paul & Amanda*
Stenger, Chuck *
Stephens, Charlotte *
Steve & Peggy Laraway Family Fund *
Stoeckel, Julie & Micah *
Stone, Linda & Thomas
Storkamp, Mary *
Stracke, Ed, Kris & Family
Stupar, Karen & Pete
Sturlaugson, Nancy & Phil *
Sueker, Beth, Family & Friends in memory of Cassie Sueker *°
Swanson, Emily & Willie *°
Swanson, Gretchen *
Symalla, David, Erin, & Cordelia *
Symalla, Joe & MaryAnn *°
Taatjes, Audrey
Tamm, Melinda
Tenneson, Linda G. *
Theisen, James & Carol
Thell, Joleen
Thielen, Dan & Diane *
Thielman, Jane & Marilyn *
Thomes, Cole
Thompson, Jeff & Molly *
Tilstra, Dave & Janet *
Tomporowski, Mary Alice *°
Trettel, Dan & Lisa
Trombley, Amy & Matt *°
Trompeter, Aaron & Jessica *
Trueman, Kathleen
Turnow, Caryl *
Unger, Jennifer *
Unger, Maureen
Van Beck, Diane & Joe *
Vander Weyst, Stacey & Christopher
Vermillion, Dr. Hillary & Terry
Vetter, Brian & Megan
Vick, Carol
Voelz, Neal
Voigt, Karla, Larry & Family *
Von Korff, Connie & Jerry *
Vos, Mary *
Vosen, Judy & Thomas *
Vossen, Betty & Ralph
Vouk, Lisa & Frank
Wagner, Alicia, Matt, & Emma
Wagner, Gordon *
Wallinga, Eve & Gary *
Walmart
Walquist, Amy
Watkin, Dove & Tracey *
Watson, Dan & Jessica *
Wayne, Chris & Katie *
Weatherz, Tia & Brandon *°
Weber, Melissa & Ryan *
Weekley, Denise & John *°
Weitz, John & Sue *
Welander, Linnea & Sean
Welch, Summer
Weldon, Derik & Nancy *°
Welle, Andy & Nicole *
Weno, Martha *
Wensman, Janet & Tim *
Westby, Eloise & Jerry *
Weyer, Scott & Valerie
WhiteBox Marketing – Karki, Carrie
Wicktor, Carol & James
Wild, Carol & Lonny *
Williams, Sandra Q. *
Williamson, Abby
Wippler, Gina
Witte, Dan
Witte, Debbie *
Wolfe, Ellie
Woods, Brian & Melissa
Worm, Kaysie
Wynnemer, Linda J. *
Yassin, Sheryl & In Memory of Louise Julia Hoffman *
Zeleny, Katey & Pete *
Zellmann, LuAnn
Zellner, Annella
Zetah, Jody
Zetterlund, Judy & Allen
Zoeller, Diane & David