We've thanked you via email, video, social media and the mail…and NOW we finally, finally get to say thank you in person! You and your family are invited to be our guests for a magical evening outdoors and our FIRST EVER live audience at the new amphitheater!
FREE PARKING Look for the blue GREAT signs and follow directions from the parking attendants. Please see the map below.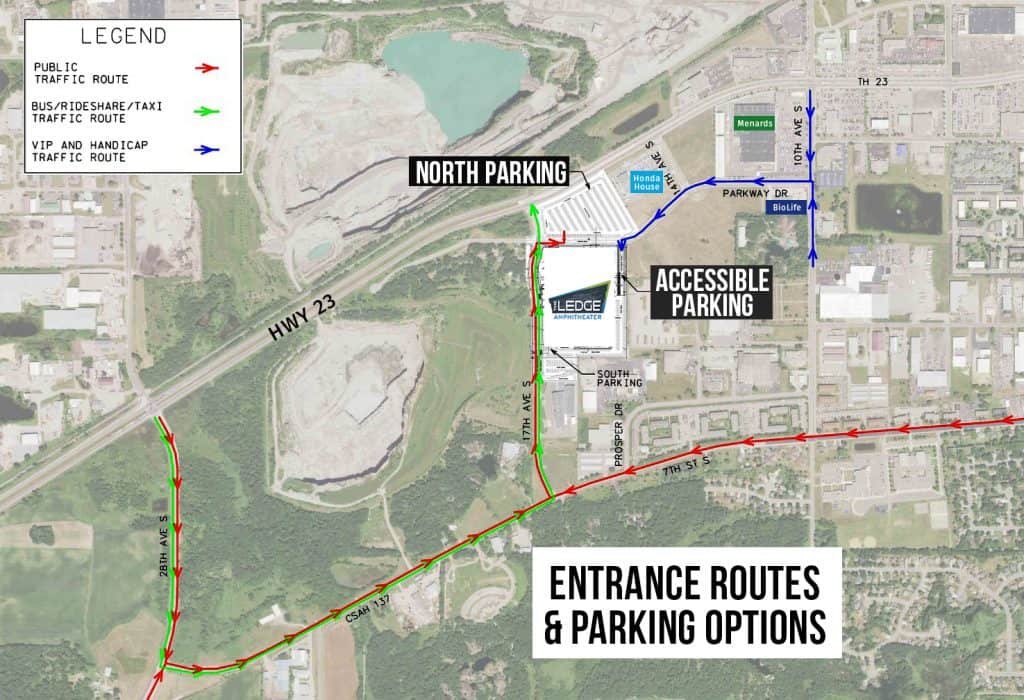 The north parking lot is a grass field next to the Honda House. 
From Hwy 23 East: right on 28th Ave S, left on Country Road 137, left on 17th Ave S.
From Hwy 23 West: left on 10th Ave S (by Menards), right on 7th St S, right on 17th Ave S
The accessible parking lot is a paved lot near the east entrance
From 10th Ave S, turn onto Parkway Drive (between Menards and BioLife)
TIMELINE FOR THE EVENING
5:45pm | Doors open! Take a walk through the trails and check out the venue.
6:00pm | Enjoy a complimentary picnic style dinner while the cast and production team warm up and rehearse on stage.
7:45pm | Gratitude + recognition
8:00pm | Show begins! Full run of the show for our final dress rehearsal/performance of Rodgers & Hammerstein's Cinderella. 
10:30pm | Estimated time the show will end.
BUFFET PICNIC DINNER includes a grilled chicken sandwich with your choice of sauce, side of mac n cheese, watermelon cubes, kettle chips, and a cookie. If you have any DIETARY REQUESTS or CHANGES TO YOUR RSVP please complete this form by Wednesday, July 14th.
SEATING You're welcome to dine at your seat of choice in the audience where you'll enjoy the show or in any of the grass areas. On the patio to the left of the stage there will be limited seating at tables, high tops, and lounge furniture available.
CONCESSIONS will be open through intermission with both alcoholic and nonalcoholic beverages available to purchase. You may bring one factory-sealed water bottle into the venue with you. The musical is approximately 2 hours, plus a 20-minute intermission.
Consider this your invitation to celebrate and experience's something extraordinary, together again! The entire evening will be outdoors at the fantastic new amphitheater in Waite Park nestled among the quarries and nature trails. Cinderella will entertain the entire family with jaw-dropping transformations and amazing special effects, featuring a cast of 40 local adults and youth. Have a ball as you experience this beautiful show under the stars!
We can't say thank you enough for your support. But we'll keep trying. We can't wait to see you and share this magical show with you and your family!
Please reach out with any questions and be well.
With gratitude,
Dennis Whipple, the entire GREAT Theatre team, and Board of Directors