Don't Let the Pigeon Drive the Bus Program
CHARMING AND TIMELESS STORY FULL OF FUN, FRIENDSHIP, AND ADVENTURE
Featuring an all-youth cast directed and designed by high school artists,  Don't Let The Pigeon Drive The Bus! The Musical! asks a hard question: To bus or not to bus?  The answer to that question can be found in this energetic, hot-dog filled production about a determined Pigeon- who never gets to do ANYTHING! When Pigeon's friendly neighborhood Bus Driver is troubled by something that threatens to make their passengers late (GASP!), maybe Pigeon CAN do something… In this Musical, Pigeon strives to find their thing, and hopefully, through this production you can find YOUR thing too!
This production is approximately one hour long and is most enjoyed by young audiences.
Character List
PIGEON – Abby Reiter
BUS DRIVER – Annie Reisinger
BUSINESS MAN – Gavin Vaughn
TEENAGER – Ailee Bartz
LITTLE OLD LADY – Elsa Galler
HOT DOG VENDOR – Max Hall
CITY WORKER – Molly Williamson
DUCKLING – Chari Hoffman
PUPPY – Kadence Becker
MOM – Talia Karki
BUS ENGINE & AIRPLANE ENGINE – Ian Chinander
BUS, CITY WORKER #2 – Marie LeMont
CLOUD, BIRD #1 – Grace Plumski
CLOUD, BIRD #2 – MJ Macauley
CLOUD, BIRD #3 – Gus Capistrant
Cast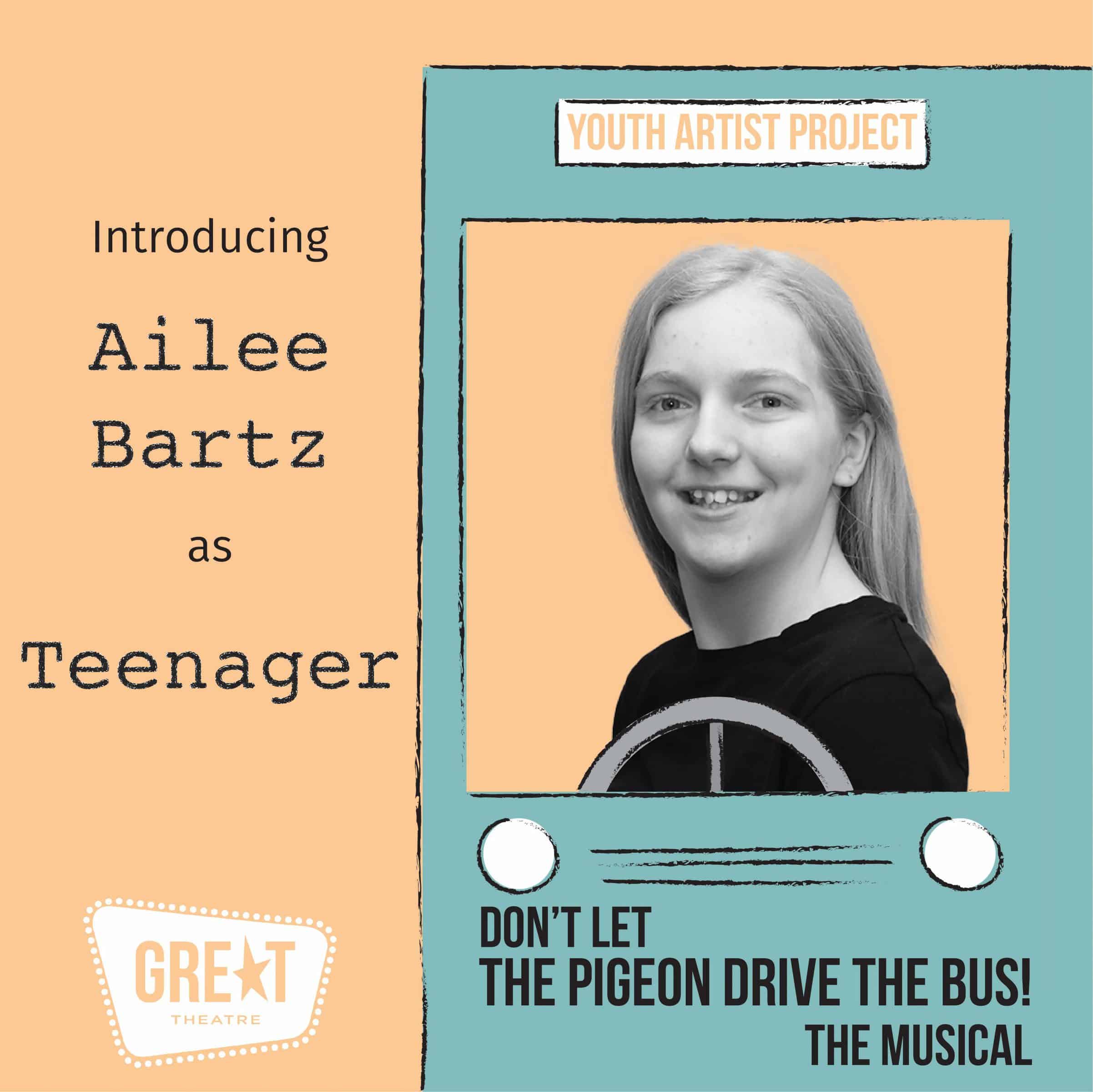 Ailee Bartz
Volunteer Actor
Ailee Bartz is in the eighth grade at South Jr. High School. At school, Ailee has been in a production of The Lion King Jr., and she has been in several GREAT theatre camps. In fact, GREAT summer camps are where Ailee discovered her passion for acting! Ailee is interested in theatre, robotics, dance, and music.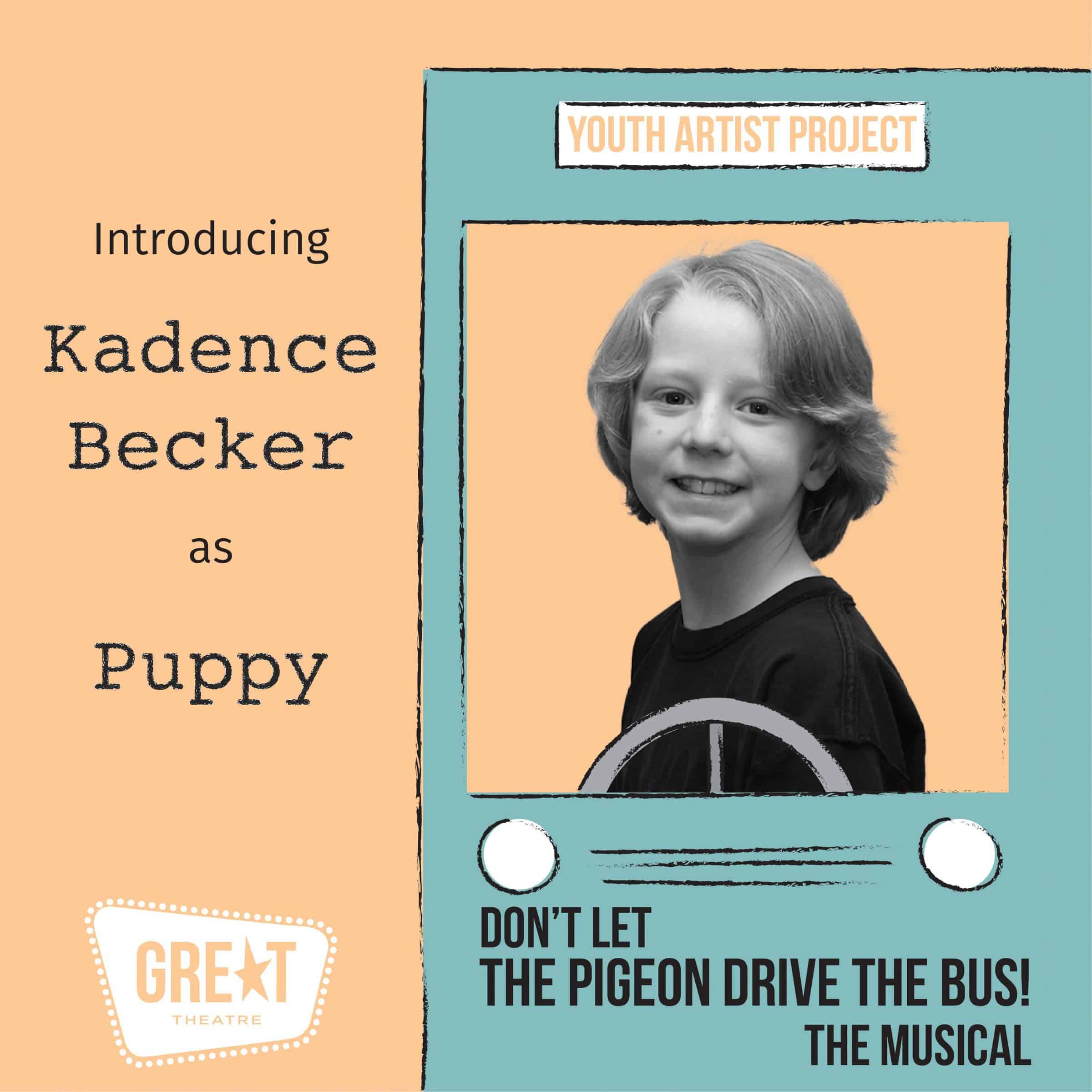 Kadence Becker
Volunteer Actor
Kadence Becker is in the fourth grade and is home schooled. Kadence has been in Little Falls Homeschool Group plays such as Peter Pan and A Midsummer Nights Dream, and has been in GREAT's production of Tales of a 4th Grade Nothing. Kadence decided to audition after his sister Isabel became the lighting director for the show! Kadence likes Legos, robotics, and camping.
Gus Capistrant
Volunteer Actor
Gus Capistrant is home schooled and is in the third grade. Gus has been involved with productions of Sleepy Hollow and has been in the Rising Stars Theatre Camp at Alexandria High School. Gus was inspired by his grandmother, who is a retired director, to become active in theatre. He enjoys reading graphic novels, dancing, skiing, and spending time with his family.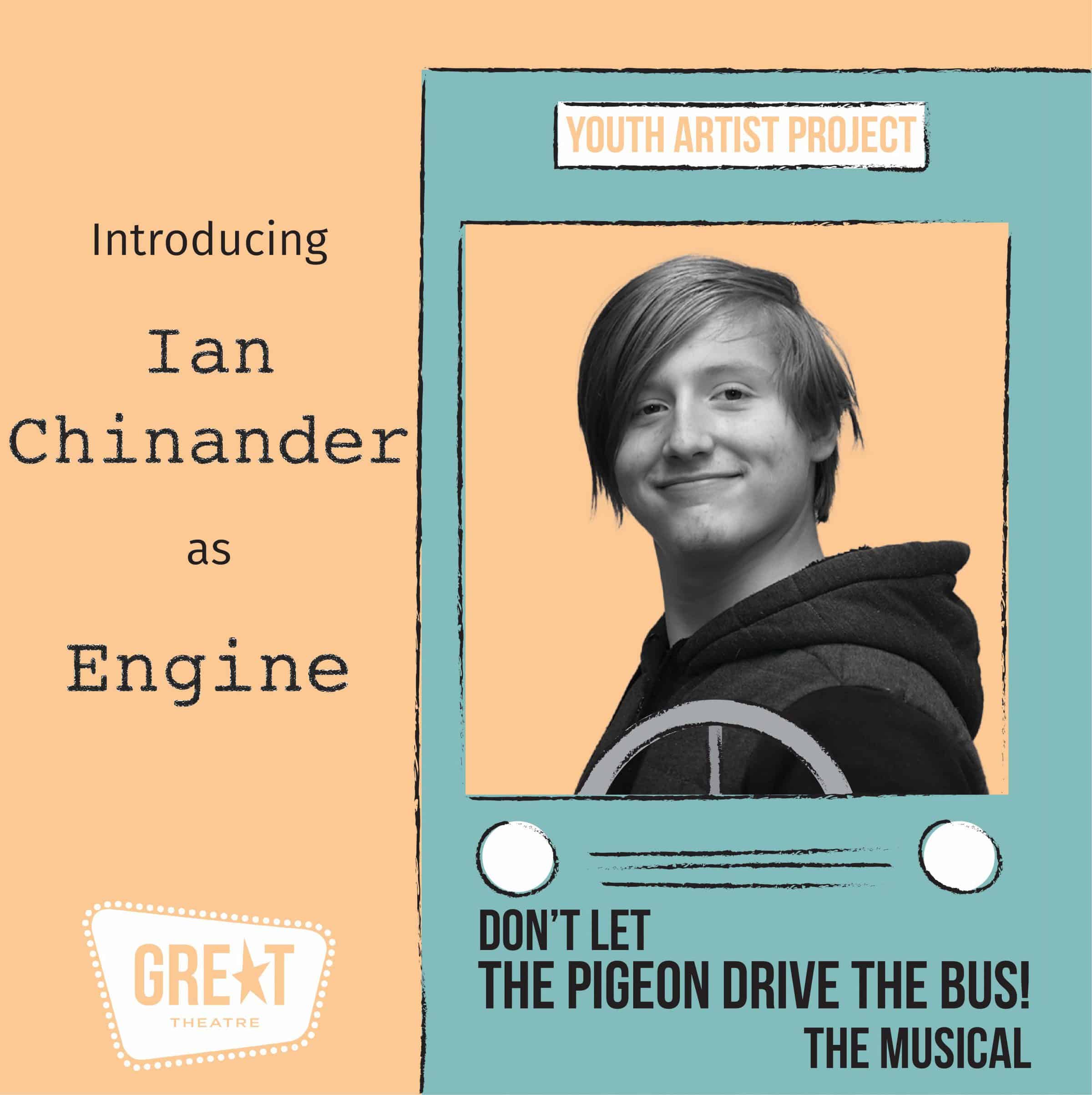 Ian Chinander
Volunteer Actor
Ian Chinander is in the ninth grade at Apollo High School. Ian has been in Sauk Rapids Rice Middle School productions of Mirror Mirror and The Best of Both Worlds, and has been involved with several GREAT summer camps. Ian finds joy in bringing stories to life onstage. Outside of acting, he likes Dungeons & Dragons, speech, soccer, swimming, and gaming.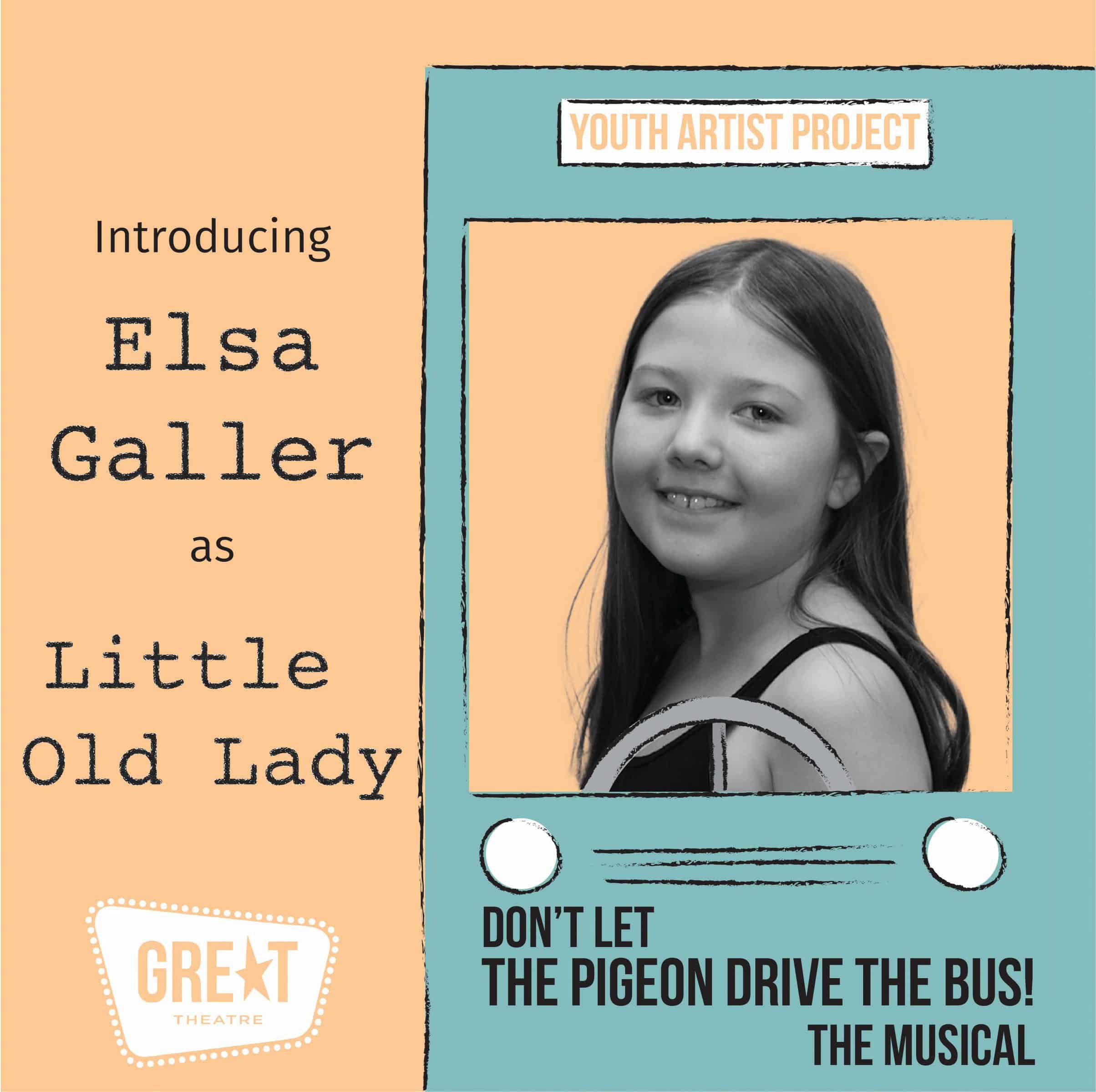 Elsa Galler
Volunteer Actor
Elsa Galler is a third grader at Clearview Elementary School. Elsa decided to audition for Don't Let the Pigeon Drive the Bus! The Musical! after participating in a few GREAT summer camps and finding joy in acting and singing. Elsa is interested in animals, art, science and baking. This is Elsa's GREAT debut!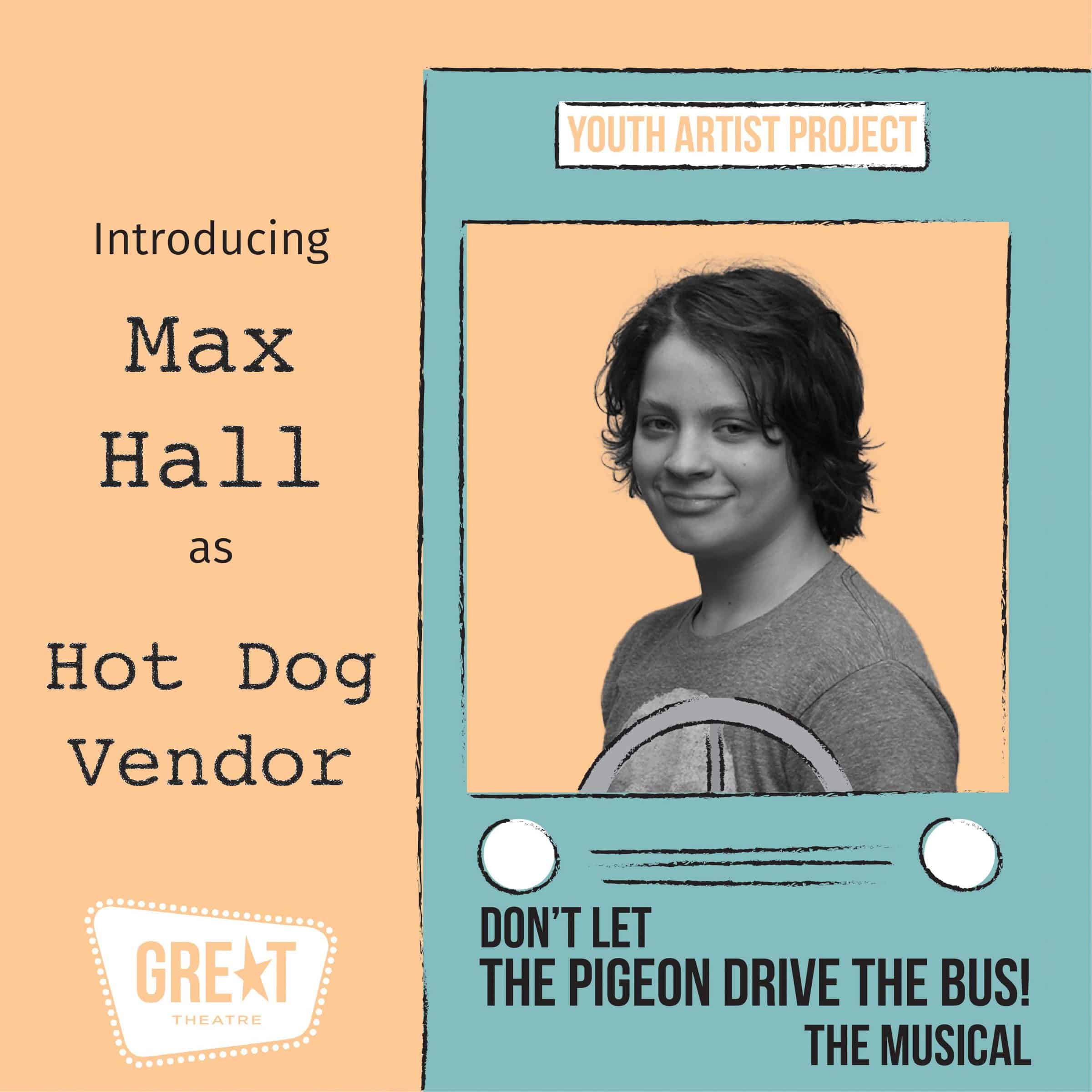 Max Hall
Volunteer Actor
Max Hall is in the seventh grade at St. Cloud Christian School. He has been in a number of GREAT summer camps, and has been in past Youth Artist Productions Charlotte's Web, Rainbow Fish, and Goodnight Moon. Max plays guitar and saxophone, and likes listening to vinyl records.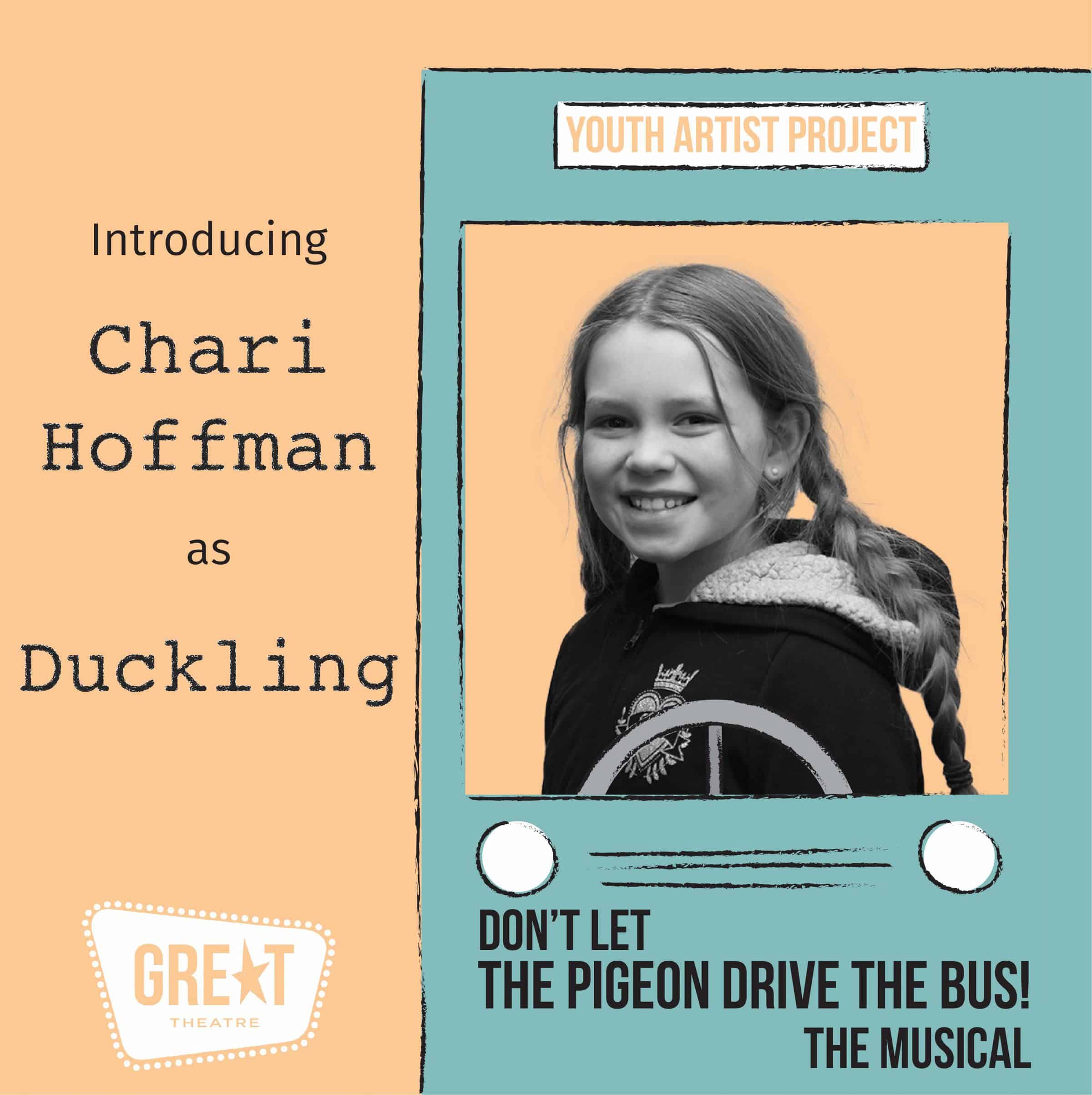 Chari Hoffman
Volunteer Actor
Chari Hoffman is a student at Prince of Peace Lutheran School. Chari Hoffman has been in productions of Aristocrats Jr. and Moana Jr., as well as GREAT's production of Matilda! Chari decided to audition for Don't Let the Pigeon Drive the Bus! The Musical! after reading the book and finding it funny. In her spare time, Chari likes to read, sing, dance, draw, and play volleyball.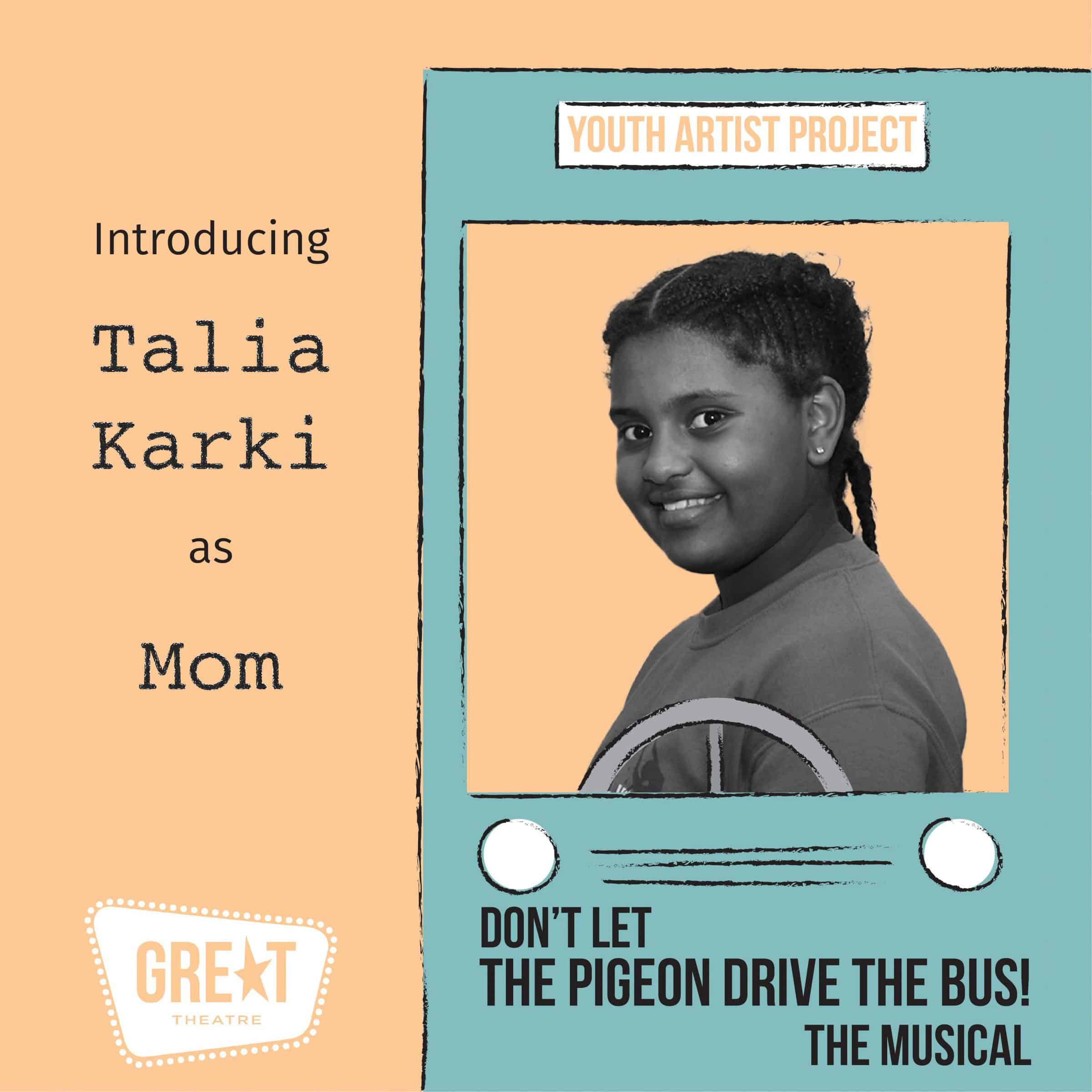 Talia Karki
Volunteer Actor
Talia Karki is in the third grade at St. Francis Xavier Parish and School. Talia has participated in GREAT summer camps before and has loved performing from a young age. Don't Let the Pigeon Drive the Bus! The Musical! is Talia's GREAT stage debut! She has 3 siblings and enjoys dancing, performing, and making videos.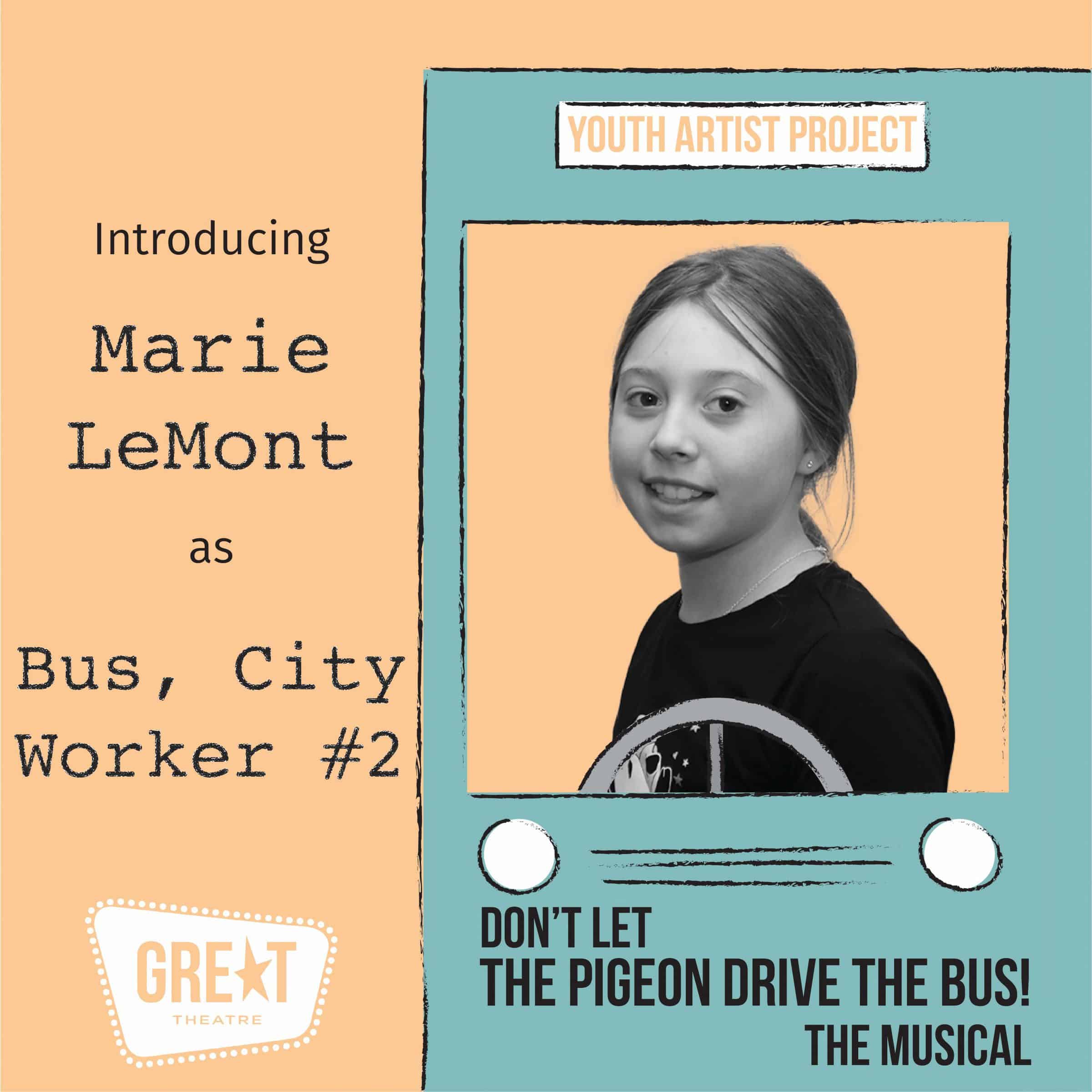 Marie LeMont
Volunteer Actor
Marie LeMont is in the fourth grade at Riverview Intermediate School. Part of what drew Marie to audition for Don't Let the Pigeon Drive the Bus! The Musical! is her outgoing personality. Marie draws, paints, and sings for fun!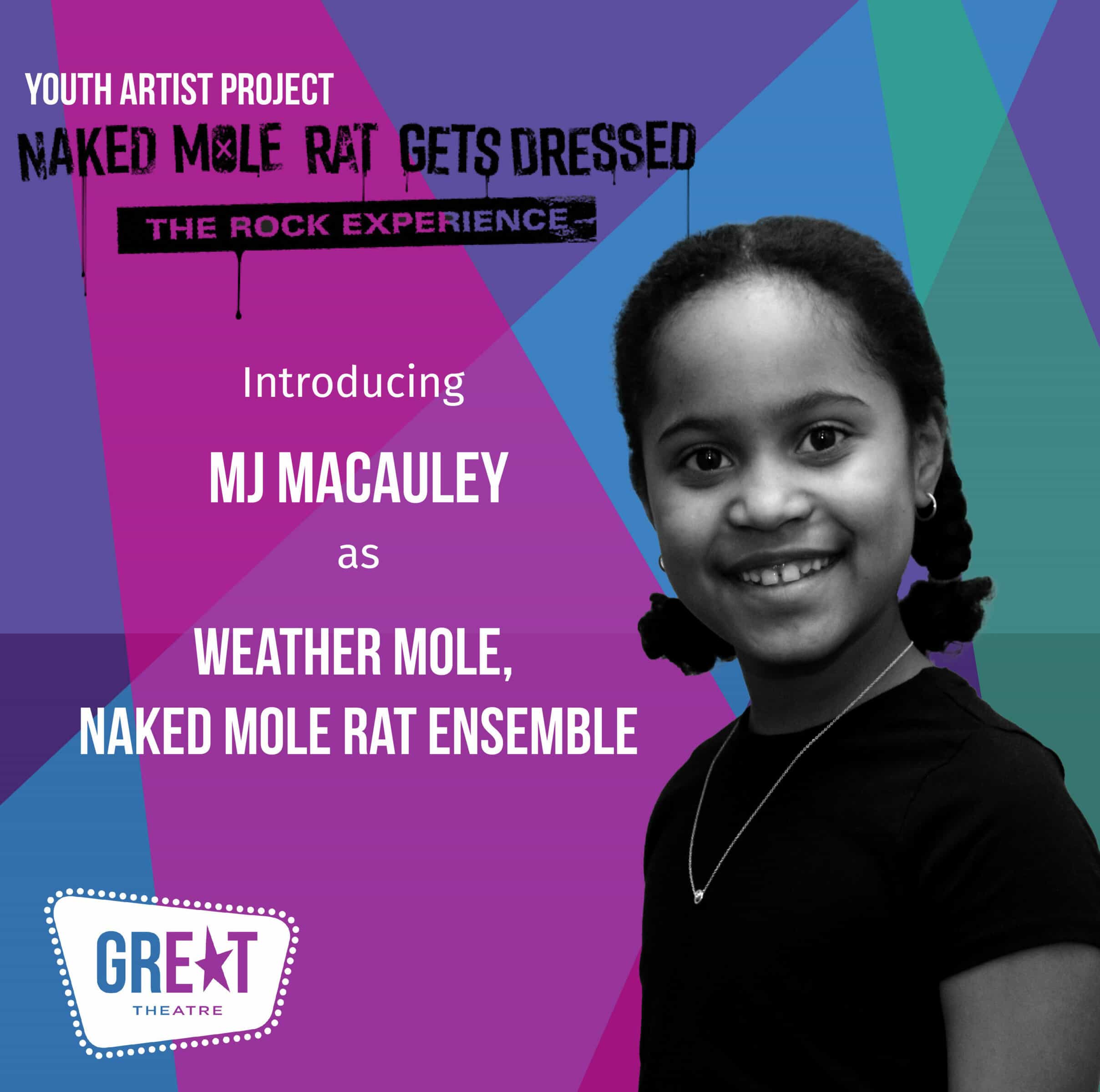 MJ Macauley
Volunteer Actor
Marie (MJ) Macauley is in the 3rd grade at St. Katharine Drexel. She has been involved with GREAT as a camper, and as an actor in The Sound of Music and Don't Let the Pigeon Drive the Bus. MJ auditioned because she loves acting, but also because she loves Mo Willems' books!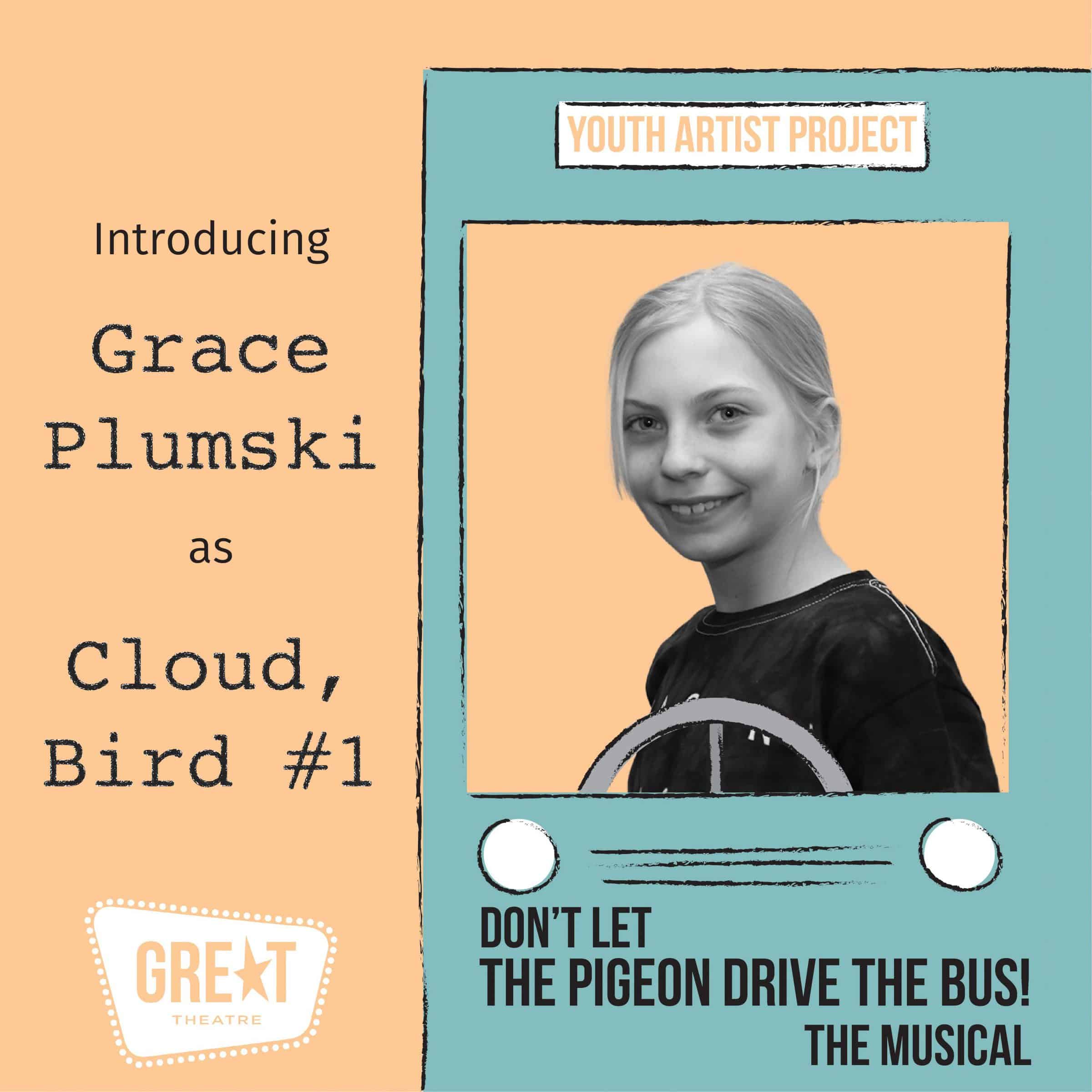 Grace Plumski
Volunteer Actor
Grace Plumski is currently a fourth grader at Avon Elementary. Grace likes singing and dancing, and especially enjoys The Greatest Showman. Along with acting, Grace is a painter, an avid reader, a baker, and a gymnast. Don't Let the Pigeon Drive the Bus! The Musical! is Grace's GREAT debut!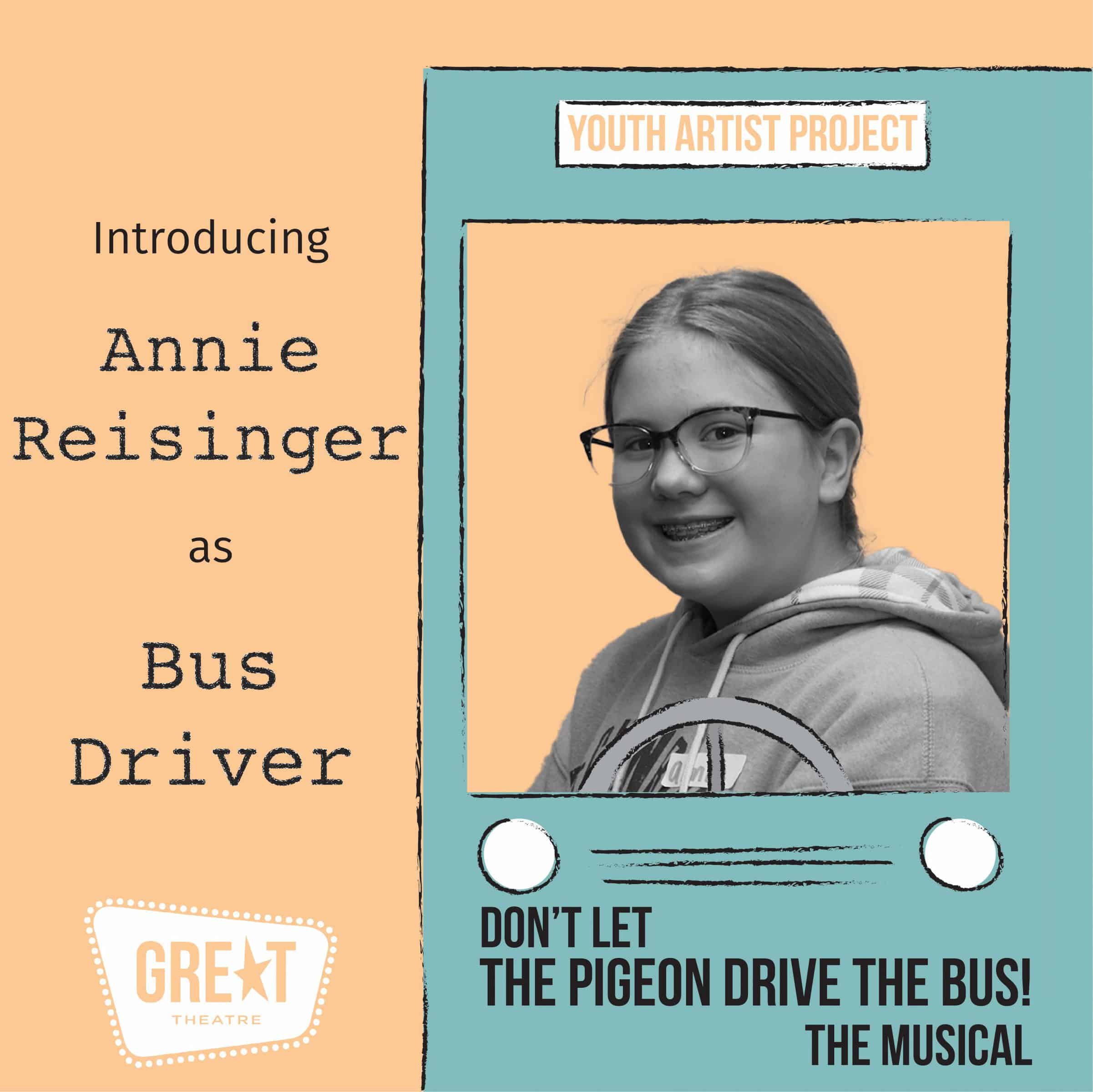 Annie Reisinger
Volunteer Actor
Annie Reisinger is in the fifth grade at St. Joseph Catholic School. They have been involved with GREAT for some time, performing in It's a Wonderful Life, Anne of Green Gables, and A Christmas Carol, and participating in lots of GREAT summer camps. She is excited to work alongside Youth Artists for this production. Annie likes painting, drawing, anime, Scuba diving, baking, and swimming!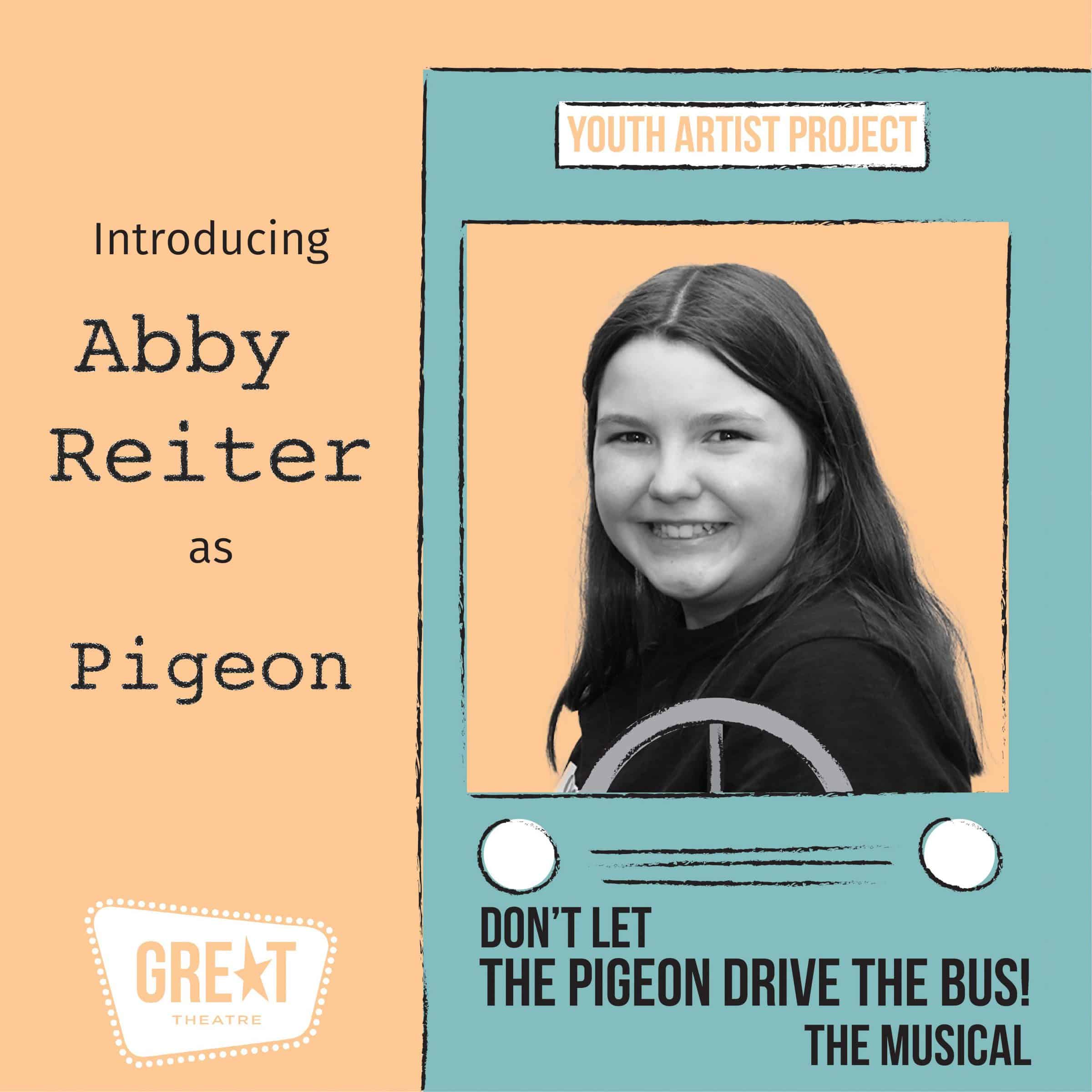 Abby Reiter
Volunteer Actor
Abby Reiter is a sixth grader at Kennedy Community School. Before this show, Abby was in 6 years of GREAT summer camps, as well as last year's Youth Artist Production of Charlotte's Web. Abby and her family enjoy theatre together, seeing shows regularly. Abby's hobbies include softball, basketball, playing with her puppy, and talking with friends!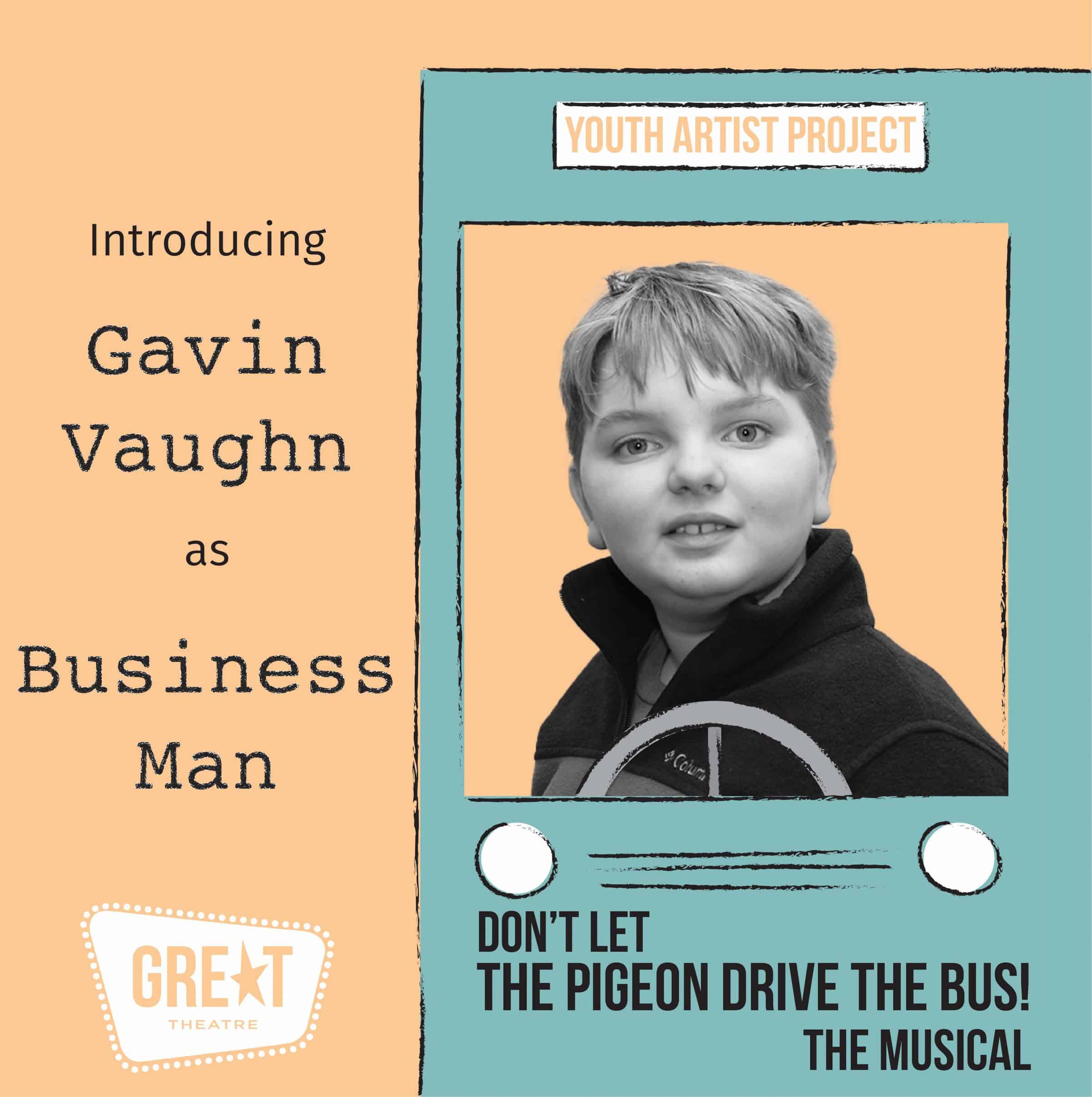 Gavin Vaughn
Volunteer Actor
Gavin Vaughn is in the fourth grade at St. Mary's Help of Christian School. Gavin has been enrolled in GREAT summer camps and was in last year's Youth Artist Production of Charlotte's Web, where he caught the acting bug! Gavin loves to use his imagination and be creative. In his free time, Gavin likes playing video games and constructing with Legos.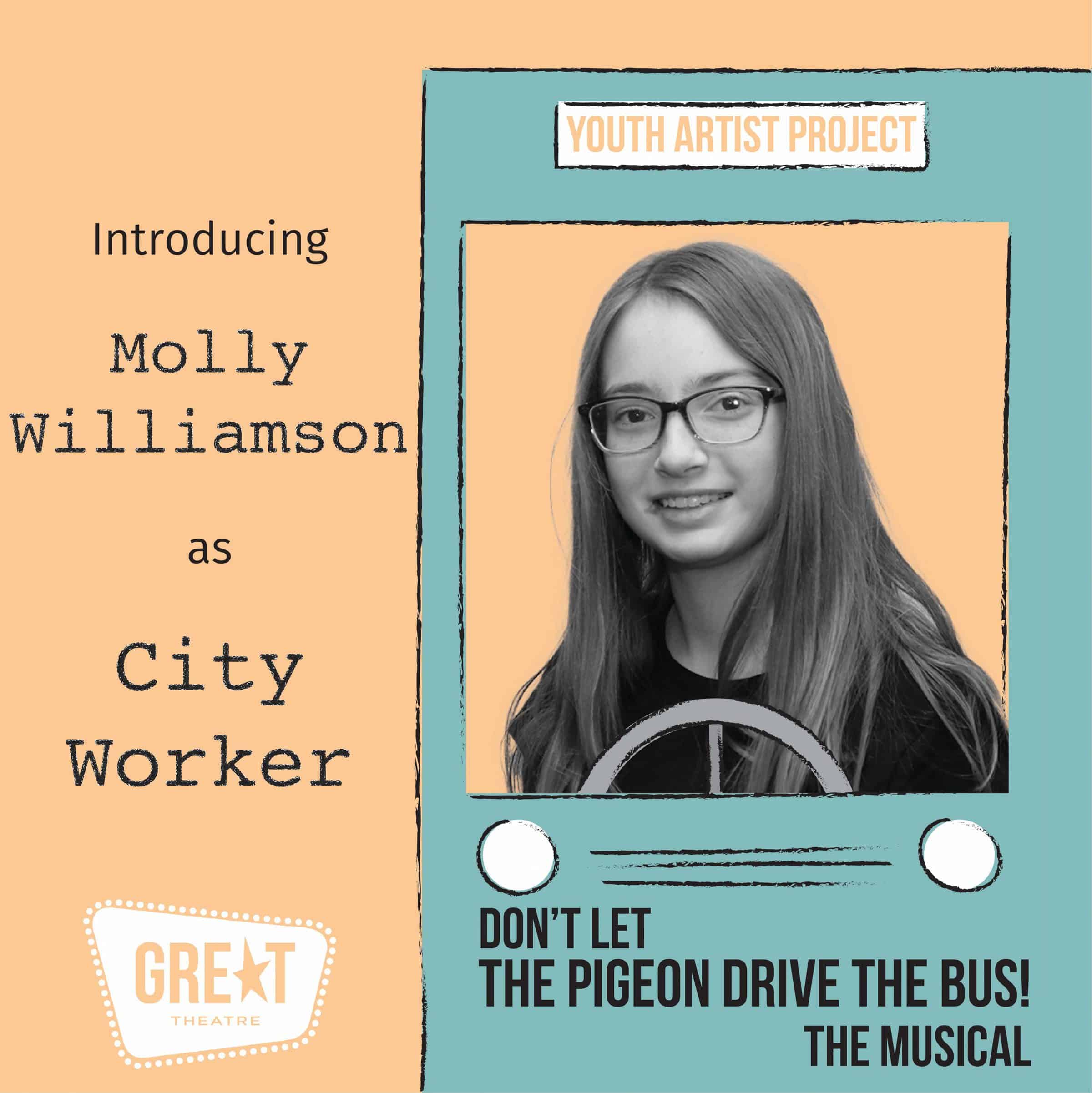 Molly Williamson
Volunteer Actor
Molly Williamson is a student at Sartell Middle School. She has been in Fairytale Courtroom, Zombies the Musical, and GREAT's production of A Christmas Carol. Molly is excited to work alongside her sister Abigail, who is the digital designer Youth Artist. Molly likes soccer, painting, and spending time with her friends.
Youth Artists
Director – Danielle Rogers
Choreographer – Amelia Clark
Music Director – Sophie Lathe
Costume Designer – Kelse Orjansen
Sound Designer – Victoria Voelz
Lighting Designer – Isabel Becker
Digital Designer – Abigail Williamson
Mentors
Directing Mentor – Aimee Miron
Choreography Mentor – Jerome Akubue
Music Mentor – Hillary Vermillion
Costume Design Mentor – Jessica Mancini
Costume Design Mentor – Edith Moreno
Sound Design, Light Design, & Digital Design Mentor – Colin Jarrell
Partners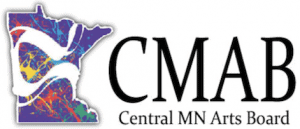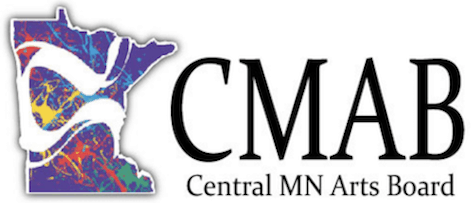 This activity is made possible in part, by a grant from the Central MN Arts Board with funds appropriated by the Minnesota State Legislature from its general fund.
---
It is the collective support of our entire community, with donations of all sizes, as well as contributions of time of time and energy, that the transformative power of live theatre possible.